Journalist sustains multiple fractures after being hit by UN vehicle
Samiksha Adhikari, who works for Setopati, was on her way to office when the UNDP Toyota Prado hit her scooter in the Jhamsikhel area.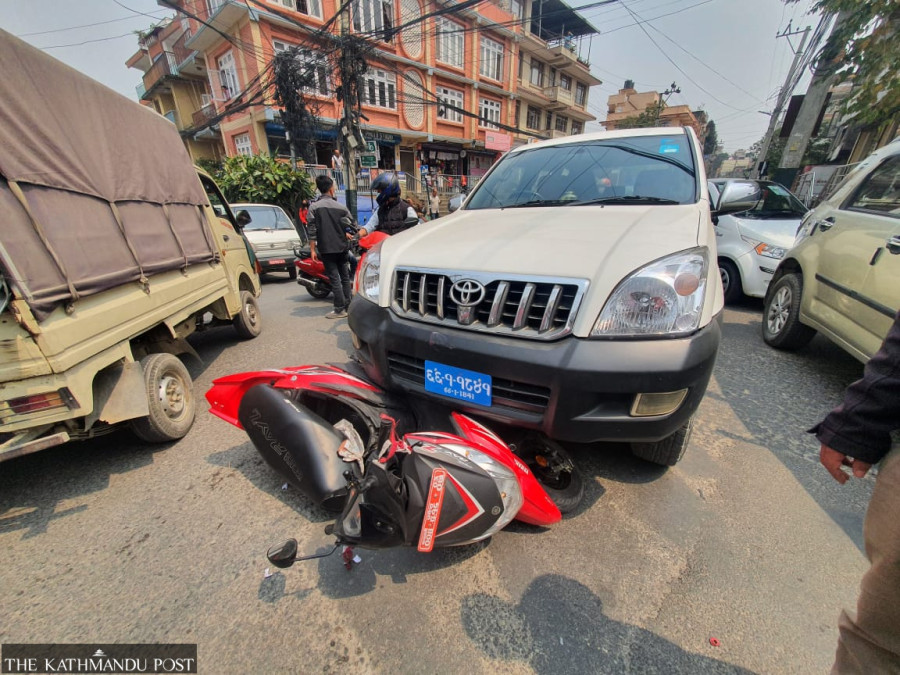 Anup Ojha/TKP
bookmark
Published at : March 28, 2022
Updated at : March 28, 2022 23:55
Kathmandu
A vehicle belonging to the United Nations hit a woman journalist on Monday afternoon, resulting in multiple fractures and an injury to her right hand.

Samiksha Adhikari, 25, a journalist working for news website Setopati was on her way to office when the accident happened.
The accident took place in the Jhamsikhel area, said police.
"She has multiple fractures to her right ankle and an injury in her right hand," said Anup Ojha, her husband, who is also a journalist working for the Post.
The blue registration plate vehicle (66-1-1841) had rammed into Adhikari's scooter, catapulting her a few feet away along the road.
Two sources at the United Nations said the vehicle was assigned to the Cooperative Marketing Development Programme (CMDP) by the United Nations Development Programme. CMDP is a joint initiative of the Ministry of Land Management, Cooperatives and Poverty Alleviation, Government of Nepal and the United Nations Development Program.
Ananta Basnet, coordinator of the CMDP, confirmed to the Post that the vehicle belonged to the UNDP-aided project.
"I have learned that the vehicle belonging to CMDP was involved in an accident today," Basnet told the Post. "All the treatment cost will be borne by the project."
Sub-Inspector Krishna Sharma, in-charge of the Traffic Police Office, Sanepa, said they had impounded the vehicle and detained the driver but released them later.
"Arun Bista, 55, of Makawanpur was driving the vehicle," said Sharma. "We had detained him. But we released him and the vehicle after collecting all the documents, including his driving licence."
There was no passenger in the UN vehicle at the time of the accident.
Earlier in 2007 also a UN vehicle was involved in an accident in Nepal, resulting in deaths of two people.
A vehicle belonging to the United Nations Mission in Nepal had hit three pedestrians, some 16 kilometers from Dhangadhi in the country's western region. Two pedestrians had died and a third was seriously injured.
Adhikari is a new mother with a five-month-old son.
"Doctors are conducting surgery to fix a metal rod," said Ojha, the husband. "I am worried about our five-month-old son as he completely depends on her."
Police said an investigation is underway.
"We had sent Bista, the driver, to meet the injured," said Sharma, the sub-inspector.
---