Odd-even number plate rule is back in Kathmandu Valley
While district administrators defend their decision, public health experts say fewer public vehicles will cause more crowding in such vehicles and fuel infections.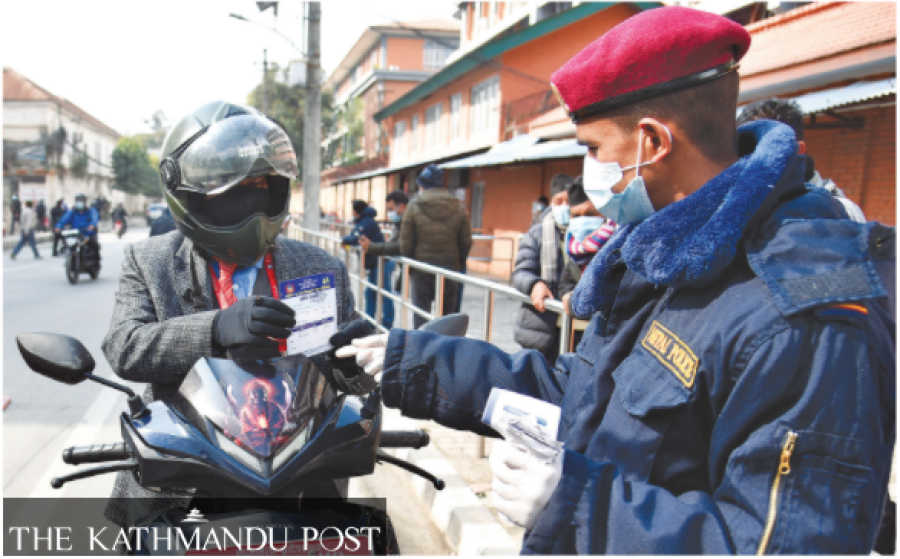 Police check the Covid-19 vaccination card of a service seeker at the entrance to Singha Darbar in Kathmandu on Friday. Angad Dhakal/TKP
bookmark
Published at : January 21, 2022
Updated at : January 22, 2022 14:43
Kathmandu
Amid record surges in Covid cases across the country and in Kathmandu Valley, a meeting Thursday of the chief district officers of the Valley's three districts has decided to re-introduce odd-even number plate rule for vehicles starting Friday midnight. Public health experts have swiftly criticised the decision as impractical, saying fewer public vehicles will cause more crowding in such vehicles and contribute to the spread of infections.
"The current situation is different from the first and the second waves of the pandemic. Most families have infected members and they are recovering in home isolation. As the crowd on the streets is already thin, an odd-even number plate rule would not be necessary," said Dr Sher Bahadur Pun, chief of the Clinical Research Unit at Sukraraj Tropical and Infectious Disease Hospital, Teku.
Reacting to the new rule, public health expert and activist Sameer Mani Dixit tweeted: "Odd-even number system is meaningless. O God! When would they understand that this will only increase infection risk?"
And Dr Pun suggested that the government should instead be focussing on providing better care and counselling to the home-bound elderly Covid patients and those with chronic illnesses.
The Ministry of Health on Thursday said over 97 percent of the infected people across the country are in home isolation.
The Metropolitan Traffic Police Division data also shows streets are less crowded now compared to a few days ago. "The number of vehicles on the streets is already down by around half," said Superintendent of Police Sanjib Sharma Das, also spokesperson for the Metropolitan Traffic Police Division, on Friday.
According to the MTPD, on normal days over 1.2 million vehicles operate in Kathmandu Valley. "Currently there are less than 500,000 vehicles on the road," said Das.
After many of their staffers were infected with Covid, all three district administration offices of the Valley have slashed their many services until further notice citing manpower shortages. Another office that saw big crowds, the Department of Passports has also stopped issuing passports except for emergency cases. Educational institutions including schools and colleges remain closed until January 29.
Earlier this week, the government also closed cinemas, gyms, clubs, swimming pools and futsal courts among other public spaces until January 29.
"This all has further lessened vehicular movement on the road. Roads are almost empty," said Das, who didn't comment on the district administration's decision to re-introduce an odd-even number place rule.
But the district administrators have defended their decision regarding the odd-even number plate rule saying the move is aimed at discouraging and lessening crowding. "When you have fewer vehicles on the road it means decreased public movement. All we want is to stem the spread of the virus," said assistant chief district officer of Kathmandu, Umakanta Adhikari.
Dr Baburam Marasini, former director at the Epidemiology and Disease Control Division, however, said there is no evidence to suggest that odd-even number rule will reduce infections.
"Yes, such a rule will definitely reduce air pollution, but when there are fewer public vehicles and more passengers, that will only fuel infections," argued Marasini.
"Since the government does not monitor whether public vehicles are carrying passengers more than their seating capacities, these vehicles will be more crowded. Instead the government should encourage transporters to operate big spacious buses with good ventilation," he said.
On Friday, the country reported 10,703 new Covid cases and three fatalities. According to the Health Ministry, the countrywide death toll has now reached 11,635 and the number of active cases stands at 65,374.
The Kathmandu Valley alone recorded 5,299 new infections in the past 24 hours, which is nearly 50 percent of the total infections detected nationwide. Of the 5,299 cases, 4,279 were from Kathmandu, 567 in Lalitpur and 453 in Bhaktapur.
Dr Pun, meanwhile, expressed concerns that the odd-even number plate rule might cause inconvenience to people needing hospital visits.
---
---