Traffic police announce stringent measure against drunk drivers as festive season nears
Doctors say such checks could transmit Covid-19 to members of public, traffic police.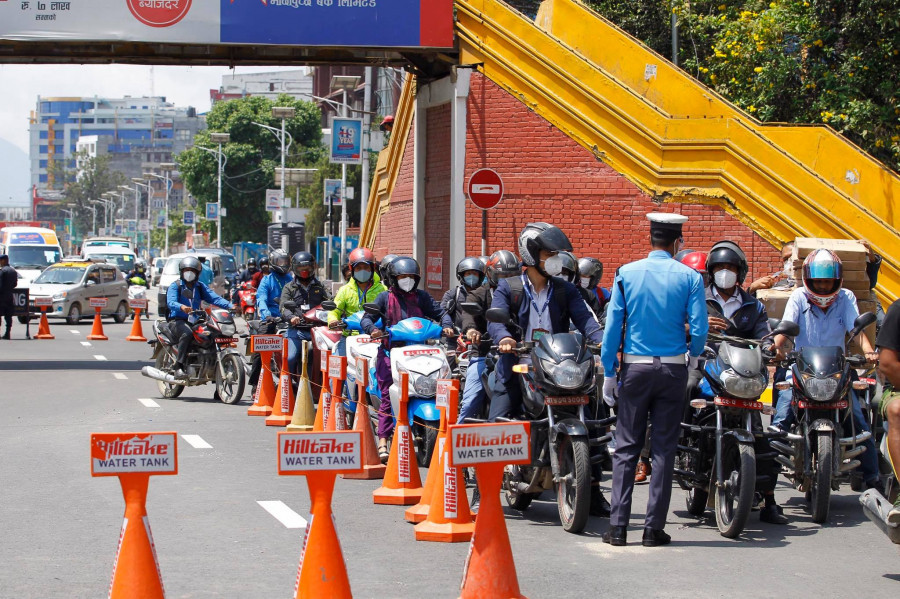 Hemanta Shrestha/Post File Photo
bookmark
Published at : October 10, 2020
Updated at : October 10, 2020 02:04
Kathmandu
Traffic police have announced stringent checks in the city to discourage people from driving under the influence and punish those who drink and drive.
Metropolitan Traffic Police Division has already booked 195 people for driving under the influence since the prohibitory orders to contain the spread of coronavirus were lifted in the second week of September, said Rameshwor Yadav, spokesperson for the division.
"In the past one week, almost every day we have booked over a dozen people found driving under the influence of alcohol," said Yadav.
The division office has made it clear that it has not been using breathalysers since the nationwide lockdown started on March 24.
"As Dashain is round the corner, we will make our checks more stringent," said Yadav. He said his office has already sent circulars to all the 45 division offices to check for a drunk driving all across the Valley, but not to use breathalysers.
Doctors, however, say the checks involve a lot of risk for both police personnel and members of the public as Covid-19 cases have become pervasive across the Valley. Recent data shows that 60 percent of all cases in the country have been reported in Kathmandu Valley.
According to the Ministry of Health and Population, Kathmandu Valley recorded 1,409 new infections on Friday. Of them, 1,116 cases were reported in Kathmandu, 163 in Lalitpur and 130 in Bhaktapur. The number of cases in the Valley has now reached 37,698.
"I don't say that they should not check for drunk driving because during festive times more people will drink and it might lead to accidents," said Dr Sher Bahadur Pun, a virologist at the Sukraraj Tropical and Infectious Disease Hospital, Teku. "But I wonder how they are going to do the checks," said Pun.
"They should take extreme precautions for this drive," he added.
Traffic police personnel have reported one of the highest transmission rates of Covid-19 among government employees as they are in direct contact with road users, especially after the implementation of the odd-even rule. A total of 360 traffic police personnel have been infected with Covid-19 so far.
Senior Superintendent of Police and chief of the division Bhim Prasad Dhakal said the division office is serious about the issue. "We will book serious drinkers," said Dhakal.
He said the division is looking for "creative" means to discourage people from driving under the influence. The division office during the first week of September installed 50 dummies of traffic police personnel wearing their dress, all across the Valley.
"Drunk drivers dread the mannequins at night," said Dhakal.
In addition to that, traffic police officials are also going to launch a series of programmes to raise the public's awareness. The division office plans to distribute pamphlets, air messages related to drunk driving on FM radio stations.
---
---