Valley's crime rate drops during lockdown
There has been no serious crime in the last 20 days, police say.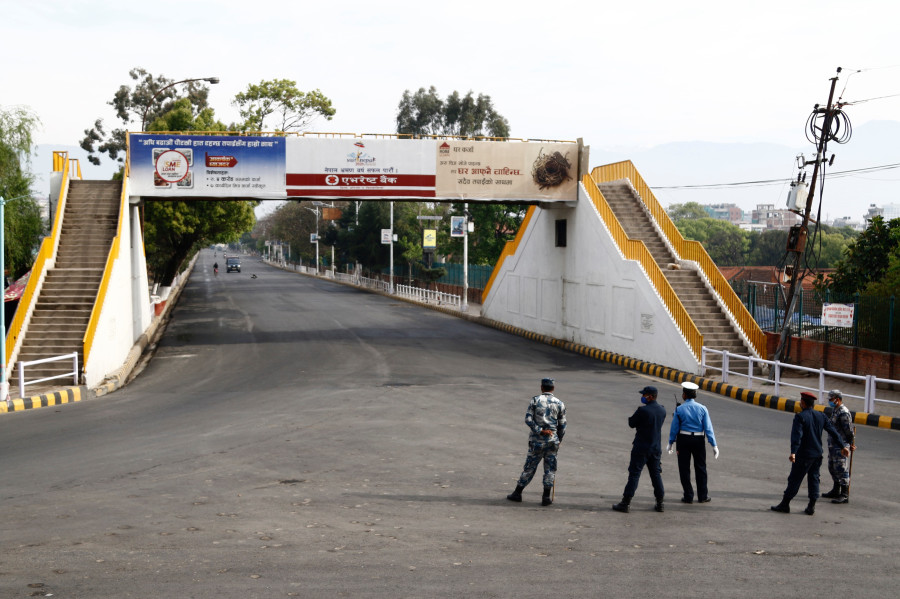 More than 5,000 police personnel have been mobilised throughout the Valley to enforce the government's lockdown orders. Post Photo
bookmark
Published at : April 13, 2020
Updated at : April 13, 2020 08:05
Kathmandu
Crime rate in the Kathmandu Valley has dropped significantly during the lockdown period.

According to the data provided by the Metropolitan Police Office, Ranipokhari, since the nation wide lockdown started on March 24, the Valley has recorded only 105 cases, the majority of which were banking offences, and incidental and suicidal deaths.
Ten days preceding the lockdown, police had recorded 296 cases.
Deputy Inspector General Biswaraj Pokharel, chief of the metropolitan police office, told the Post on Sunday that Valley's crime rate has dropped by more than 65 percent in the past 20 days.
"No heinous crime has been recorded during the lockdown period. Our officers are not only punishing lockdown violators but are also keeping an eye on criminal activities," Pokharel said.
More than 5,000 police personnel have been mobilised throughout the Valley to enforce the government's lockdown orders.
As people have been staying indoors for nearly three weeks now, many social organisations have raised their concern regarding possible rise in domestic violence cases.
Police say they are aware that the incident of domestic violence could increase during this period, but they have not received any complaints till date.
"The number of domestic violence cases could increase during the lockdown, but not a single case has been reported inside the Valley till date. If we get any complaints, we will respond to them promptly," Pokharel told the Post.
The Nepal Police emergency hotline has also been a lot less busy since the start of the lockdown.
According to Assistant Sub Inspector Dipak Yogi, who responds to the 100 calls, a majority of calls are from the people with emergencies who need to travel.
"We also get calls from people to inform us about individuals who have recently returned from abroad and have not been observing self-isolation," Yogi told the Post. "There are also complaints from now and then about ambulance drivers refusing to take patients to hospital."
Most of the cases that police have been dealing with in the recent weeks are related to lockdown violation.
Police have taken action against thousands of people inside the Valley for breaching the stay-in orders.
---
---