Disgraced anti-graft official Pathak under investigation for money laundering
Raj Narayan Pathak is facing corruption charge for receiving Rs 7.8 million to settle an engineering college dispute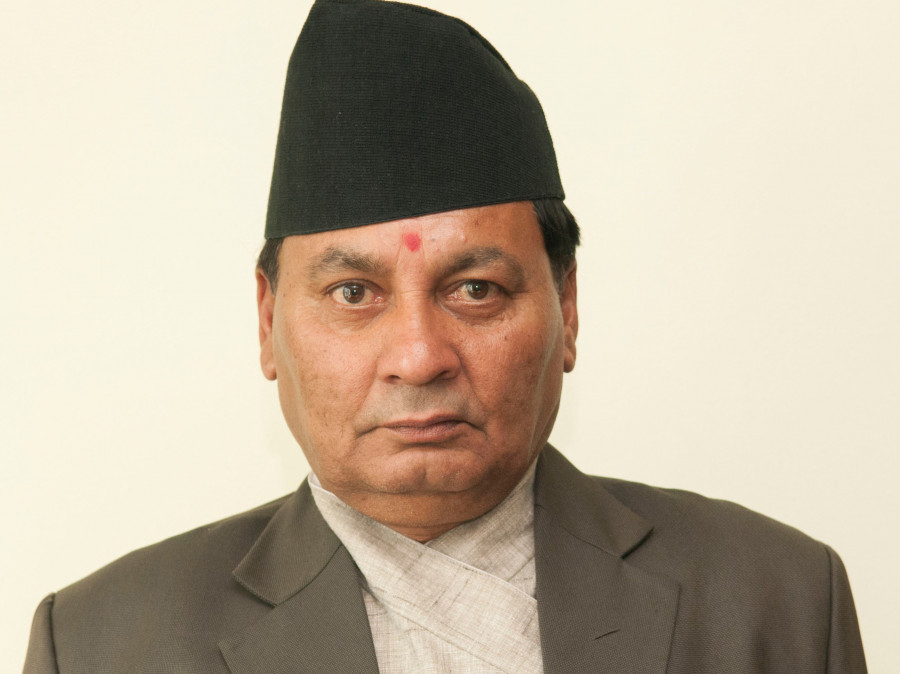 bookmark
Published at : July 18, 2019
Updated at : July 18, 2019 18:06
A former commissioner of the Commission for Investigation of Abuse of Authority, who is facing a corruption case, is also being investigated for money laundering.
A senior official at the Department of Money Laundering Investigation told the Post that Raj Narayan Pathak is being investigated for amassing wealth through illegal means and reinvesting the illegally earned money.
"We are working in collaboration with the Central Investigation Bureau of Nepal Police," the official told the Post on condition of anonymity, citing the sensitivity of the matter.
Pathak is already facing graft charges at the Special Court after he was found receiving Rs 7.8 million to settle a dispute related to Nepal Engineering College.
Although the Commission for Investigation of Abuse of Authority investigates into property amassed by public officials through illegal means, the anti-money laundering agency has initiated a parallel probe into Pathak's possible involvement in money laundering.
Accumulation of wealth through reinvestment of illegally obtained property or cash is tantamount to money laundering.
CIB Chief Deputy Inspector General Niraj Shahi would not confirm the joint investigation into Pathak but said that the CIB has been conducting many investigations jointly with the money laundering department.
"CIB staff have been deputed at the money laundering department to assist its investigation," he said.
On March 26, the anti-graft body had filed a corruption case at the Special Court against Pathak, charging him of committing corruption of Rs7.8 million after he was embroiled in a bribery scandal regarding the ownership of Changu Narayan-based Nepal Engineering College.
Leaked audio and videos showed Pathak admitting to have received Rs7.8 million from a group headed by Lambodar Neupane to settle a dispute over a land owned by Nepal Engineering College.
The group had attempted to capture the property of the college by registering it as a private company from a public one. When the case reached the CIAA, Neupane and his group had reportedly bribed Pathak to settle the dispute in their favour.
After the videos were leaked, Pathak resigned as CIAA commissioner on February 15.
A complaint has also been registered at the CIAA demanding investigation into Pathak's property following his resignation over bribery scandal.
The anti-money laundering agency has prioritised investigating the individuals charged with corruption.
"We will focus on investigating into people accused of corruption, tax evasion and human trafficking, the three areas identifed as most risky ones," said Binod Lamichhane, information officer at the department.
Asia Pacific Group on Money Laundering (APG), a regional intergovernmental institution against money laundering and terrorist financing, is conducting a mutual evaluation of Nepal in 2020.
Concerned government officials say that Nepal would have to make significant progress on key risk areas to keep the country out of the blacklist of Financial Action Task Force (FATF), a global-anti money laundering body. The APG is an associate member organisation of the FATF.
The department officials said the probe on Pathak is also a part of demonstrating Nepal's commitment to anti-money laundering during the mutual evaluation.
The mutual evaluation is a peer review system where other nations and jurisdictions of APG review Nepal's compliance to global anti-money laundering standards. Nepal is one of the 41 members of the APG.
"In order to improve our standing before the mutual evaluation, we will have to target some influential people who are accused or suspected of amassing property through illegal means," an official of the department said.
The Money Laundering Department has hardly investigated or filed cases against people who are accused of corruption since its establishment in July 2011.
According to the department, it has filed only two cases on charges of money laundering against people accused of corruption.
One is against Sanjaya Sah Takla, former state minister, and another against Rabi Raj Shrestha, former senior superintendent of police. Sah is accused of masterminding Janakpur bombing in 2012 that took the lives of five people while Shrestha is accused of smuggling.
As of last fiscal year 2018-19, the department has filed 51 cases related to money laundering at the Special Court.
The Corruption Prevention Act-2002 allows the anti-graft body to investigate into the property obtained by public officials through reinvestment of illegal wealth.
***

What do you think?

Dear reader, we'd like to hear from you. We regularly publish letters to the editor on contemporary issues or direct responses to something the Post has recently published. Please send your letters to [email protected] with "Letter to the Editor" in the subject line. Please include your name, location, and a contact address so one of our editors can reach out to you.
---
---