Transport Department plans to resume night bus service in Kathmandu
Along with the ring road, the public buses will also go up to Dhulikhel and Thankot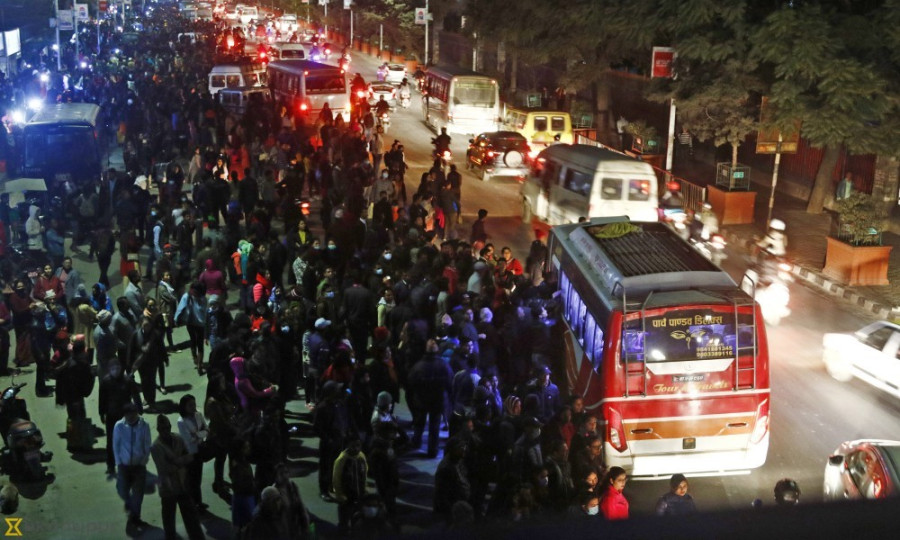 bookmark
Published at : June 10, 2019
Updated at : June 11, 2019 08:14
Kathmandu
The government is planning to resume night bus services inside the Kathmandu Valley from the first week of July. The buses will start operations from 8:30pm.
"The services will be implemented in two weeks. Many private companies have come to our office to provide night services," said Kumar Prasad Dahal, director general at the Department of Transport Management.
Officials at the department said that over half a dozen private companies—such as Swayambhu Yatayat, Mahanagar Yatayat, Sajha Yatayat, Manakamana Yatayat and Mayor Yatayat—have shown interest in operating their vehicles during the night.
"We are having a meeting on Wednesday with the traffic police, the Nepal Police, and the transport entrepreneurs. We are going to increase the bus fare, which will be up by almost 50 percent than busses that ply the streets during the day time," said Dahal.
This is however not the first time night bus services are going to be operated in the Valley. The Kathmandu Metropolitan City, in cooperation with Bagmati Coordinator of National Federation of Nepal Transport Entrepreneurs, in July 2012 had operated 16 night buses after 8 pm, but due to a lack of coordination and proper planning, the bus service was stopped in less than six months. For the purpose, the KMC had allocated Rs 2.5 million while the Ministry of Finance had allocated Rs 2 million for the project.
"The department is not going to invest any money in this. We will only fix the bus fare rate," said Dahal. For the security of drivers and passengers, the department will be coordinating with the traffic police, the Nepal Police and other state security agencies.
The public buses will go around the ring road, and will also go to places a little further, such as Dhulikhel, Thankot, Jorpati and Balaju.
"The Wednesday's meeting will fix the exact routes and bus fare rate," said Dahal.
Urban planners have welcomed the move, saying this will ensure better mobility in the valley. "If the Department of Transport Management has taken this initiative then the drive will be successful, as they are connected with many bus companies," said Kishor Thapa, urban planner and former government secretary.
He, however, suggested that operators develop a mobile application with which passengers can be notified of the busses that are operating at night. He further opines that if public busses are available during the night then that will add to a thriving nightlife in Kathmandu.
---
---