Congress proposes more central members in its draft statute
A committee formed to suggest amendments to the Nepali Congress statuehas recommended increasing the number of central committee members from 85 to 141.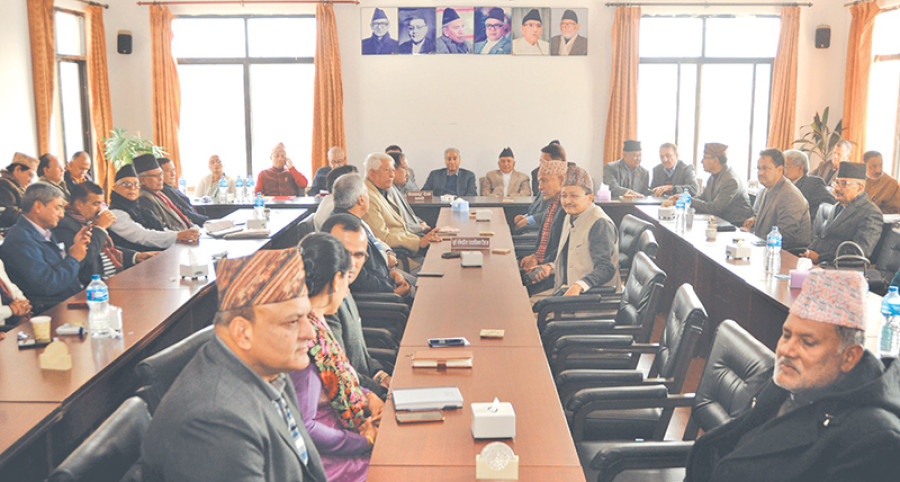 bookmark
Published at : November 26, 2018
Updated at : November 26, 2018 09:07
Kathmandu
A committee formed to suggest amendments to the Nepali Congress statuehas recommended increasing the number of central committee members from 85 to 141.
The draft incorporating amendments suggested by a committee led by party General Secretary Purna Bahadur Khadka, however, is for retaining the number of central office bearers.
Khadka, coordinator of the statute drafting committee, on Sunday submitted the document to the office bearers at a meeting of the Central Working Committee. The opposition party is working to revise its law in line with the provisions of the federal constitution.
Party leaders said the number of central committee members was being increased as per the proportional and inclusive policy of the constitution and the formation of federal, provincial and local governments. There, however, won't be a change in the electoral process.
The draft proposes barring NC leaders from holding two positions at a time. The draft statue has also incorporated the differences of opinion in several clauses, expressed by senior leader Ram Chandra Poudel. The dissent registered by Minendra Rijal, Ramesh Lekhak and Farmulha Mansur has also been incorporated into the document.
According to NC Spokesperson Bishwa Prakash Sharma, the document addressing diverse views has been provided to all the central committee members.
"Leaders have been asked to study the document and express their views at a session slated to begin on Thursday," Sharma said. He added that the
party statute set to be finalised will be inclusive and will support women's
participation.
Dissenting leaders have lobbied for 11 office bearers in the central committee including the president, three vice-presidents, three general secretaries and a treasurer. The draft submitted by the Khadka-led committee has suggested one position each for the vice-president, general secretary and joint-general secretary.
The draft statute proposes an eight-layer party structure from the booth committee up to the central body. A central disciplinary committee and an accounts committee have also been proposed.
The draft proposes only one type of party membership. The NC currently has two different types of membership—active and general. While the Poudel faction backed by the Koirala family has been lobbying for both the membership models citing the need for distinctive identifications between active and general members, President Sher Bahadur Deuba is said to be in favour of scrapping the provision of active membership.
Drafting committee members, however, argue that the recommendation is based on the past experience wherein the issue of active membership had triggered a major controversy.
The draft statute will be tabled at the Mahasamiti meeting scheduled for November 14-18 in Kathmandu following its endorsement by the central working committee.
---
---