Urban regeneration in core city areas
KMC offers integrated zero-cost accommodations to residents of old, shaken neighbourhoods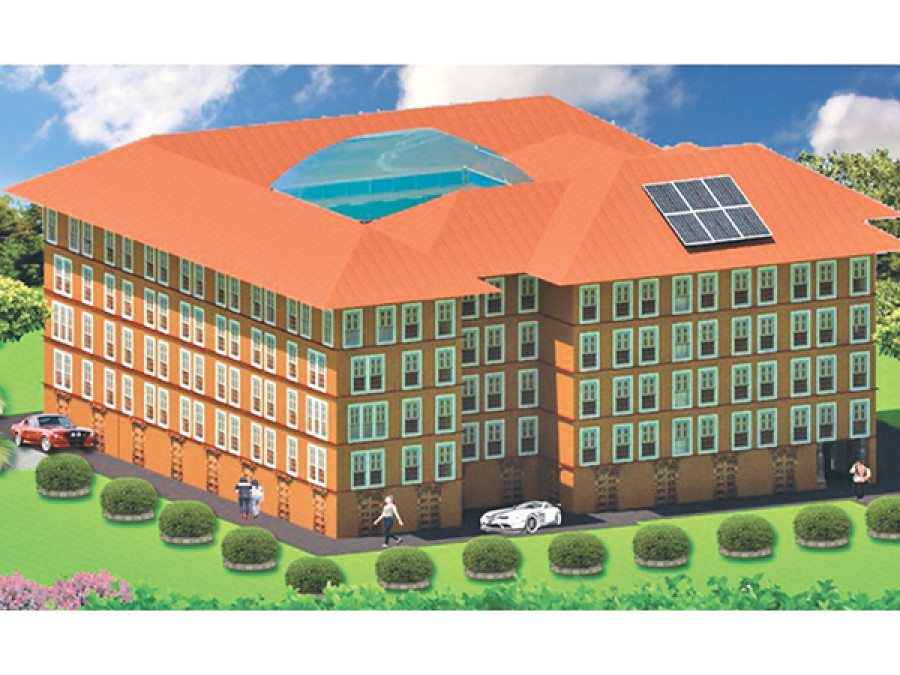 bookmark
Published at : February 3, 2016
Updated at : February 3, 2016 09:12
Kathmandu
Core areas of the Capital such as Kilagal, Vaidya Chowk and Suchikar Galli, which are highly congested and were heavily damaged by the Gorkha earthquake, are getting a facelift as the Kathmandu Metropolitan City prepares to rebuild the entire area into planned integrated housings.
As part of its urban regeneration programme, the KMC plans to shift the existing homeowners in old and dense neighbourhoods to consolidated zero-cost accommodations by demolishing their houses in favour of residential blocks with wide roads and enough open spaces. Most of the residents of these areas have already bought into the idea and more are opening up to it, according to the metropolis.
The KMC has finished drafting preliminary designs for Kilagal and Vaidya Chowk in Ward No 18. According to chief of the KMC's Physical Development and Construction Department Uttar Kumar Regmi, an average house in the area is eight-storey tall with buildings as tall as 13-storeyed while land plots are as small as 100 square feet. "The existing buildings cannot be managed into planned settlements nor can the damaged structures be renovated so we are opting for complete reconstruction of the area," he said.
He further informed that houses in the area are attached, more than fifty years old and have low scope for retrofitting. He added that 54 residents of Kilagal and eight of Vaidya Chowk have already handed in their land ownership certificates for the programme to begin. Residents of Wards 26 and 27 have also united and there is talk of entire neighbourhoods, from Wards 12 to 30 (the area between Bishnumati River in the west; Jamal, Bhotahity, New Road Gate, Sundhara and Bhote Bahal in the east; Lalitpur in the south; and Khushibu, Chhetrapati and Bhimsensthan in the north) expressing their willingness to opt for house pooling.
The KMC had allocated Rs10 million for the programme this fiscal year and a further Rs30 million has been set aside for the upcoming fiscal. The remaining cost will have to be borne by the residents themselves. The logic behind house pooling, where individual homeowners give up their houses and pool resources to construct large community dwellings, is that such designs offer economies of scale. The blocks' residents will be provided with living space of almost the same size as their previous homes, but by sharing the costs for building the outer walls, beams, partitions, staircases, plumbing, wiring, foundations and labour and equipment, they will be investing less than the usual amount for such undertakings on an individual scale. Despite living in a single large building, people will have their own separate spaces within.
For Kilagal, Regmi said, the metropolis estimates that homeowners will have to spend Rs400 million for building earthquake-resistant homes while the KMC will spend Rs100 million for technical and organisational expenses and for infrastructure like roads and gutters. Likewise, the KMC has estimated that Rs100 million will be required for rebuilding Vaidya Chowk with the city authority investing Rs20.5 million.
But there are also concerns that the new settlements will not be able to incorporate cultural sensibilities into their design. The neighbourhoods house sattals and temples that have sat next to houses for centuries. Moreover, in Newari culture, processions during rituals such as jatras and marriages can only move along certain pre-set paths. Regmi has said that the facades of new buildings will be adorned with traditional Newari motifs, so that aesthetically at least there will not be much change. Likewise, heritage structures like temples, patis and bahals will be preserved. Local resident Macha Raja Maharjan said that as the people in the area are desperate to rebuild their homes, many are willing to compromise on the centuries-old norms.
The KMC has already partnered with National Society for Earthquake Technology for technical support to the programme. The metropolis is also working to bring in foreign aid for the project, Regmi said. Construction will begin this fiscal year, he added.
---
---