Empty trails and deserted villages: the pandemic brings the mountain economy to a standstill
During the spring trekking season, mountain trails would have been teeming with tourists, but this year, Covid-19 has turned these trails ghostly and desolate.

During this time of the year, Ghandruk would be teeming with trekkers. This year, however, the picturesque village is almost empty. Post File Photo
bookmark
Published at : May 8, 2020
Updated at : May 8, 2020 07:47
Kathmandu
Every year between March and May, Biswas Gurung, a trekking guide and tourism entrepreneur from Ghandruk, would hardly get time for anything else apart from work.
During these three months, hundreds of trekkers from around Nepal and across the world would visit Ghandruk, a picturesque village in Kaski district, within the Annapurna Conservation Area Project (ACAP), and guides like Gurung, specialised in organising guided treks in the region, would be in high demand.
If not guiding trekkers along trails, Gurung would be busy helping out at his family-run Shakti Guest House, a four-room lodge in the heart of Ghandruk. With hundreds of trekkers passing through the village, the guest house would operate on almost full occupancy, and every helping hand made things easier, said Gurung.
But things are markedly different this year. It is early May, almost the end of the Spring tourist season, and Ghandruk is empty. The dozens of small hotels and lodges are empty and the narrow stone pathways that characterise this quaint Gurung village are deserted. There are no trekkers basking in the sun, drinking warm tea after a long hike. Lodge owners aren't busy preparing meals on the kitchen fire, bedsheets aren't laid out to dry, the chimneys aren't billowing smoke. Instead, there is an eerie silence.
In early March, when many governments began to advise their citizens against non-essential travel, villagers from Ghandruk to Langtang who rely on tourism to make a living nervously followed unfolding events. In the final week of March, when the Nepal government announced a complete nationwide lockdown, along with a restriction on all international flights, the little hope they had held out was dashed.
On March 14, the last of Gurung's guests left the village for Pokhara.
"The Kaski Tourism Management Committee then announced the closure of all hotels, lodges, homestays in the village from April 10 to May 14," said Gurung. "Ever since then, there hasn't been much to do but stay home."
In Langtang's famed Kyanjin Gompa, the nearly two dozen hotels and lodges have been shut for more than a month. With no trekkers, Kyipa Tamang and her family, who run the Superview Hotel, spend their days in the fields planting potatoes.
"It's a huge blow to us," said Tamang. "The months from March to May are some of the busiest for us. During these three months, all our 16 rooms run on full occupancy."
Already in February, when Covid-19 wasn't as widespread as it is today, Tamang had noticed a drop in the number of tourists visiting Langtang. The number of tourists began to drop dramatically in mid-March, she said.
With no business, Tamang's staff asked to go on leave so that they could return to their villages.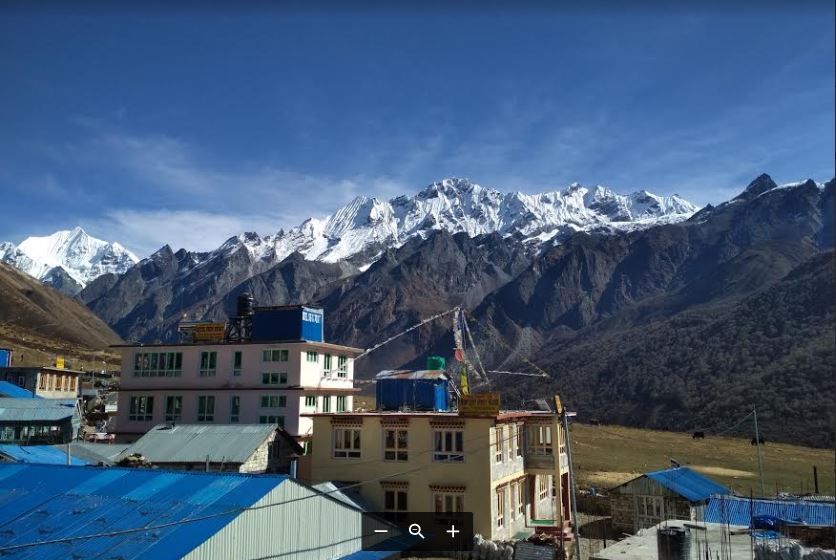 In Langtang's famed Kyanjin Gompa, the nearly two dozen hotels and lodges have been shut for more than a month. Marissa Taylor
"Crises are not new for those of us who live in the Langtang Valley," said Tamang. "Just five years ago, the 2015 earthquakes dealt a huge blow to all of us. Many in the valley lost their lives, and the trekking trails that provide livelihood to so many of us here were badly destroyed."
In 2015, the year of the earthquakes, the number of tourists visiting Langtang dropped significantly to just 5,016, compared to the previous year's 12,265.
"But we are resilient people. Damaged trails were rebuilt; so were lodges and guesthouses, and the number of tourists visiting the Valley increased with each passing year," she said.
Langtang had made a difficult but almost complete recovery, with a record 21,945 tourists visiting the valley in the 2018-19 fiscal year, according to data from the Langtang National Park.
"But I don't think overcoming this crisis will be that straightforward. There's so much fear and uncertainty surrounding the virus, and even if the lockdown is lifted, I don't think things will go back to normal," says Tamang.
With medical experts citing social distancing as the most effective tool to curb the spread of the virus until a vaccine is developed, which many experts say is unlikely to happen within the next year, tourism entrepreneurs along Nepal's various trekking routes are faced with an uncertain future. Tourism is the mainstay for most of these villages, providing most of their incomes and employment.
"The villagers here estimate that there won't be tourists for another year or so," said Gurung. "For a village like Ghandruk, where tourism is the main source of income, people are beginning to worry. We have 57 hotels here in Ghandruk, and many more are under construction. Businesses might have closed but interests on business loans still need to be paid, and it is beginning to worry people."
With no business, many in Ghandruk, says Gurung, are going back to agriculture to keep themselves occupied—and fed. The same is happening in Kyanjin Gompa.
"We have around 22 to 23 hotels here in Kyanjin, and ever since the lockdown, people have started working in the fields to keep ourselves occupied and to grow our own vegetables," said Tamang, who has been planting potatoes, cauliflower and buckwheat—the only crops that grow high up in the Himalayas.
"People here are deeply worried about how long the current situation will go on," she said. "But a more immediate worry for us is the lockdown. Our village relies on Syabrubesi, which is a two-day walk away, for food. If the lockdown continues, we are worried that the food we have stocked will run out and there'll be no way for us to get more."
Frequently asked questions about the coronavirus outbreak
UPDATED as of September 22, 2020
What is Covid-19?
Covid-19, short for coronavirus disease, is an illness caused by the coronavirus SARS-CoV-2, short for severe acute respiratory syndrome coronavirus 2. Common symptoms of the disease include fever, dry cough, fatigue, shortness of breath and breathing difficulties. In severe cases, the infection can cause pneumonia, severe acute respiratory syndrome, kidney failure and even death.
How contagious is Covid-19?
Covid-19 can spread easily from person to person, especially in enclosed spaces. The virus can travel through the air in respiratory droplets produced when a sick person breathes, talks, coughs or sneezes. As the virus can also survive on plastic and steel surfaces for up to 72 hours and on cardboard for up to 24 hours, any contact with such surfaces can also spread the virus. Symptoms take between two to 14 days to appear, during which time the carrier is believed to be contagious.
Where did the virus come from?
The virus was first identified in Wuhan, China in late December. The coronavirus is a large family of viruses that is responsible for everything from the common cold to Middle East Respiratory Syndrome (MERS) and Severe Acute Respiratory Syndrome (SARS). After an initial outbreak in Wuhan that spread across Hubei province, eventually infecting over 80,000 and killing more than 3,000, new infection rates in mainland China have dropped. However, the disease has since spread across the world at an alarming rate.
What is the current status of Covid-19?
The World Health Organisation has called the ongoing outbreak a "pandemic" and urged countries across the world to take precautionary measures. Covid-19 has spread to 213 countries and territories around the world and infected more than 31,405,983 people with 967,505 deaths and 22,990,260 recoveries. In South Asia, India has reported the highest number of infections at 5,557,573 with 88,943 deaths. While Pakistan has reported 306,304 confirmed cases with 6,420 deaths. Nepal has so far reported 65,276 cases with 427 deaths.
How dangerous is the disease?
The mortality rate for Covid-19 is estimated to be 3.6 percent, but new studies have put the rate slightly higher at 5.7 percent. Although Covid-19 is not too dangerous to young healthy people, older individuals and those with immune-compromised systems are at greater risk of death. People with chronic medical conditions like heart disease, diabetes and lung disease, or those who've recently undergone serious medical procedures, are also at risk.
How do I keep myself safe?
The WHO advises that the most important thing you can do is wash your hands frequently with soap and water for at least 20 seconds or use hand sanitizers with at least 60 percent alcohol content. Avoid touching your eyes, nose and mouth with unclean hands. Clean and disinfect frequently used surfaces like your computers and phones. Avoid large crowds of people. Seek medical attention if symptoms persist for longer than a few days.
Is it time to panic?
No. The government has imposed a lockdown to limit the spread of the virus. There is no need to begin stockpiling food, cooking gas or hand sanitizers. However, it is always prudent to take sensible precautions like the ones identified above.
---
---