Go where the winding foot trails take you
Experience the air in Helambu reverberating with Buddhist chants and the prayer flags dancing to their tunes.

Aamayangri hill is a vantage point to enjoy a bird's eye view of Helambu Rural Municipality. The hill is worshipped as goddess. Anish Tiwari/TKP
bookmark
Published at : February 7, 2020
Updated at : February 9, 2020 13:15
Sindhupalchok
Helambu, originally home to the Hyolmo people, has a cluster of villages perched on hilltops enclosed by mountains powdered with snow. The cold season turns the region into a winter wonderland with mountain slopes reflecting the weak sunrays off into many of the valley's abysses. Come summer, and the landscape changes into green vast meadows, where cows spend lazy afternoons grazing to the sound of burbling streams and rivulets that wind their way into the Melamchi river.

Helambu in Sindhupalchowk district is one of the 12 local units in the district. Helambu Rural Municipality is what you would call a typical hill settlement with winding streets lined with colourful prayer flags fluttering in the wind; wooden houses determined to stay upright after decades of use, cheerful locals going about their daily lives but most importantly it is a settlement resolutely trying to get back on its feet after the devastating earthquake in 2015 razed everything it held dear to the ground.
Almost every bend in the street in the municipality will take you to the doorsteps of a gompa (monastery), some standing in its original form while others flaunting a newer facade after undergoing multiple renovations structurally. The municipality was one of the worst-hit areas in the district but the "city of monasteries" is rising up again with the unified effort of the locals to breathe life back into the settlement.
Before the earthquake, most of the houses in Helambu were wooden structures typical of houses in hilly areas of the country. And, while some hasty reconstruction work has seen unassuming concrete structures serving as homes to the local population, the local government is now focussing on rebuilding the houses in their original form, this time highlighting Hyolmo culture and tradition.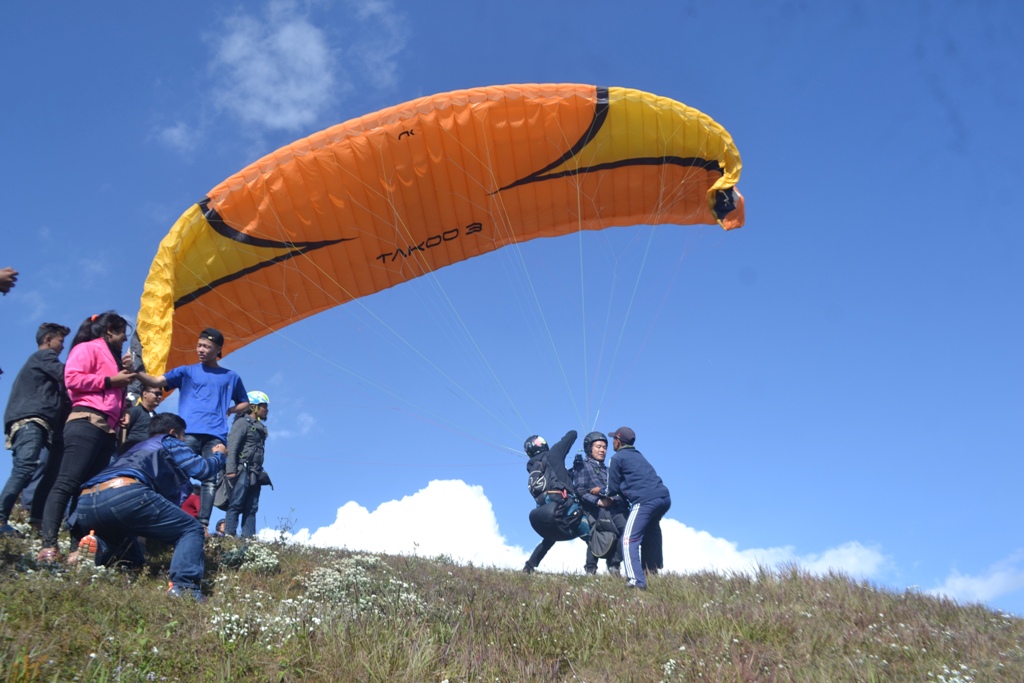 Visitors prepare to paraglide from Ghopteghyang. Anish Tiwari/TKP
The local government is also encouraging the locals to rebuild their houses keeping the traditional architecture intact and to run homestays to cater to the visitors. Shermathang, Melamchigyang and Tarkeghyang villages in the municipality have successfully started homestays that are not only focussed on providing a bed and breakfast service to guests but also offer an in-depth view into the lives of the Hyolmos through their art and craft, and language and food. Phurba Dorje, a Sermathang local, who runs a homestay in his village, said, "We managed to preserve some of our belongings passed down to us by our forefathers. We had almost lost them during the earthquake but we managed to save them even during the reconstruction process," said Dorje. "Today these objects take centre stage at my homestay."
Sukten Late, from the US came to Helambu recently after her first visit some 20 years ago. Late remembers Helambu to be surreal in its beauty and its people. "Every time I think of Tarkheyang, gompas, prayer flags and prayer wheels come to mind. I associate this place with peace and I wasn't disappointed on my recent visit," said Late. "The locals are doing a wonderful job running homestays here. It gives them the financial support they need to make a living and to maintain the local cultural sites."
Nimagyaljen Sherpa, chairman of Helambu Rural Municipality, says that the area sees 36,000 annually who come to Panchpokhari, Aamayangri and Melamchighyang, among other religious destinations.
Helambu also hosts some of the most popular treks in Nepal starting with the Helambu Circuit Trek which starts in Pathibhanjhyang and ends in Sermathang. Of late; however, alternate trekking routes have opened up such as Simisidang-Gosaikunda route recommended for those in for relaxed and easy walks through meandering rice fields and gentle slopes. Simsidang mountain and Ganesh Himal mountain range makes for good company throughout the trek, says Raj Kumar Bhandari, a local of Helambu municipality. The trail passes through Langtang National Park which makes it possible for trekkers to come across the region's wildlife. "The route passes through forests that are home to red pandas; the chances of spotting these endangered animals are quite high," he said. "You'll also see deer, himalayan monal, and maybe a leopard or two." On the route, you'll also come across a waterfall called Thulo Jharana. This is a good spot for weary hikers to rest and catch their breaths.

A foot trail that leads to Semrangdanda via Ghopteghyang. Anish Tiwari/TKP
Around 35 to 40 tourists walk through these trails daily, says Sherpa.

Kiul-Sermathang-Ghopteghyang-Gosaikunda route is another popular route in the region. Kiul, a village in Helambu Ward No.2, has an array of homestays, hotels and resorts, catering to budget travellers and high-end ones alike. The route starts from this quaint little village which gives a fitting glimpse into what can be expected along the trail.
Uttam Mani Bhandari, the operator of Bhandari Trout Resort in Kiul, said that Kiul has struck a chord with tourists for it has everything a traveller looks for in a destination. "On a daily basis, we have 20 to 25 tourists here," he said. "They seem to enjoy the weather, the food and our conversations the most!"
There are several sites in the route that attract tourists in droves, among them the most visited are the cave of Guru Rimpoche in Tarkeghyang, Chiri Gompa in Melamchighyang, Mahadev Paila and Aamayangri in Kiul-Sermathang route. While on the route, trekkers can stop by a small riverside village called Bagar and try out some delicious river trout. The next stop is Aamayangri through Tarkeghyang and Melamchighyang. Aamayangri is a hill worshipped as a goddess of prosperity and good fortune by the locals. Situated 3,770 metres above the sea level, Aamayangri offers a 360-degree view of the surrounding mountains, and a bird's eye view of the valleys and rivers below.
Close to Aamayangri is the Great Wall, which is the rural municipality's latest initiative to beautify the area. A 60-km long wall dubbed as the 'Great Wall' is under construction. So far, 15-km of the wall has been completed. The wall runs parallel to a foot trail that goes to Semrangdanda via Ghopteghyang. The municipality has recently opened a paragliding institute at Ghopteghyang which has already gained popularity among the visitors.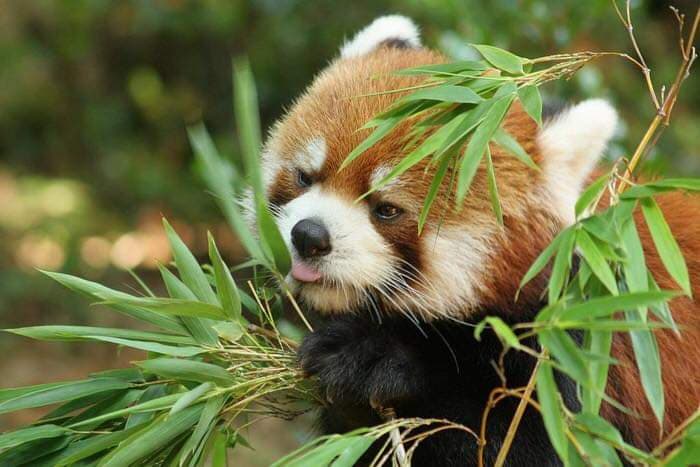 The elusive red panda spotted in a forest near Langtang National Park. File Photo
Local authorities are also taking initiatives to upgrade Sundarijal-Kutungsang, Ghopteghyang-Melamchighyang, Timbu-Melamchighyang, Palchok-Kakani, Tingale-Kakani, Sermathan-Palchok Bhagwati, and Nindeshwori Mahakal-Aamayangri, among dozens of other foot trails in the district.

Both of the above-mentioned trails have plenty of homestays one outdoing the other in the services they provide and the food they serve. Check into any one of the homestays and you'll be welcomed with "Chhajya"—a variety of salty tea. The interior of these homestays is done tastefully staying true to their roots. Most homes have statues of Guru Rimpoche, Arya Awalokeshwor and Shakyamuni Buddha in the kitchens.
Since potatoes play an important role in the diet of the locals, they feature heavily on the dishes served to the guests. Besides potatoes, the locals prepare meals from corn, millet, soybeans, barley and other food grains grown in the region. "We offer guests Dosalla, a ceremonial scarf, and Chhajya when they arrive. This is our tradition," said Tasi Dongba Hyolma, a local of Sermathan village, adding that Hyolmo dishes like Thongse, Hildo, Yokyo, He Dhurma (dishes made from potatoes), Chhajya and Jhyadang (salt teas), Aarak, Balu, Chhyangol, Ningu (traditional liquor made from corn, wheat and rice) are prepared for guests in homestays. "Traditional dishes like Shen, Bhakpe, Babar, Jhyero, Bre, Dur Khura and Khapse made from corn, maize, millet and rice flours are also prepared during local festivals and ceremonies. But, homestays serve these varieties upon request any time of the year," he said.
The locals raise farm animals such as chickens, goats, cows, buffaloes, and chauris as a source of income so fresh farm produce are always on the menu, says Hyolmo.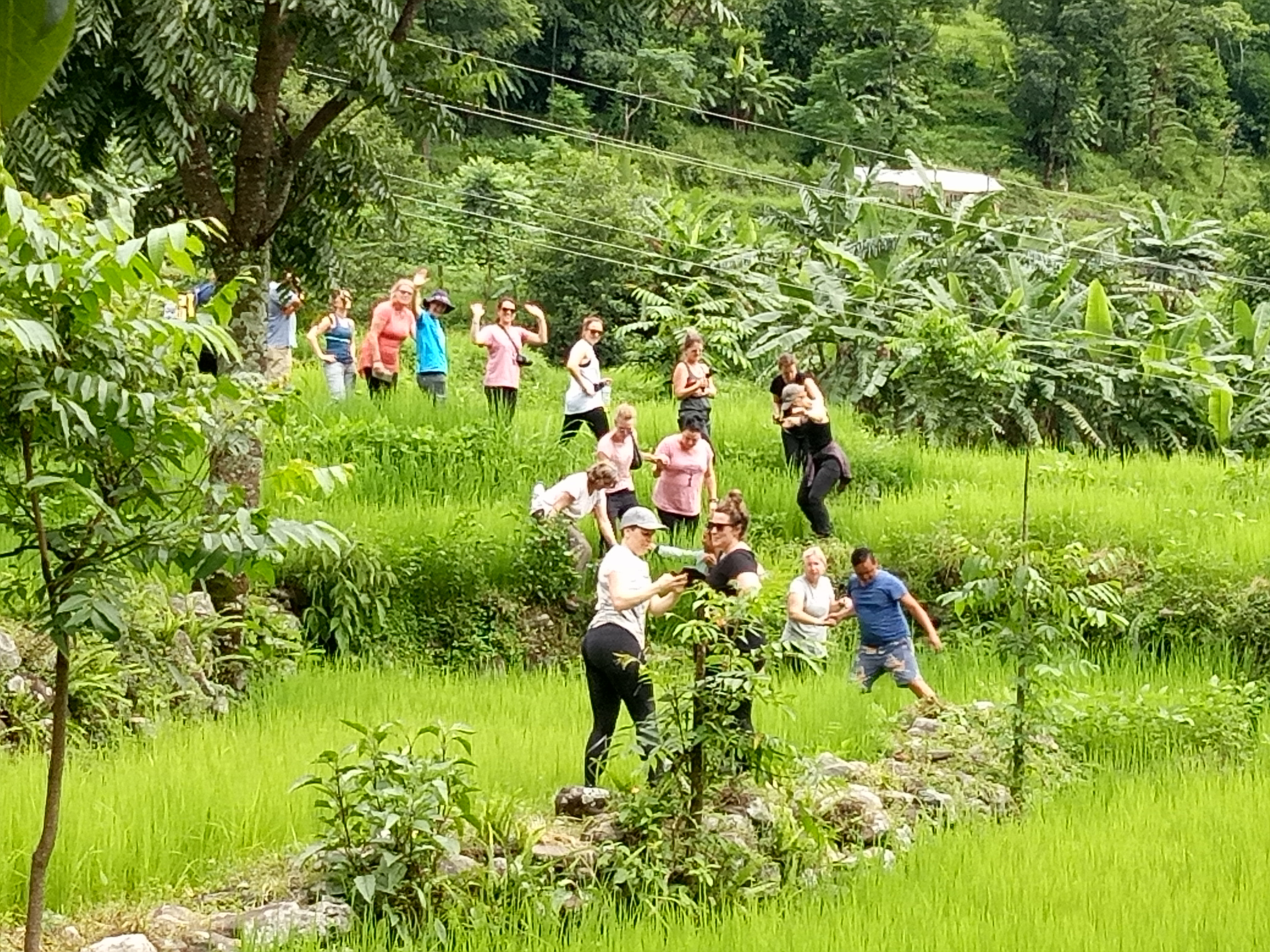 Tourists take a tour of the terraced fields in the rural municipality. Anish Tiwari/TKP
Helambu hosts many festivals throughout the year with Sonam Lhosar being the most celebrated among the Buddhist community. Sonam Lhosar marks the advent of a new year and follows the Lunar calendar which means it falls on different dates every year of the Gregorian calendar. The festival sees coming together of families and the larger community to observe the New Year Day.

Saga Dawa is another important festival celebrated each year on the full moon day of the fourth lunar month of the Lunar calendar. On this day, Buddhists pay solemn homage to Lord Buddha, celebrating his life and enlightenment.
Pasang Gyalgen Lama, a Buddhist priest, says that Buddhist pilgrims from all over the world make their way to Helambu at least once in their lifetime. "Helambu has a lot of Buddhist holy places. Buddhism is a way of life and those of the faith come to Helambu to live that experience," he said.
TOP TIPS
HOW TO GET THERE:
It's about 4-hour drive along Araniko Highway from Kathmandu to Helambu Rural Municipality.
WHERE TO STAY:
There are several homestays in Helambu but if you're around the Langtang National area check out Hotel Green View.
WHAT TO EAT:
Organic foods (daal, rice) and green vegetables but also try local chicken and mutton dishes. Taste Chhajya and Bhakpe when you check into a homestay.
BUDGET:
Rs 2,000 per person per night.
DETOURS:
You can visit Lakpa Dorje Himal and Dragon Gufa in Panchpokhari Thangpal Rural Municipality from Kiul.
---
---