Here's why Galkot should make it to your bucket list
Once the administrative centre of Baglung, Galkot has been lying in the shadows for decades. But now the city of ancient fort is set to restore its towering glory.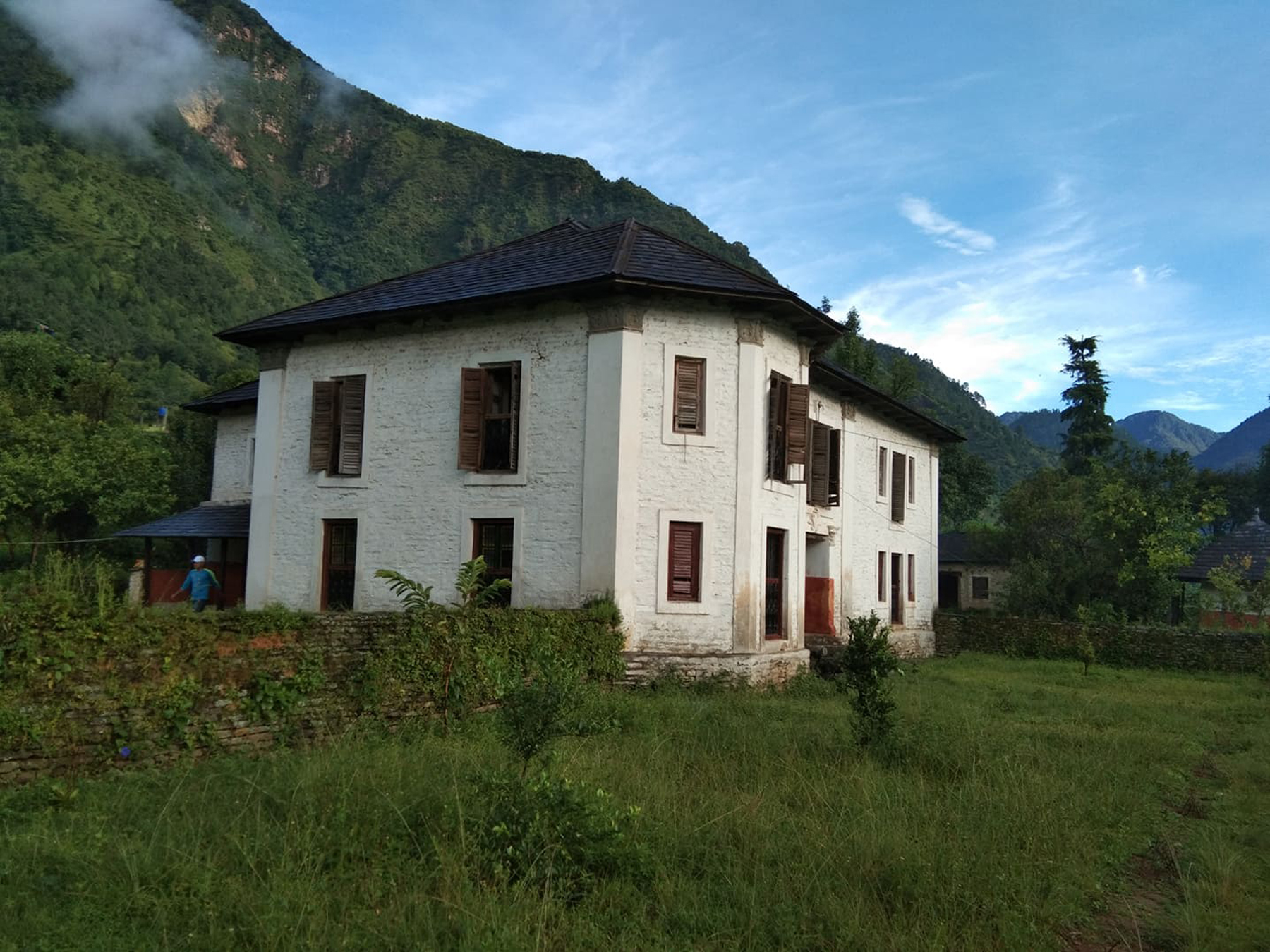 The historic Galkot Durbar in one of Galkot's crown jewels. All photos by Prkash Baral/TKP
Published at : December 20, 2019
Updated at : December 21, 2019 07:41
Did you know Galkot was one of the Chaubisi Rajya before the Gorkhali king Prithvi Narayan Shah unified Nepal? The town of Galkot that exists today once served as the citadel of the hilly kingdom, ruled by the Mallas. The historical palace is still intact—one of the many reasons to visit Galkot. Today Galkot might have slipped out of public knowledge but the locals here are gearing up to restore the historical town's storied legacy. Before the Panchayat era, Galkot served as the headquarters of Baglung and if not the administrative headquarters, the locals seek to make Galkot the tourism headquarters of Baglung.

Mayor Bharat Sharma Gaihre says that he has no-nonsense tactics—to act locally and to welcome investment from Nepalis overseas. Gaihre recently travelled to Japan to promote the campaign to restore Galkot's withering glory. "We are expecting investment and knowledge from Japan to foster education, healthcare, and cleanliness and, of course, tourism," Gaihre told the Post. "Many Nepalis there said they are ready and interested should the local government support them."
Before the adoption of federalism Galkot meant not an administrative unit but an area divided into three of the district's election zones. But after the local level elections, Galkot became a municipality, and it was then that the campaigns to promote Galkot started, said Gaihre. The municipality has championed tourism committees and youth clubs such as Ghumte Tourism Development Committee and Ghumte Youth Society that have in turn launched campaigns to tap into Galkot's tourism potential.
Ghumte, towering majestically at 11,000ft from sea level, is the tallest mountain in Galkot. The tourism campaigns for Galkot start from this tourism hub.
"Ghumte is associated with Galkot's prestige, its identity," said Jhanka Bahadur Basnet, chair of the committee. "We are currently working towards developing infrastructure in Ghumte, to ease the tourists' trips and facilitate an efficient stay. We are trying to give the visitors options: either to trek for seven hours from Harichauk or take a vehicle and condense the trek down to one-and-half hours."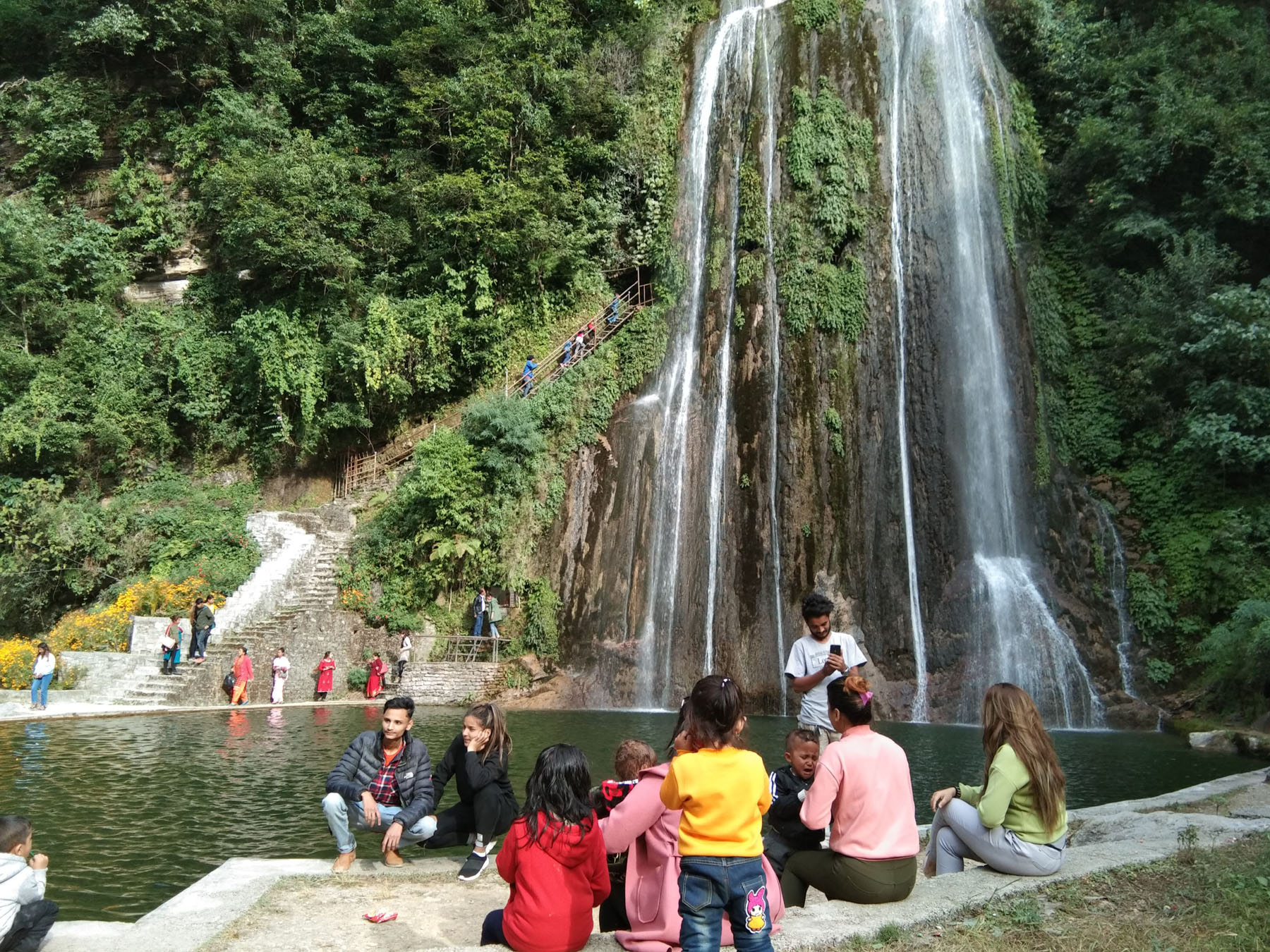 Visitors at Gaighat jharana, an hour's ride from Galkot.
The Ghumte peak overlooks Baglung bazaar and even parts of Gulmi and Palpa towards the south. The way to Ghumte is nevertheless rich on its own—featuring hangout spots such as the Bhimsen Lauri, Siddha Baraha and Bhimsen Temple, among others. "Our first and foremost aim is to develop a motor road that will be the springboard for other infrastructure development," Basnet said.
Part of the infrastructure at the mountain top has already been repaired with a budget of Rs two million. The same amount is allocated this year too. Meanwhile, other plans of religious and cultural tourism are being tabled. Every ward in the municipality has focussed on developing tourism, according to Gaihre. Homestays are in the pipeline and historical sites are being revamped. Community hotels, rest spots, and drinking water facilities are being constructed. Many hotel entrepreneurs and workers recently attended a hospitality training to learn more about hosting visitors, said Basnet.
Ghumte hosts different kinds of festivals every year during Baisakh Purnima and New Year, and a unique Gurans Festival in honour of the hills that are painted red with rhododendrons.
The ancient palace of Galkot is in dire straits for the lack of conservation. But there are preparations to turn it into a historical museum, according to Narayan Dhwoj Malla, Ward Chairman of Galkot Ward No. 5. "We can create a rich ambience layered with historical material and so attract history nerds," he said.
Adventure sports like canyoning and paragliding are also the attractions of Galkot. Sahashradhara is popular for canyoning, by the Gaighat waterfall. Municipality officials say they are promoting canyoning outside the district as well. Likewise, paragliding services have taken off in places such as Teuwa, Ramchedhunga and Dhustung. Both paragliding and canyoning have been attracting a significant number of youths. While currently popular among local youths only, adventure sports are bound to attract aficionados from other districts as well, with the construction of the mid-hill highway that cuts through Galkot and stretches further west.
Meanwhile, the local unit is also promoting sports such as martial arts, volleyball and basketball, among others. The 22th iteration of National Volleyball Tournament recently concluded in Galkot. "Galkot gave a warm welcome to players coming from across the country and the players seemed to enjoy the place's beauty," said Renuka Kaucha, deputy mayor. "There's a lot to be done but we succeeded to render the message that Galkot is beautiful and is a place to visit."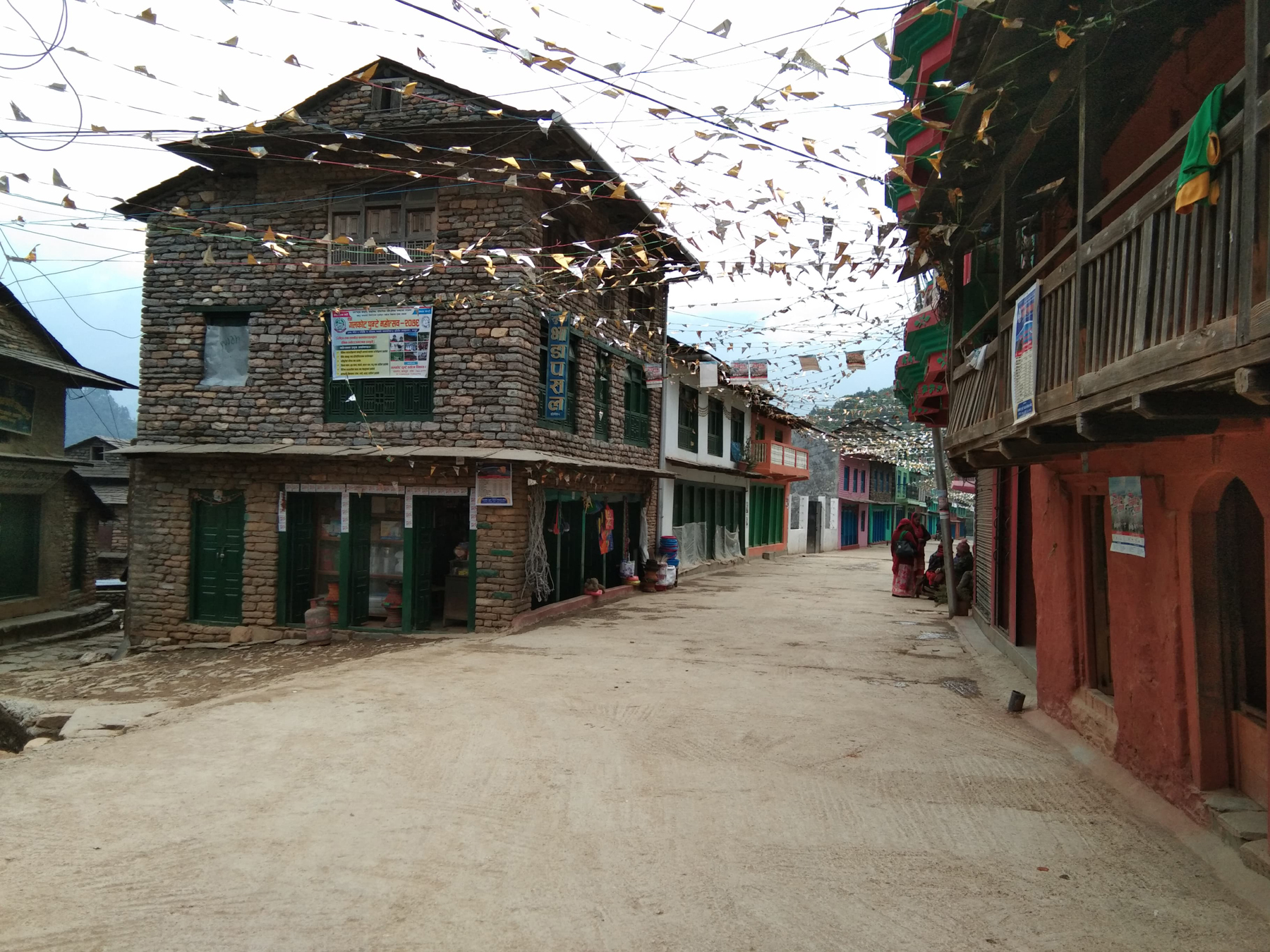 Galkot bazar awash with morning light.
How to get there: An eight-hour bus trip takes you to Baglung, the district headquarters. Galkot lies 45km west of Baglung—a two-hour bus ride.
Where to stay: There are plenty of hotels and home-stays in Galkot and its vicinity.
What to eat: Besides the local dal bhat tarkari, Galkot is famous for a species of fish called Asala from Darmakhola, fish sukuti and other cuisines made of fish; dhindo; and local chicken.
Detours: Gaighat waterfall, Ghumte hill and Teuwa.
Budget: An estimated Rs 5,000 for a two-day stay.
---