The free-wheeling woman who defied society's motorbike-based stigma
Prerana Malla could be the first Nepali woman to reach Kora La by motorbike, and she wants other women to do the same.

Photo courtesy: Prerana Malla
bookmark
Published at : December 5, 2019
Updated at : December 6, 2019 07:47
Kathmandu
Waiting for construction workers to stop blasting holes in the cliffs, on the way to Lo Manthang, Prerana Malla encounters yet another bemusing comment.

"These people ride their bikes like crazy," a local man told his friends. She couldn't help but chime in, in Nepali, to ask just who "these people" were. The man, shocked she spoke in native tongue, was astonished to see a Nepali woman riding her bike in such difficult climes—he told her he thought she was Filipino. "He wasn't trying to insult me, but he was amazed," Malla said.
It wasn't a new experience for her—having already been confused for Thai, Chinese and Japanese—because seeing a woman negotiating the often precarious scarped roads of Upper Mustang is a rarity, the locals told her. In fact, on arriving in Lo Manthang, she was told she could be the first Nepali woman to actually have visited on her own bike, or, at least, the first locals had seen, according to Malla.
"I never thought for a second that females didn't do this, but as soon as I reached there, I realised," said Malla, who was told by the owner of the hotel she was the first he'd met. "Maybe it's because I don't consider my gender to be part of it all."
While the sight of a woman traversing such terrain lifted some eyebrows, Malla realised the perceptions of female motorcyclists a little earlier. Malla had been organising a group adventure to the former Himalayan kingdom of Lo for a while before leaving, but she soon realised things weren't as simple as she thought they would be. Slowly, as the trip came closer, she found that it soon became male-dominated adventure and she was the sole female—not a problem for her, although it seemed her uncle (who was taking part) took issue with it. She says he was worried she wouldn't be able to deal with the jibes and jokes of the laddy crew, and insinuated she should perhaps stay home. Eventually, his insinuations became more explicit and she decided to pull out.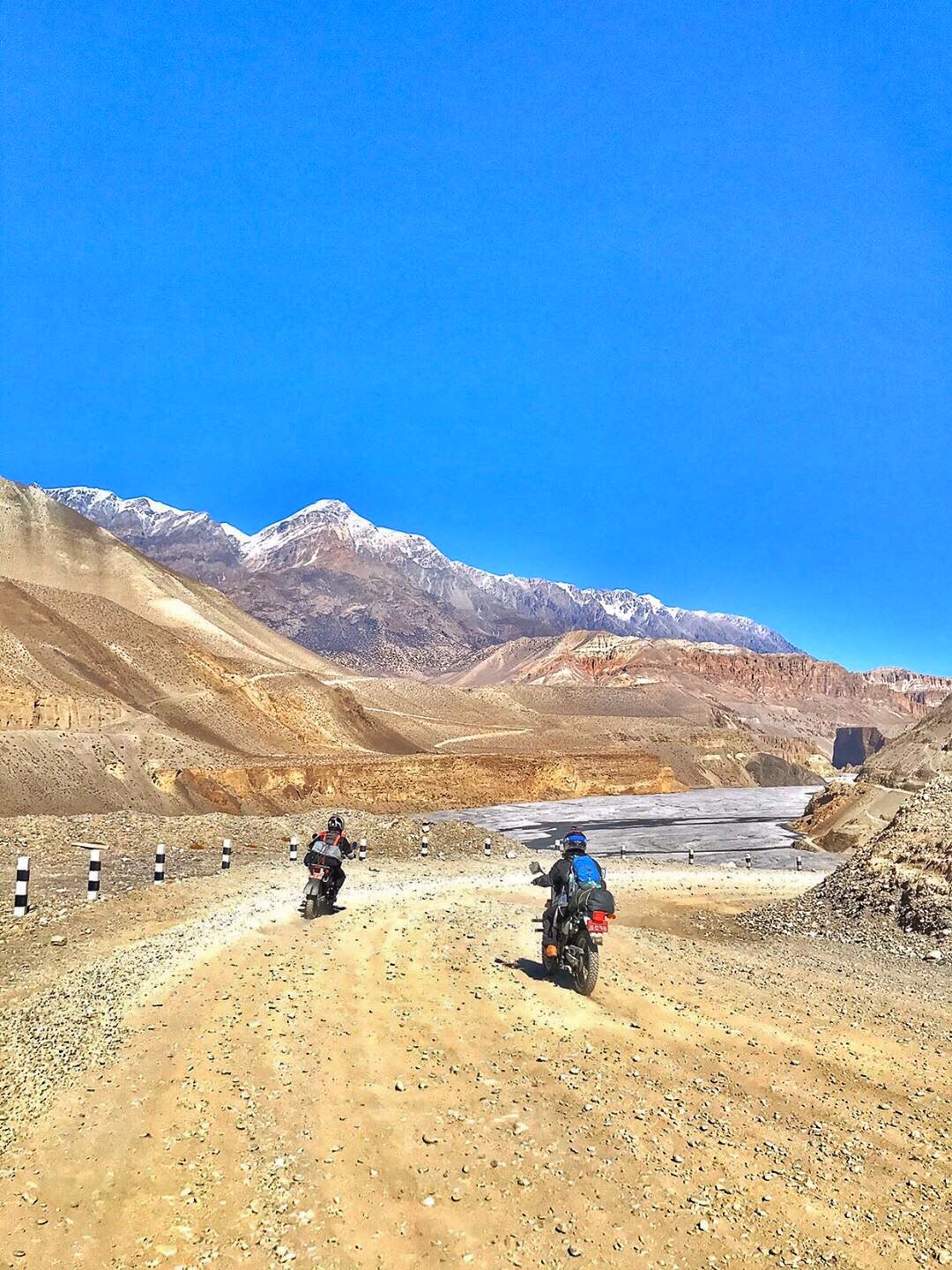 Malla takes to the roads with her father, when plans with her initial group fell through. Photo courtesy: Prerana Malla
"I felt like I was a baby that would need to be taken care of, on the trip. I think he was being protective in a way," said Malla. But the reality was, for her, that she didn't want to be taken care of—she just wanted to be treated equally. "I can take care of myself," she said.
"When this all happened, my family and I were making our way back from doing the ABC trek. My dad was just like 'that's OK, let's just go to Upper Mustang together'," she said. Borrowing a friend's 200cc Suzuki dirt bike, and using another they own, the pair packed and left on their almost 1200 kilometre journey to the Upper Mustang border and back.
While she said she wasn't necessarily annoyed by the actions of the group, she was a little miffed that such a thing would happen in this day and age. While she said it seemed she thought they would have to treat her like a perpetual damsel in distress, and wrap her in proverbial cotton wool, when she actually did the trip with her father, Prem, the reality was very different.
Malla admitted there were fleeting moments of distress and fear, but it's evident she's anything but a damsel. She was often praised for hitting the roads of Upper Mustang by people, and she obviously relished it—when asked what her favourite part of the journey was, she laughed and proclaimed: "Surprising a hell of a lot of males."
Malla grew up in Kathmandu and learnt how to ride a motorbike when she was young, and has been riding more often since 2013. Now living in Melbourne, Australia, she took this visit home as a chance to journey to Lo Manthang, having already motorcycled to Muktinath with her husband in 2014. She told the Post she was always encouraged and empowered by her father, so it was great to have him alongside on the journey.
"I was amazed to be able to do it with my father. I think something like this is a dream for many Nepalis, so I felt blessed and fortunate. I know girls who aren't even able to do group trips," she said, referring to the idea women are treated as fragile beings.
"My father doing this trip with me is not normal in our society. I think he's a big example for all the fathers and brothers," said Malla, who hoped his actions would inspire others. "You want to protect your sisters and daughters. But, at the same time you need to focus on the fact that they can grow and protect themselves."
Yes, there were times they both fell (in fact, her father had a pretty nasty crash on the way back from Pokhara), times they were soaked in freezing-cold Himalayan water, lost or dead-tired; but as Malla recounted her journey, she did so with affection.
"There were moments where I would speak to myself—'breath in, you can do this'," she said.
The journey is no mean feat, no matter one's gender, evidenced by the fact a Scottish man riding a Royal Enfield plunged off a cliff to his death during her trip.
"His group were only two minutes ahead of us. His friends were running around trying to find a way to get down to him. I've heard that particular corner is the most dangerous one—apparently 10 to 12 people die there each year," she said. "It was a reminder to me that I should be more cautious and be aware."
Arriving in Lo Manthang after four days' ride, cloaked in darkness and under a starry ceiling, Malla says there was a certain sense of relief and a definite feeling of exhaustion. But it was all worth it the next day, when she woke to the barren ochre-toned planes of Lo Manthang fringed by the lofty Himalayas. Following a quick journey to the Kora La border, the pair returned to Lo Manthang for one more night before heading back to Kathmandu. And while there were a small handful of instances when she overheard negative comments, she took it as additional fuel for her journey.
"You can be angry about it, and build negative energy, but you can also use that to build your motivation. I think just doing it was a great answer to them all," said Malla. "It doesn't matter how many times you fall, it's about how many times you get up."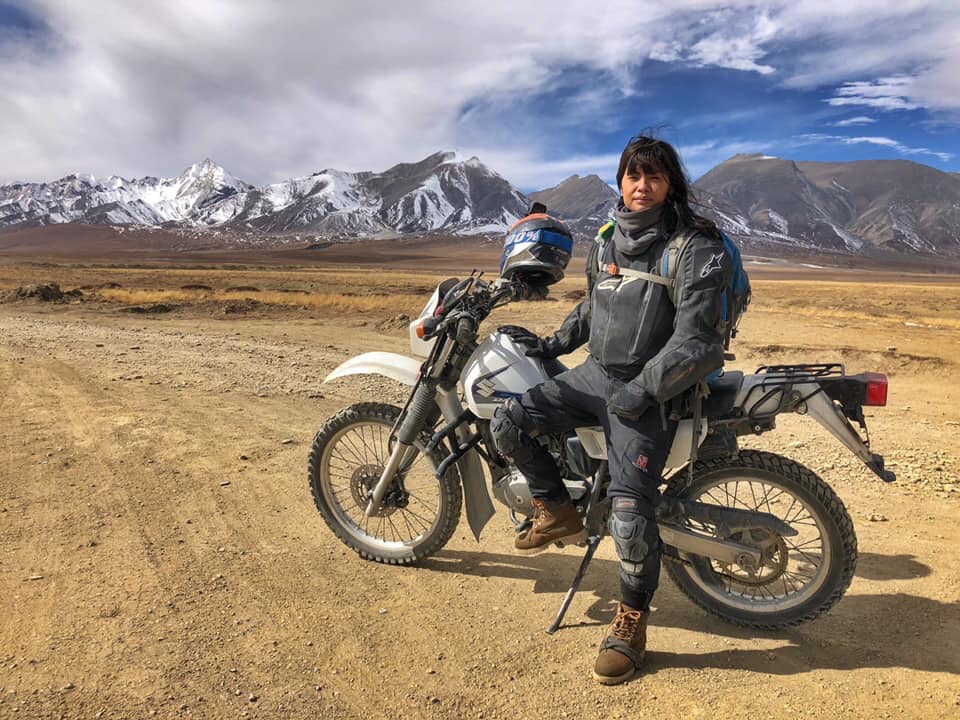 Photo courtesy: Prerana Malla
Malla's two-wheeling tips:
Physical fitness:
"If you're trying to do it on a motorbike, you have to accept the fact you're going to have to train to be physically fit, because you don't know what to expect," said Malla, who has a relatively slight 155cm frame. One thing which helps is a back brace, because the road can be tough on the spine and the back fatigues easily during long rides.
Pack light, and for the worst:
"You need to learn to pack less. I packed too much stuff that I didn't wear, but always prepare for the worst," she said. "Prepare for the things that could go wrong." That means a well-fitted helmet which cups the cheeks and chin, wind- and water-proof gear, and an armoured riding jacket, elbow and shoulder pads—to make sure you're as protected as possible.
Know your beast:
Malla took plenty of mechanical tips from her father. Going up to such high elevation means there will be plenty of difficulties, according to Malla. In fact, they had two or three times when their motorbikes cut out and died. "Know your machine as much as you can. The more you know about your vehicle, the better," she said.
Build your confidence:
"You need to challenge yourself and build your confidence," said Malla. "With this thing, I didn't even realise what I could do. I would be lying if I said I wasn't a bit scared sometimes."
---
---