Come for the temple, stay for everything else
Listikot may be best known for Listi Mandir, but it's the villagers' hospitality, beautiful walking trails, and mountain views that will make you fall in love with it.

Tsering Ngodup Lama/TKP
bookmark
Published at : November 15, 2019
Sindhupalchok
It was only halfway into the uphill jeep ride to Listikot Village in remote Sindhupalchowk District that I started loosening up a bit. The first half of the journey had been nerve-wracking—courtesy of steep uphill road with multiple fresh landslides and the ominous sights of boulders that looked like they would just roll down and crush our white Bolero jeep. As we came close to our destination, the road widened slightly and boulders were replaced by pine trees and lonely cow sheds. Around 20 minutes before the village, the jeep driver, a young man in his late 20s, stopped the vehicle, fumbled with something and disappeared into the forest. That was when I finally got out of the vehicle to truly appreciate the beauty of the landscape we were in. There were at least a dozen sun-dappled hills of all shapes and heights spread in front of us. The mighty Bhotekoshi River, now reduced to a narrow white slivery ribbon, snaking through the hills was visible too. The altitude tracking app on my phone showed we were more than 2,000 metres above sea level.
When the driver returned to the jeep, he looked much more relaxed. "I shouldn't have had that oily puri for breakfast," he said. This explained why he was so uncomfortably quiet and seemed nervous driving until this point. Just over an hour into the jeep ride, which started from Barabise, we finally reached Listi Mandir, after which the village was named. Nurpu Sherpa, a resident of the village, informed us that the temple is one of the most famous landmarks in the village, and pilgrims come to the village from afar to pay their respects to the temple's deity, and with wishes they hope to be fulfilled. There were a few people in the temple premise. There were a few young women, and a few children whose facial expressions made it clear they'd rather be somewhere else. There was also a young man who had with him a young sacrificial goat, which was obviously oblivious to its fate.
"The majority of the people here are Sherpas, and the majority depended on the nearby Nepal-China border town of Tatopani to make a living," said Nurpu. "But when the town closed after the earthquakes of 2015, many from the village were rendered jobless. But if we plan it properly, I am sure we can make the village a major tourist attraction. We have got Listi temple, beautiful views of hills, and when the weather clears up, we can see mountains too."
Even though it was four years since the quakes, at the time of my visit, the border would only open a month later, at the end of May.
From the temple, Nurpu took us to a hilltop. "You will see a splendid view of the village from the hill," he said. He was right. The majority of the houses in the village were set on a broad sloping hill. Interspersed among the houses were green fields, small pockets of various vegetables planted to feed the households. But the mountains were shrouded by enormous cloudy lumps that had formed to the north of the village.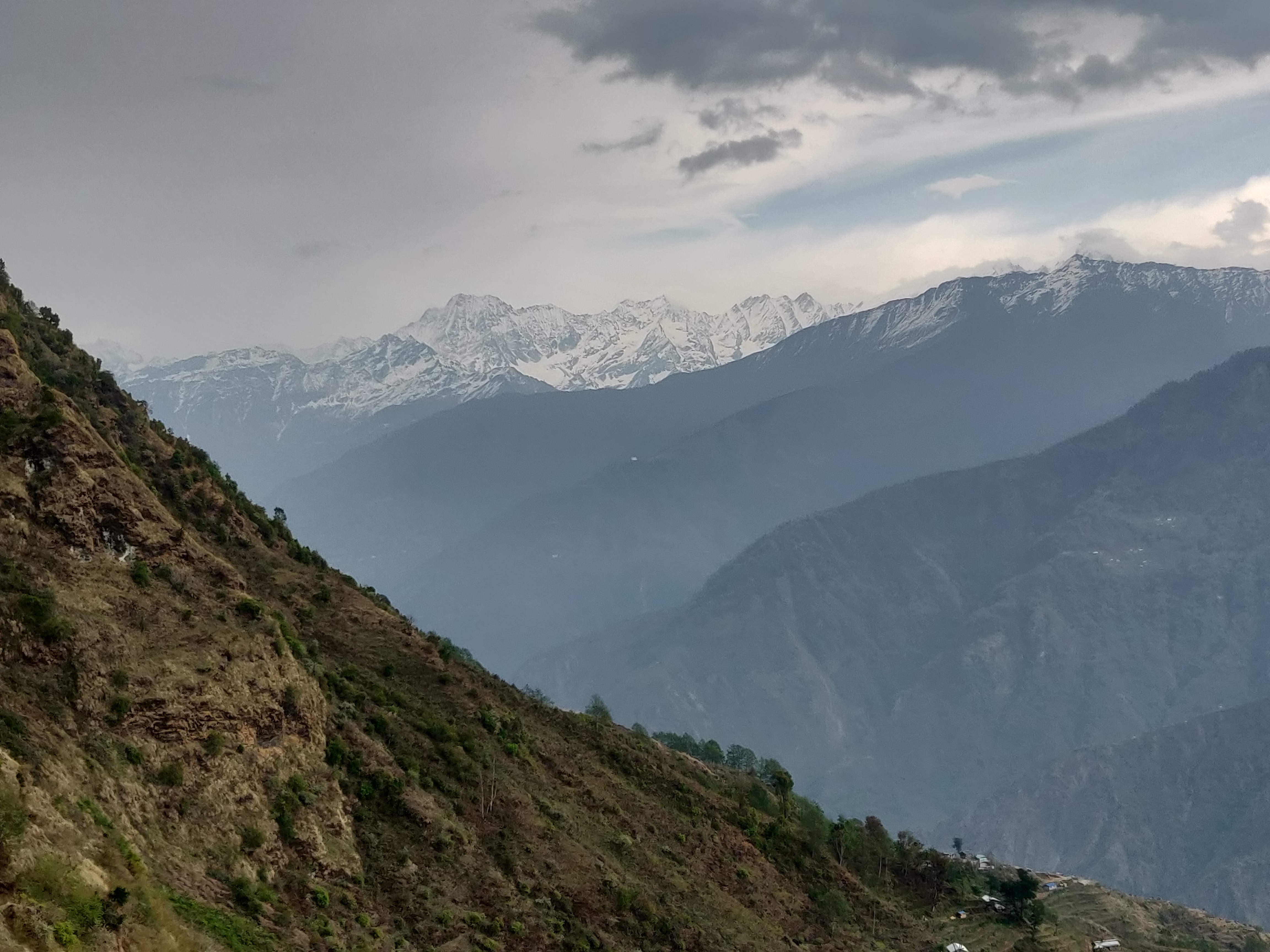 Tsering Ngodup Lama/TKP
From Listi, we walked to another nearby village where a family invited us for lunch. The family's kitchen and dining room were located in a stilt house, which had creaking wooden floors. A few men in the dining room were drinking cloudy raksi bottled in old Mountain Dew bottles. A chatty man in his 60s fired a series of questions to us—"Where are you guys from? What brings you to the village?" The matron of the house—a handsome woman in her 70s, decked in gold jewellery—urged us not to feel shy and eat as much as we want. "I had cataract operations done a few days ago, and now I have to wear dark sunglasses indoors too," she said, pointing to her oval sunglasses, which only added to her bling and swagger.
After lunch, I thanked the matron and started walking towards Sildhum Danda, a village set on a flat ridge. The trail meandered past fields of potato and other vegetables, as well as village houses. It was a long scenic walk, two hours by my watch. At the ridge, we met a woman who perhaps mistook us for government officials or NGO staff and kept telling us that her son took all the earthquake reconstruction money. I told her that she should go to the ward office and lodge a complaint. One of the locals told us not to mind her. "It's the alcohol inside her system that's speaking," the local said.
Soon it started raining, and we took shelter in Thuli Lama's house, which lies on the edge of the ridge. "The closure of the border town has made earning a living very tough for many villagers," said Thuli, who ran a restaurant in the town. "For now, I work in the family fields. It's not much, but it's better than doing nothing." The rain showed no sign of stopping, and Thuli offered to make tea for all of us. I asked Thuli if she was worried that the town might not reopen.
"I try not to worry too much. I have run restaurants my whole life, and it's the only thing I know. And if the border doesn't reopen soon, I'll go somewhere else and open a restaurant, and I know I can make it work. But for now, I am content working in the fields and being near my parents," she said.
Just as the rain stopped pelting her roof, I thanked Thuli for lending us shelter and giving us tea, and left her house. While the rain may have delayed our return to Listikot, it had cleared the clouds, revealing the mountains Nurpu had talked about in the morning. I asked him if he knew the names of the mountains, and he said he didn't know. They all were covered in what seemed to be a fresh draping of snow. Seeing them quite close, I asked Nurpu how many days it would take for one to walk there. Nurpu pondered on the question for a few seconds and said, "I don't know. What I do know is Listikot is more than a two-hour walk from here, and it will get dark soon. So if we don't start making our way back anytime now, we might have some real problems on our hands." I agreed, and we started walking back, happy with how the day had been sprinkled with warm hospitality, wonderful hikes, and then, finally, a spectacular view of the mountains.
---
---