Living with nomads
In the remote hills of Shayam in Upper Mustang, the last region's last nomadic yak herders provide a glimpse into a lifestyle that's fast disappearing.

Post Photos: Tsering Ngodup Lama
bookmark
Published at : August 9, 2019
Just 10 minutes after leaving the village of Chung Jung, the trail climbed up slightly and then bent behind a hill. The village vanished from view, and the occasional sounds of motorcycles and tractors all but disappeared.
The trail meandered into a broad uneven grassy valley flanked by wide arid hills. Two narrow rivers with icy-cold water rushed downhill with an urgency and ferocity that starkly contrasted the still and quiet landscape. I was the only human being on the trail. Teams of handsome horses with their brown and black coats shining under the afternoon sun were grazing nearby. Several Alpine choughs bobbed around, occasionally pecking at something on the ground my eyes couldn't see. Devoid of any signs of modernity, I felt like I had entered another century.
A charming woman I had met in Chung Jung had told me that it shouldn't take me more than an hour to reach Shayam, my destination. She and I shared copious amounts of salted yak butter tea in her whitewashed stone house's living room, which also functioned as a grocery store that sold everything from packaged snacks to Chinese beer. In our conversations, I learned that she had settled in the village some 20 years ago, and before that, she lived as a nomad in the nearby hills. "The first time we moved into this house, it just didn't feel right. For several weeks, it felt like I was living in a boxy bus. The ceiling felt too high and the rooms seemed one too many," she said. "It took me a while to get used to it. But now I don't think I'll be able to live in a tent anymore. It's strange how we get accustomed to things, isn't it?" When I bid her farewell, she accompanied me all the way to the end of the village where the trail to Shayam begins.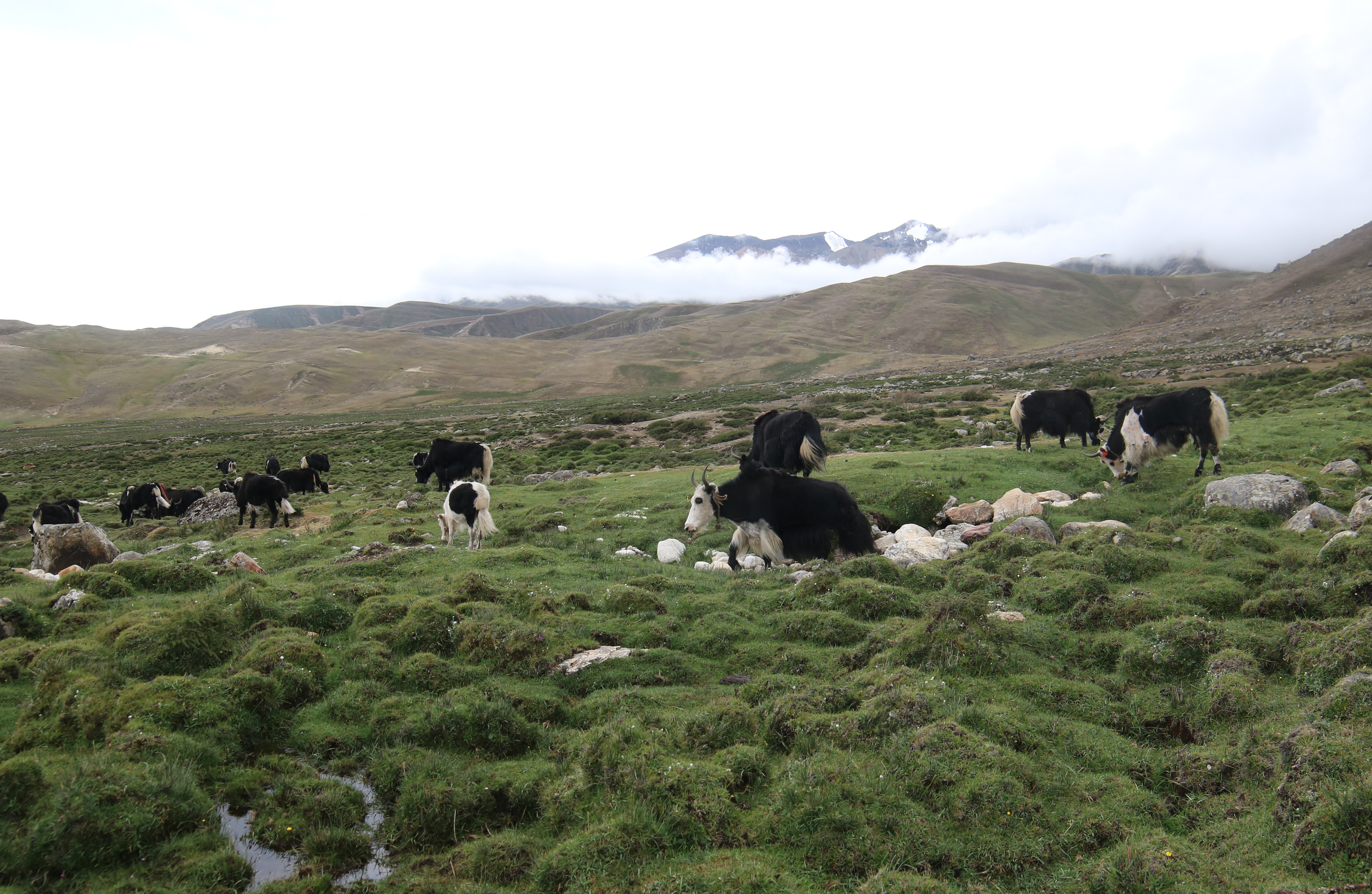 Shayam is one of the remotest parts of Upper Mustang, and I was hiking there to meet Yangchen Dolkar and her son Kunga Sangpo, who are among the last remaining nomadic yak herders in the region. They still live in tents and migrate twice a year with their yaks in search of grazing land. The centuries' old lifestyle was once practised by hundreds of families in the Tibetan plateau, but the last few decades have seen many nomadic families abandoning the lifestyle in search of greener pastures. Many have settled in villages in Mustang and in cities like Pokhara and Kathmandu, leaving behind only a handful of families still practising this lifestyle.
A little over an hour into the hike, I reached Dolkar's tent. Her light green tent stood against the backdrop of a brown hill that rises behind it. Several dozen yaks grazed near the tent, the bells around their necks ringing and filling in the air. I would learn that the yaks provided the family with wool, milk, fuel to cook and keep themselves warm, almost everything that it needed to survive. As soon as Dolkar saw me, a warm smile spread across her face, and we greeted each other by joining foreheads.
"You must be tired. Get some rest, and I'll prepare lunch for you," said Dolkar. Lunch was simple: rice and potato curry with dried yak meat. Later that evening, Sangpo, who had left in the morning for villages further down in the valley to buy a tarpaulin sheet to cover their leaking tent, arrived with a narrow plastic sheet not even large enough to cover one-fifth of the tent. "Looks like we will be spending yet another night under a leaking tent," Dolkar said with a smile.
At around 8pm, it started raining, and soon water started seeping through the tent's roof. My host quickly rolled up the Yak wool carpets to protect them from rainwater and placed old steel pots to collect the runoff water inside the tent. As the rain continued, the temperature dropped to single digits, but the cooking stove fueled by dry yak dung kept the tent warm and toasty. We stayed up late into the night, drinking salted yak butter tea and sharing stories. I learned that Dolkar was only six when she milked her first sheep, and by 12, she was already tasked with taking her family's livestock grazing in the hills far from her family's tent.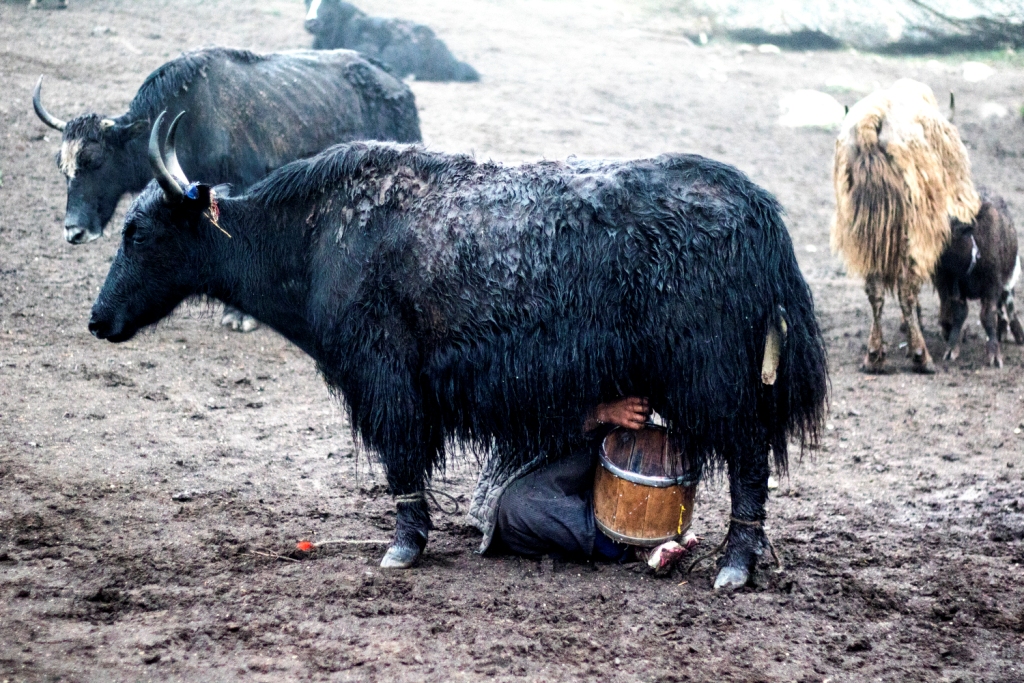 She's 46 now, and she can assess her animals' physical and mental health by just observing the way they eat and behave. She knows that when yaks are taken to a new grazing land, they do everything they can to return to their previous pasture, and when they are stopped from doing so, they get depressed and stop eating. She knows how to weave slingshots (the only weapon nomads have to scare away snow leopards, wolves and feral dogs), carpets, jackets, shawls and tents from yak wool. The knowledge is handed down from one generation to the next in nomadic families.
Early next morning, I was woken up by a shuffling noise. I saw that Sangpo was up, already wearing his shoes. It was 3am. He told me he was heading out to herd his yaks back to the tent for milking. By seven, the yaks were back and Dolkar had milked all of them. After breakfast, it was time for Sangpo to take the yaks grazing up the hill. He would only return late in the evening. Dolkar would spend the first half of the day turning milk into curd, butter and cheese, and the second half of the day collecting yak dung and baking them for fuel.
I bade farewell to Dolkar in the afternoon and returned to Lo Manthang. That evening, it rained again, and I imagined Sangpo and Yangchen rolling up their carpets and strategically placing the family's few pots to collect rainwater.
---
---