Tibet border closure hits livelihoods of Nepalis in mountain villages
Besides trade, the seasonal employment from which Nepalis in outlying villages of Bajhang earned their living has been hugely affected.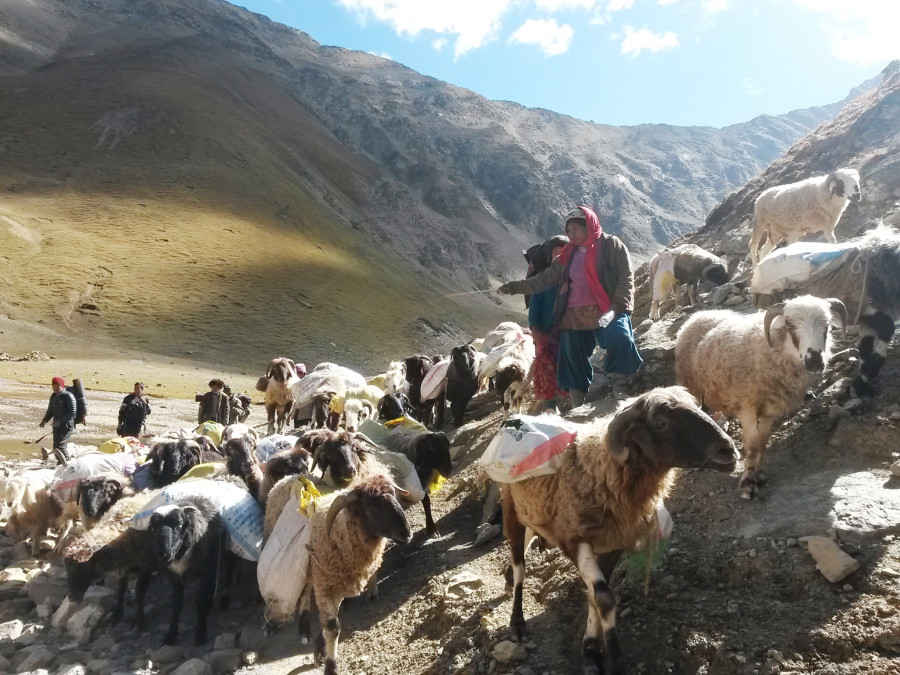 Residents of Bajhang district grazing their sheep and yak on the pastures on Nepal-Tibet border in this recent photo. Basant Pratap Singh/TKP
bookmark
Published at : September 16, 2023
Updated at : September 16, 2023 06:35
Kalu Dhami from Dhalain in ward 1 of Saipali Rural Municipality is a sheep farmer. Until four years ago, Dhami would go to Taligumpha village near Taklakot on the tri-junction of Nepal-China and India, to meet his friends.

Dhami would routinely visit Taklakot, also known as Purang, the first city in Tibet that travellers encounter after leaving Nepal. Located at an altitude of 4,755 metres, Talklakot has a vibrant marketplace and is also popular as an acclimatising stop among Indian pilgrims going to the holy lake of Kailash Manasarovar.
In August every year, Dhami would take his sheep and mountain goats to graze them in the forests in Taligumpha, Machhagad, Lokat and Khocher in Tibet. He would stay back in the Tibetan villages with the friends he had made during his visits across the border. A month later, he would return home in Dhalaun with goods like shoes, clothes, salt and Tibetan alcohol purchased in Taklakot Bazaar.
Dhami had been making the same journey every year since he was a preteen until the coronavirus pandemic prompted border closure. China closed all borders with Nepal including the Urai border point in Bajhang, a mountain district of Sudurpaschim Province, which has affected locals like Dhami who make their livelihoods across the border.
Dhami still goes to the Urai border point with his sheep and gifts of corn flour and pulses for his friends across the border hoping that the Chinese authorities would let him enter Tibet. But the border patrol sent him back stating that the Urai border is still closed for movement.
Trans-border trade and animal husbandry have been hugely affected by the border closure.
"I spent my entire life climbing up to Bhot and descending. It has been four years since I last visited the Tibetan market," said Dhami.
Local people like Dhami traded barley, uwa (naked barley), Sichuan pepper, and lentils among other local produce from the Nepali villages with traders in Tibet. They would bring back goods from the Tibetan market and sell them in the villages.
Most households in Saipal, Talkot, Mashta, Khaptadchhanna, Durgathali rural municipalities and Bungal as well as Jayaprithvi municipalities have shared friendly relationships with Tibetans people for generations.
Before Bajhang was connected with Tarai through the Jayaprithvi Highway, the locals had access only to Tibet to buy essentials like salt and wool. Their trade resulted in lifelong friendships, according to Rajendra Dhami, the former chairman of Saipal Rural Municipality.
"The relationships that started with trade had evolved into deep friendships. The Tibetan people would come to the villages in Bajhang to meet their friends. They brought salt and wool that they sold to the locals. They returned home with local produce from Bajhang," said Rajendra. "There was a cross-border movement of Bajhangis and Tibetan people before the Nepal-China border was closed."
Various historical documents show that there were trade relations between Urailek [Urai highlands] of Bajhang and Taklakot Bazaar for around 1,000 years. The then Bajhang kingdom used to impose taxes on salt, gold and wool that Tibetan traders sold.
Until 1995 people would regularly use the Bajhang-Tibet trade route. Haat bazaars (temporary markets) were organised in Saipal Chaur, Kalanga and Graphu areas every monsoon season to host the traders from Tibet. The locals of Bajhang sold flour, hot chillies, Sichuan peppers, medicinal herbs and goods made up of bamboo and wood. Tibetan traders stopped coming to Nepal for trade after the Maoist insurgency that began in 1995 gained pace.
"There used to be a crowd of people in the haat bazaars [open-air markets] that would be organised for three to four months. I had visited the haat bazaar several times to buy salt and wool," recalled Aphilal Bista, a 77-year-old man from Talkot Rural Municipality-6.
By the latter half of the 1990s, the locals of Bajhang started to go to Taklakot to sell their products and buy other essentials.
Ramgiri Bohara of Dhalaun in Saipal Rural Municipality said that he had earned up to Rs300,000 selling Dokos (wicker baskets) in Tibet before the Covid-19 pandemic. "A Doko that cost Rs200 could be sold at Rs3,000 in Tibet. People who could weave baskets could easily earn a good amount of money by selling them in Tibetan markets before the border closure. Many people lost their source of income after the border closed," said Ramgiri.
Besides trade, the seasonal employment from which Nepali people earned their living has been hugely affected ever since the border was closed. Many Nepalis used to go to Tibetan towns and villages and worked as daily wage earners. They worked as porters, farm workers and construction workers. They earned 150 to 300 yuan [1 yuan is around Rs18] on a daily basis.
Urai border point is considered a part of the Silk Road. There was strong trade, and cultural and religious relations between Nepal and Tibet through this route. "There were good people-to-people relations. Both countries should discuss the longstanding border closure and resolve the problem," said Ratan Bhandari, a researcher.
Locals complain that the government has not shown any interest in reopening the border checkpoint. "One could earn up to Rs500,000 a season by working in Tibetan towns and villages. This has all stopped due to the border closure. No one was unemployed when Taklakot was open for Nepalis. Now a lot of us are unemployed," said Kinthya Rokaya of Dhuli. "The governments of both countries must work towards opening the border and allowing movement between the two peoples."
---
---