Haphazard road construction trigger landslide in Juil, Bajhang
Villagers spend sleepless nights in fear of being swept away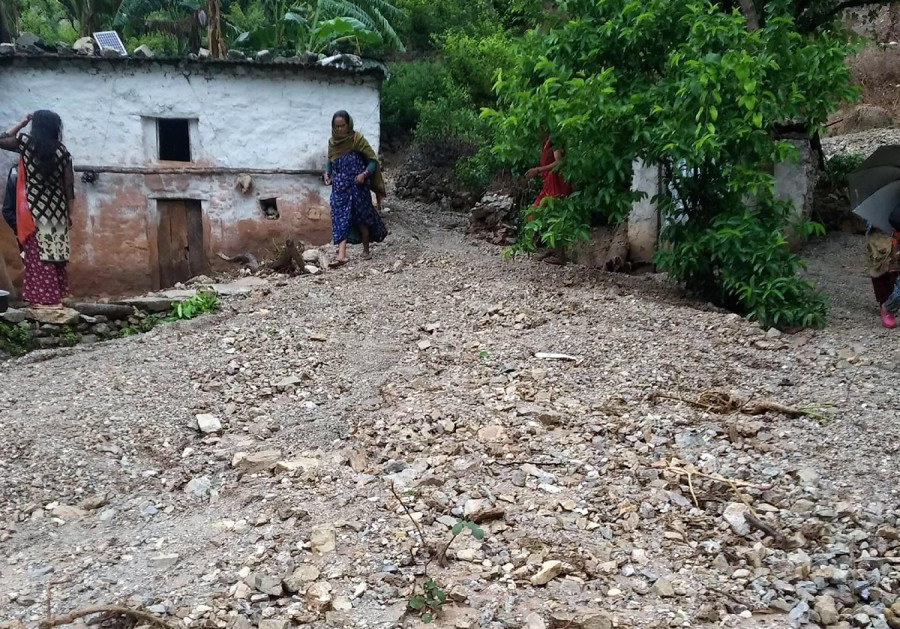 A house at risk due to the landslide in Kedarsiyu Rural Municipality, Bajhang. Basanta Pratap Singh/TKP
bookmark
Published at : July 17, 2019
Updated at : July 17, 2019 16:12
Bajhang
Fifty families of Kedarsiyu Rural Municipality in Juil are facing a risk of being swept away by a landslide. On Sunday, the under-construction Juil road connecting municipality to Durathali rural municipality, was washed away by a translational landslide.
Lal Bahadur Malla, a local man, who is a migrant worker in India, came home as soon as he heard the news of his house being swept away by a landslide.
"I lost my house and my property. But at least my family is okay," Malla said. The landslide also swept away a local school building and a temple. "This landslide has left us landless. We don't have anything to build a new house on," said Malla.
The construction of the road had started in February and was still under-construction. The locals tell how they had requested with the local authority to drop the project if the road was to be built without a technical survey done. But their voices fell on deaf ears.
"We appealed to the rural municipal office to not construct the road in haste and without conducting proper studies but they did not listen to us. If the landslides continue, we will soon be displaced," said Ambika Malla, a local woman, "we spend our nights awake fearing for the worst to happen."
Ahendra Bahadur Shahi, ward chairman of Kedarsiyu Rural Municipality, said that the municipality is planning to hold discussions with the Road Consumer Committee and the local representatives to find ways to mitigate the threat of landslides on the road stretch. "The construction work is incomplete but if the road construction continues it may trigger more landslides," said Shahi.
Chief District Officer Suresh Sunar said that he had notified both the rural municipalities to compensate the victim's family for their loss and to monitor the construction of the road. He said, "The residents of both the municipalities had filed a complaint at the District Administration Office. They had informed us of haphazard construction of the road stretch."
---
---