Nochini takes the lead by offering preservative-free fruit juice in local market
The juice is processed in a high-pressure chamber, which kills bacteria and extends the products' life by up to four weeks.

Nochini is available on five online platforms, four grocery chain stores and QFX cinemas. POST PHOTO: ANISH REGMI
bookmark
Published at : December 8, 2019
Updated at : January 23, 2020 12:50
Kathmandu
When it comes to fruit juice, Kathmandu residents have only two options - either to go in for tetra packed juice full of preservatives or visit a fruit shop offering suspect quality of freshly- squeezed fruit juice. Tsewang Sadutshang and Sonam Shrestha came up with the idea of cold-pressed fruit juice, which they named Nochini. They say their Nochini juice are made of 100 percent fruit and there are no added chemicals.

Nochini is a home-grown start-up company that came into existence last year. It began by producing fruit juice packaged in glass bottles. After receiving a good market response, Sadutshang and Shrestha were encouraged to produce various types of fruit juice on a commercial scale.

In October 2018, they launched their products in different QFX cinemas, making the shift from a small stall. "We sold more than 100 bottles and at the time we thought that was a good market response," says Shrestha.

"As we were producing from home, the product life was very short which became a constraint for us," said Sadutshang.

Sadutshang and Shrestha who pursued their bachelor degrees in the US and returned to Nepal to stay close to their families said that cold-pressed juice are easily available in the west which is both fresh and good for health.

They ventured into the business with the money they have saved while studying and working abroad. "We invested a small capital of Rs15,000 and tested our ideas by producing home-made juice and it received good reviews," Shrestha said.

Though the co-founders did not reveal the exact amount of capital they have invested in the business, they hinted that a "huge investment" has been pumped in.

The idea of producing fresh juice was of Sadutshang. She used to prepare juice and smoothies for her mother. The name Nochini was of Nepali origin and we found it catchy enough to name our business as such. "If one day we are able to export our product, the name should still be catchy," she said.

In the initial days, Nochini used to produce 100-200 glass juice bottles daily, priced at around Rs200 per bottle. Now the duo is producing thousands of bottles a day and even more during the summer. A 250ml bottle fresh juice is priced at Rs300.

Shrestha claimed that Nochini is a top beverage in terms of quality and nutrition. "We are premium because we try to keep our product as natural and as healthy as possible. "We are very competitive in the market where people do value health and quality aspects of the product.

Nochini offers eight different flavours of juice. These include Hydrator- a mix of watermelon and chia seeds, Beet It- a mix of apple juice and beet, Glow Up- a mix of pineapple, spinach and cucumber, including others.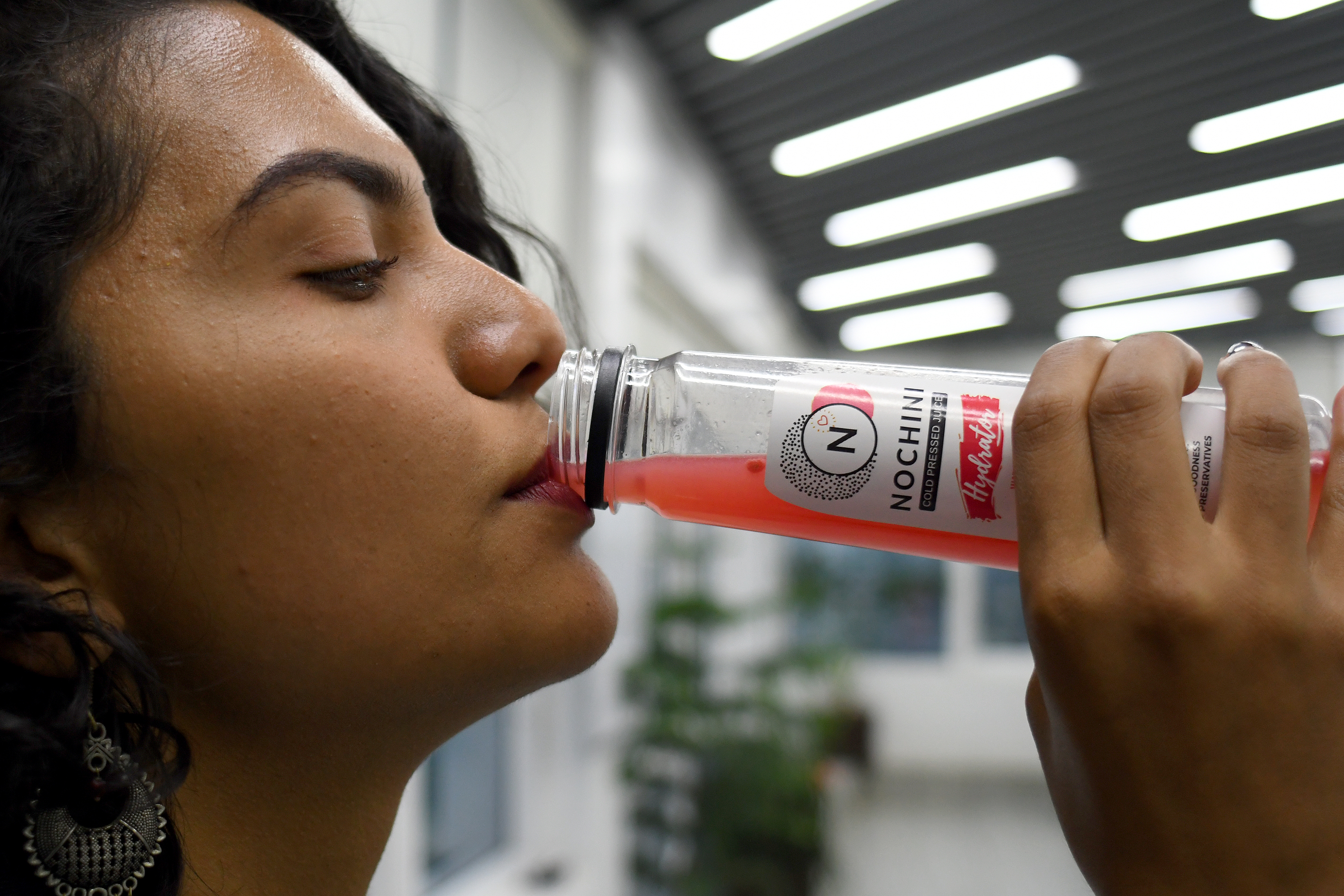 A girl hydrates by drinking a Nochini beverage. POST PHOTO: ANISH REGMI
Nochini is available on five online platforms, four grocery chain stores and QFX cinemas, the company said. The juice is processed in a high-pressure chamber which kills bacteria while extending the products' life by up to four weeks.
Dipesh Jung Pandey, chief information officer at Nochini said they are outsourcing their products from India because "we do not want to compromise on the quality."
Currently, Nochini has been using recyclable plastic bottles due to financial feasibility. "But we want to switch it to biodegradable bottles," said Sadutshang. Due to budgetary constraints, the company switched to plastic bottles from glass bottles.
"We had no option other than using plastic bottles. However, we could have taken the cheaper plastic bottles, but we did not do that," she said. "The company is charging premium rates so that people get premium services. Any bottles that come to us we recycle it. The company has been using environmentally-friendly bottles which they receive from vendors.
Likewise, the company is searching for investors to diversify production as per market demand. Nochini also plans to set-up a production unit inside the country.
According to Shrestha, many investors are willing to invest in the company, but they have not finalised a deal with anyone yet.
Also, the company plans to expand its product range to all major supermarkets in the valley and Pokhara as well. "We are building our internal team as well," said Shrestha.
Sadutshang, who graduated in Neurosciences and Shrestha in Chemistry and Mathematics, believe that lack of management education haven't hampered their business.
"There is nothing that fascinated me abroad. What we do here is more satisfying. Out there you just become a clock and machine," said Shrestha.
---
---