Fit Box: Kathmandu's go-to place for healthy eating
The startup is gaining in popularity among diet conscious people in the Valley.

Fit Box has been offering five different lunch meals -- low calorie, high calorie, keto meal, basic meal and deluxe meal. POST PHOTO: BEEJU MAHARJAN
bookmark
Published at : November 24, 2019
Updated at : January 23, 2020 12:50
Kathmandu
With eateries in the Kathmandu valley filled with offerings of momos, noodles, pasta, burgers and pizza, it is hard to find restaurants and cafes offering healthy lunches. It becomes even harder for office workers who get limited time for their lunch and often, they are compelled to eat junk food items for the want of healthier options.
The need of the hour in Kathmandu is for eateries selling healthy food at affordable prices. Sensing a viable business opportunity in healthy lunch catering services, Denim Shrestha, founder of Fit Box, came up with the idea of providing subscription-based healthy meal packages in 2018. Shrestha who used to receive 30-40 orders daily in the initial days, has now started receiving orders from more than 150 subscribers per day on an average. This is because people have gradually started changing their lifestyle to remain healthy, he says.
"Initially, I was planning to go abroad, following the trend. But later, I planned to do something in my own country, even though it may be small," said Shrestha.
Shrestha, who has been going to the gym for the past 6-7 years, learnt that gym goers are craving for regular, readily-available healthy diets. After a few internet searches on healthy meal plans, he planned to make a business of it.
With personal savings of Rs300,000 of his own and an additional Rs1.5 borrowed from friends and relatives, he opened 'Fit Box', which has since become quite popular among diet conscious people in the Valley.
Fit Box has been offering five different lunch meals — low calorie, high calorie, keto meal, basic meal and deluxe meal.
According to Shrestha, the low-calorie meal is for people who are planning to lose weight and it costs Rs300 per meal. Similarly, high-calorie meal is for people planning to gain weight and also for those who go to the gym on a daily basis. That's been priced at Rs350 per meal. As regards other daily meal plans, the keto diet costs Rs350 while the deluxe meal consisting of high protein has been priced at Rs600 per meal. The basic meal comprising low protein is especially targeted at office workers and is priced at Rs260 per meal.
"People have gradually started realizing the importance of right diet in their lives and its impact on health," said Shrestha.
Orders from 'Fit Box' are subscription-based with a minimum subscription for 15 days. The menu changes on a daily basis with 30 different items. For instance, a low calorie meal consists of brown rice two days a week, pasta once a week, fish once a week and chicken once a week, said Shrestha.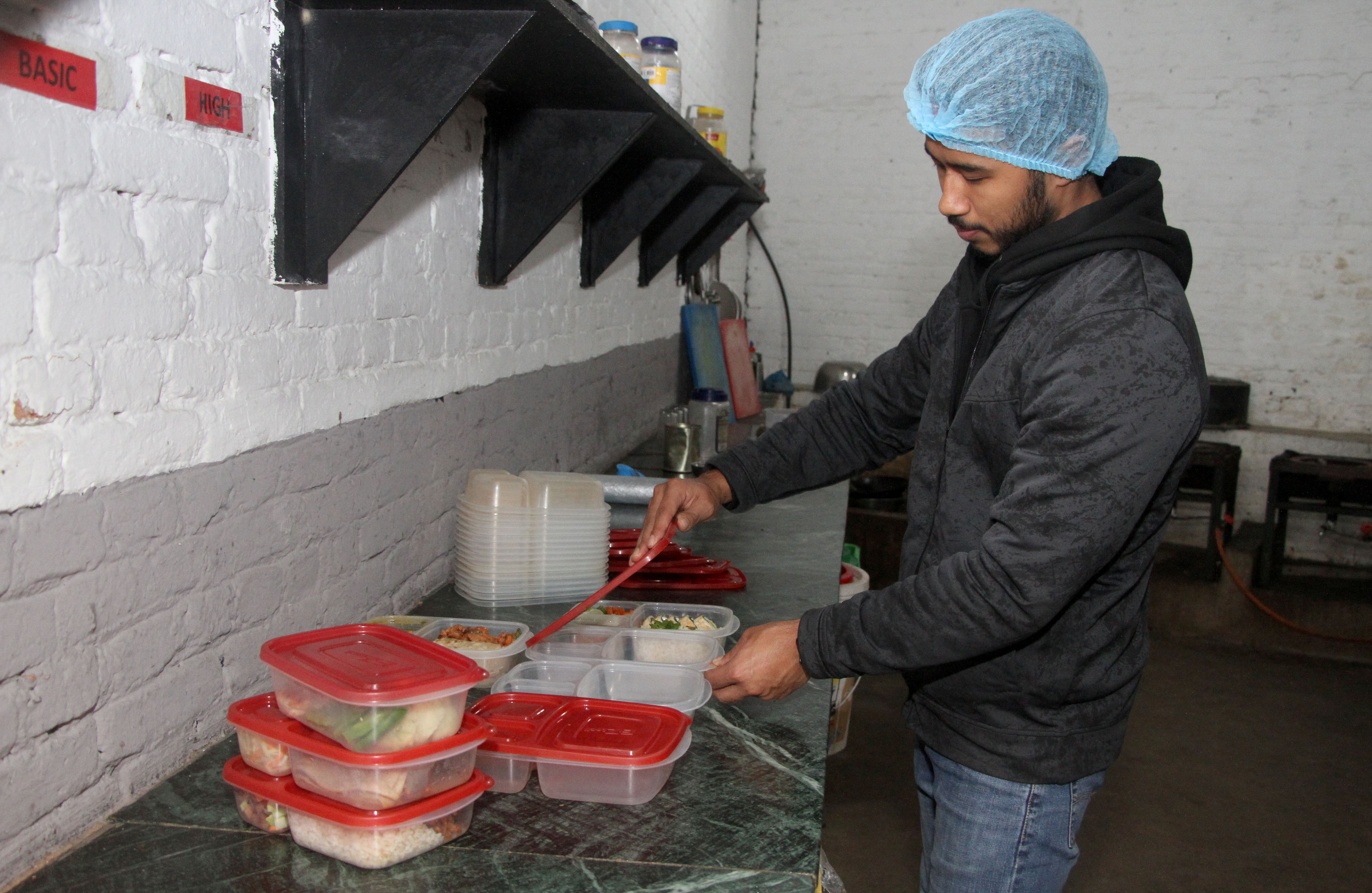 The company also holds back the delivery of a meal in case a customer is travelling or is sick. The company charges Rs1,000 as a one-time membership fee and the meals come with no delivery charges.
"We have customers subscribing to our packages for more than six months and that's been a key motivating factor for us to go on," said Shrestha, who is also an undergraduate BBA student from Islington college.
Low calorie meals are high on demand because most people are willing to lose body weight, he added. According to Shrestha, most of his meal subscribers are employees of banks or of international and non-government organizations having good incomes. "We are receiving orders especially from the Naxal area due to the corporate hub."
There are certain customers seeking advice for for the right diet. In that case, the company has collaborated with Lotus Ayurveda and the customers can consult them. "We plan the diet according to the suggestions Lotus Ayurveda makes," said Shrestha
The company, in the foreseeable future also has plans to offer full-day diet meals, he said. "Also, we are planning to introduce energy bars and we are in the final stages of introducing them to the market. If things go well, it will be available within 2 months."
In terms of experience, 'Fit Box' has two head chefs who have worked at the Hilton Hotel in Dubai for 20 years among the eight people working on the team. As well, there are 10 delivery boys.
Shrestha says he gets a lot of queries from people who ask whether their meals are tasty and delicious or not. "Healthy food is not delicious due to its ingredients," he said. "People expect the meal to be tasty and it is sometimes hard to make them understand about the difference between healthy and hygienic food."
Since there are no competitors in the market, Shrestha has not yet faced any such hardships in marketing his products. 'Fit Box' has mainly been receiving orders through social media — Instagram and Facebook and through its website.
"Staying fit not only burns unnecessary fat physically, it also helps in burning negativity and mental stress," said Shrestha.
---
---