Games to play during lockdown
Being housebound does have its upsides—especially for people who love videogames.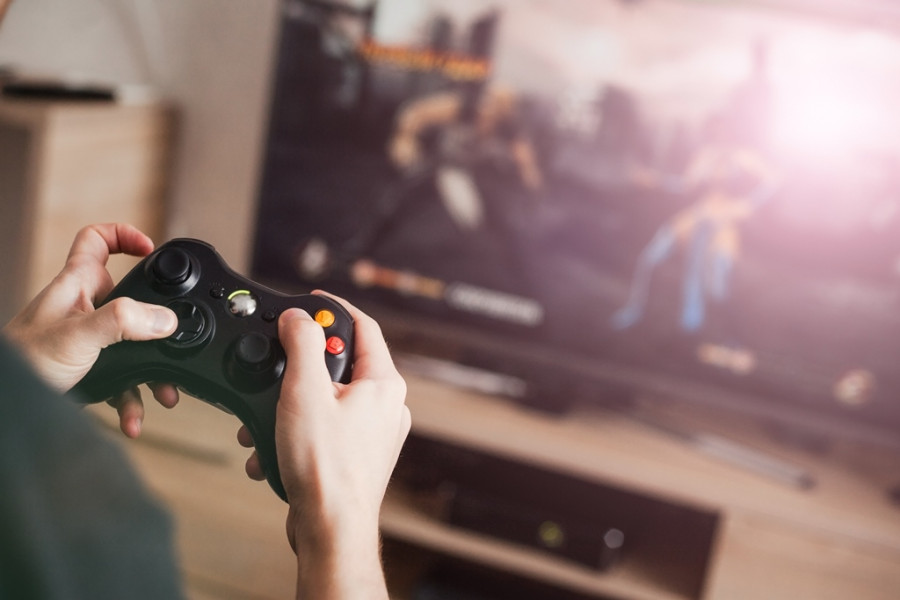 Photo Courtesy: Shutterstock
bookmark
Published at : April 14, 2020
Kathmandu
The lockdown is likely to continue. While many are home doing productive things like learning a new instrument, upping their cooking skills and getting back to reading, there are many among us who find it tough to do anything productive in a stressful situation like this. During such times, one of the best ways to distract your mind is to dive into games.

While there are many games that will completely engage you and keep your mind off other things, I've decided to add some criteria before making a list. The first rubric is longevity. Since we will be indoors for a while, before all of this becomes normal, it would make sense to play a game that will take a substantial time to complete. The other is how much value you get from the game. Lastly, how popular the game actually is.
What's great is some of these games are quite cheap, available digitally on both PlayStation and Xbox. If you don't own a console, some of these games are also available on PC.
Red Dead Redemption 2
Ever since Red Dead Redemption 2's release in 2018, it's been dubbed the best looking game ever made. The game surpasses Grand Theft Auto V which, since its release in 2013, is still played by loads today. The story is compelling, gripping and the game play is smooth. The characters are strong and will be with you days after you complete the game. The people at Rockstar have put a lot of effort in the details. If you stare at a person you've shot, you'll see the body decay. Horses, if not fed or given water, will become tired and lose weight. Another interesting point is you have to hunt to craft items. And, surprise surprise, it's not easy. It'll take a lot of practice and by the time you get a hold of how to do it, you can kill a bear with one strike. It's a game that takes you outside while you're indoors. The sheer number of hours it will take to complete the game will make it worth it. The fact you can play this online makes it a game everyone needs to play.
Grand Theft Auto V
The fifth edition of Grand Theft Auto is timeless. It's a game you can play over and over again. Firstly, the game has a great story. You can play as three characters. All of them are unique in their own way. Experiencing the game from three different perspectives allows you to truly enjoy the diversity the game offers.
Secondly, its multiplayer option gives people the chance to play with friends. Even though it was released in 2013, there are still updates through which you can enjoy the game in newer ways. For those who play the game on the PC, they can add mods to the game and play the game differently. There are mods which can change cars and some can even convert the characters into the likes of Thanos or Iron Man, or you can apply a mod which can submerge the setting of Los Santos underwater making it like Atlantis.
For console users, don't worry, you can still have fun driving your favourite car, going to bars and clubs too, and if you're interested, you can even play golf or tennis. If you're bored with the story mode, play it online or race.
God of War 4
For PlayStation owners, this is a must-play. It's challenging. You have to be smart, cunning and skillful. And even if you do that, you might still struggle. If you've played other versions of God of War, you'll relate to everything its main character Kratos says. It raises questions about sacrifice, struggle and family. It makes you more emotional than it previously did. The storyline is simple. Like previous editions, Kratos has to fight and kill his way through the world of Norse mythology. But this time he's not alone. He was accompanied by his son Atreus.
The story is not what makes it stand out; the gameplay does, which is why a lot of people have called it the game of the generation. It's a perfect mixture of puzzles, combat, storytelling and exploration. If you haven't played it already, you have been missing out.
Bloodbourne
Probably the toughest game on the list, Bloodbourne will test everything—your intelligence, your ability and your patience. It's a game not for the faint hearted. The game has just no option for a difficulty level and that makes the game even better. It's honest and for many who're not used to playing soul games, be sure you will have a hard time. But by the end of it, you'll surely appreciate what you've done because not many will have done what you have.
The game will also teach you a lot about melee fighting. Because you have to dodge attacks like you're playing a UFC game with primitive weapons. It might be easy to do so with the normal enemies, but you're going to need a lot of responsive skills to get through the level bosses.
Apart from the great game play, the music is as good as the graphics. But what makes the game worth it is you'll have to spend hours and hours to last the night. It will definitely give you value.
---
---