Tree issue puts Butwal-Narayangadh road expansion on hold
A fresh assessment before project's launch showed the number of trees to be cut at 50,352, up from 9,027.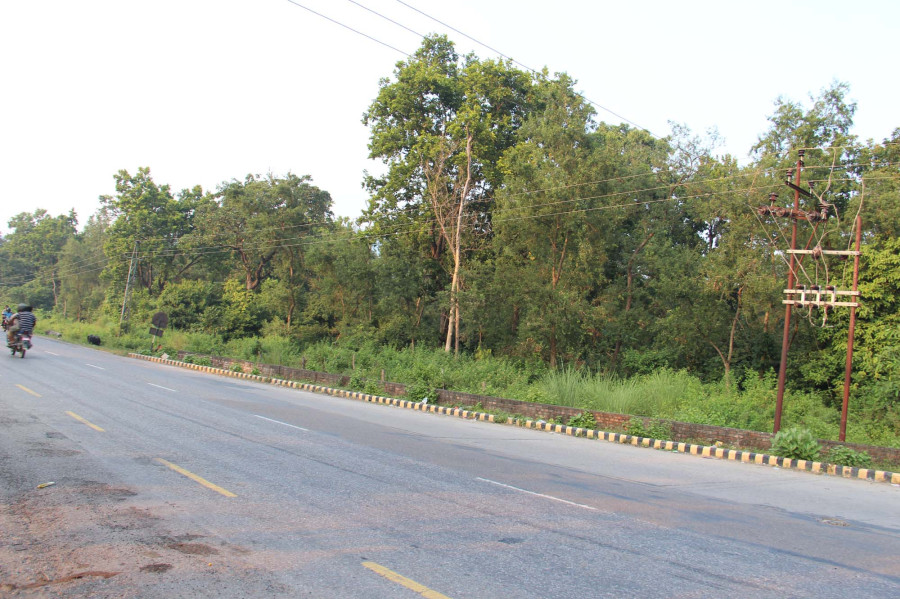 Electricity poles along the Butwal-Narayangadh stretch also pose difficulties for the road expansion work. Ghanashyam Gautam/TKP
bookmark
Published at : October 17, 2019
Updated at : October 17, 2019 08:25
Rupandehi
Prime Minister KP Sharma Oli had laid the foundation stone of the Butwal-Narayangadh road expansion of the East-West Highway some seven months ago. However, the expansion work has yet to start because of an issue over felling of trees along the section.

The Butwal-Narayangadh Road Upgradation Project said it could not initiate the road expansion work as the number of trees to be cut down along the road stretch was fivefold more than what is mentioned in the Environment Impact Assessment (EIA).
The government had conducted the EIA in 2016 that stated that 9,027 trees had to be cut down on both sides of the road stretch for the expansion work. However, the number of trees that have to be cut down has now reached 50,352. A fresh assessment was conducted before the project's launch.
"A difference of around 20 percent in the total number is natural. But there is a huge difference. We are trying to find the reason for the discrepancy. And efforts are on to make a change to the Environment Management Plan," said Suresh Neupane, chief engineer at the project.
According to him, a file into the matter has been sent to the Ministry of Forest and Environment. Neupane surmised the difference in the number was possible since the consultant company assessed the number of trees on a sampling basis without conducting a detailed count.
Besides the issue of felling trees, electricity poles installed along the road stretch also pose difficulties for the road expansion work. Transmission lines of 132kV, 33kV and 11kV run along the road section. Around 4,840 poles need to be shifted to initiate the project. The cost of moving the poles and installing new electricity wires is estimated at Rs750million.
For the road expansion work along the Butwal-Narayangadh, the government has allocated Rs16.99 billion 85 percent of which will be covered by loan assistance from the Asian Development Bank. As per the plan, the existing two-lane road will be upgraded to six lanes within the next four years. However, along the 12-km hill terrain along the Daunne section, the road will only be three-lane wide. The Butwal-Narayangadh road stretch is 113km long.
The Department of Roads had signed an agreement with China State Construction Engineering Corporation in February 2019 to implement the project.
---
---