Sindhupalchok locals benefit from disaster management training
Bhotekoshi Rural Municipality initiated training for local residents wherein they were given lessons on safety, first aid, search and rescue operations and post-disaster risk management.

Trainees were given tips on first aid and making use of locally available materials and equipment in search and rescue. Anish Tiwari/TKP
bookmark
Published at : April 17, 2023
Updated at : April 17, 2023 07:35
Bhotekoshi Rural Municipality is one of the most disaster-prone areas in Sindhupalchok, a district that has been battered by natural calamities—earthquakes, floods and landslides—in the last decade.
In a bid to mitigate post-disaster losses, the rural municipality initiated a five-day session to equip the first responders, in this case local residents, with proper training to handle disasters.
The initiative came at the request of the locals themselves, according to Dipak Aryal, member of the District Coordination Committee and coordinator of the training project. The training from March 28 to April 1 included safety, search, and rescue exercises and first-aid skill.
A total of 88 people of different age groups participated in the training conducted by the District Coordination Committee in an arrangement with the Local Disaster Management Committee, District Disaster Management Committee and Nepal Red Cross Society, Tatopani.
Bikash Karki, a 20-year-old from Bhotekoshi Ward 4, who attended the training, says it gave him the confidence to handle disasters properly. "Most of the areas of the rural municipality are vulnerable to disasters such as landslides, floods, earthquakes, and house and forest fires," he said.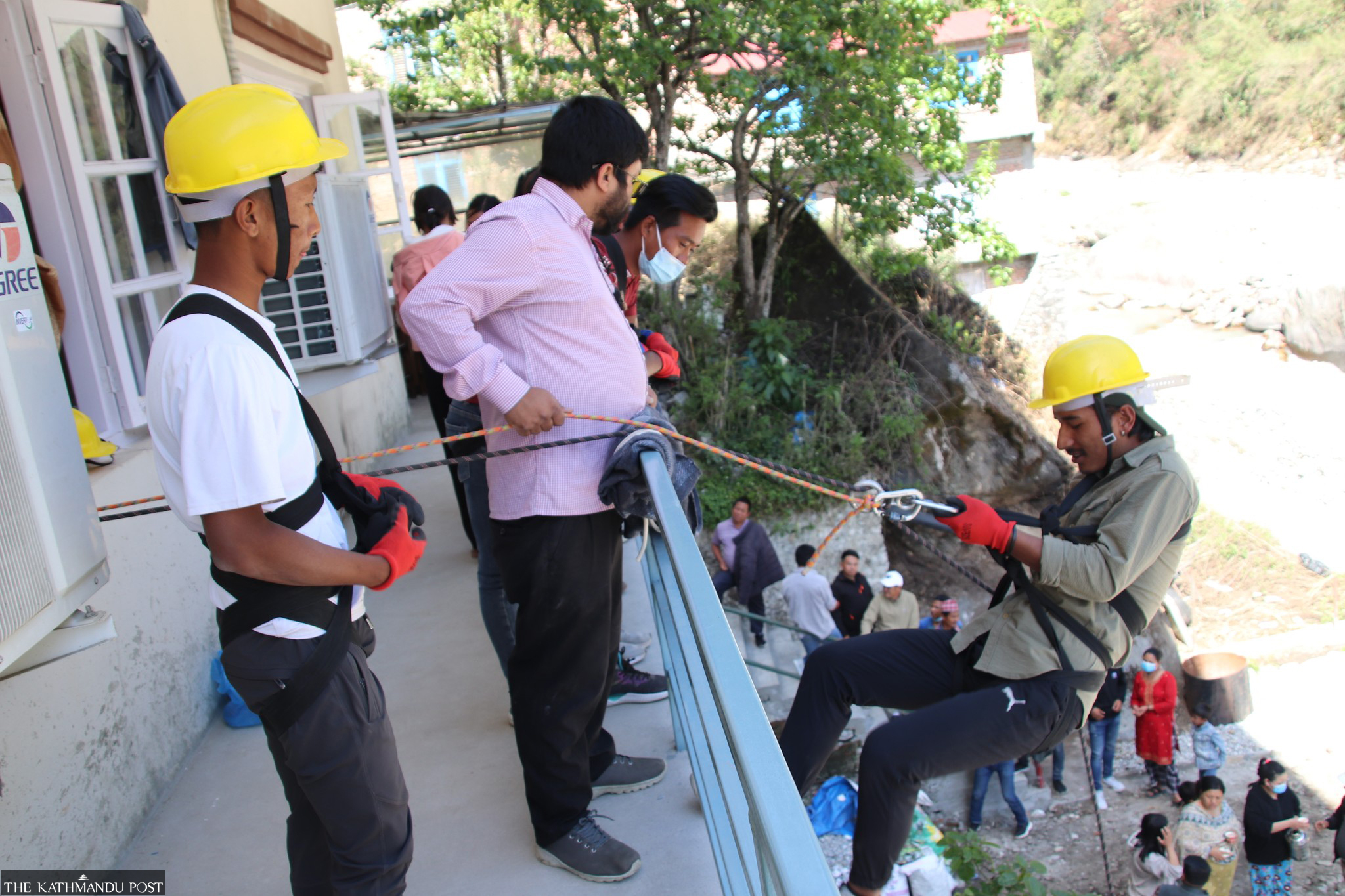 Anish Tiwari/TKP
"The training has come in handy. I now feel confident to not only help myself during disasters but also guide others out of danger zones and help security personnel with rescue."
Besides safety and risk reduction measures, the trainees were given tips on first aid such as conducting CPR (cardiopulmonary resuscitation) and making use of locally available materials and equipment in search and rescue.
Anish Tiwari/TKP
"They taught us to use things available at home when faced with a disaster rather than waiting for help to arrive with the right equipment," said 24-year-old Geljen Sherpa from Ward 1. "We now know how to make life jackets with plastic bottles."
The training has also helped disaster survivors like 29-year-old Rita Thami from Ward 4 to deal with post-traumatic stress. "I have seen landslides and floods up close. I live in fear every day after five people from a family in our village were killed in a landslide," she said. "This training helped me internalise and process the traumatic events. I now feel better prepared to handle such a situation in future."
Although the training has come as a boon for the locals, Thami says the authorities should have initiated such programmes earlier. "If we had been trained before, we may have been able to save lives," she said. "However, I am happy that I got the chance to participate in this one. I hope the rural municipality continues this initiative."
Bhotekoshi, a transboundary river originating from the Himalayas in Tibet, China, is prone to flash floods. In July 2020, according to data from the District Disaster Management Committee, around 400 households were displaced by floods and landslides in the district.
---
---