Distressed Chepangs of Kusum Khola bemoan loss of property and await relocation
Chitwan National Park authorities on Saturday set ablaze two huts and vandalised eight others, asking the indigenous people to vacate Kusum Khola.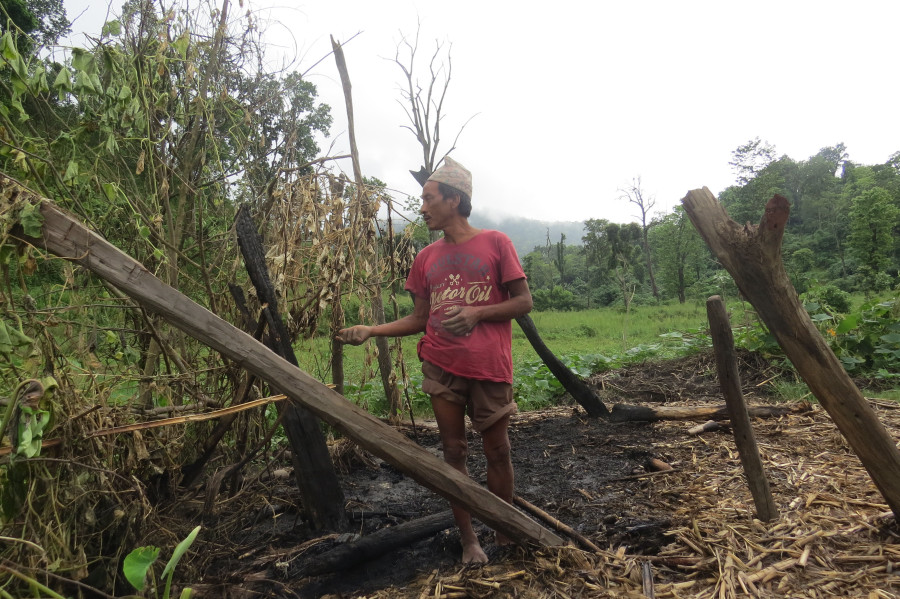 Ramesh Kumar Paudel/TKP
bookmark
Published at : July 22, 2020
Updated at : July 23, 2020 11:45
Chitwan
Kajiman Chepang, 51, was one of the victims who lost his home in Kusum Khola on Saturday when officials from the Chitwan National Park set fire to two houses and destroyed eight others with the intention of evicting the residents. Ten families were rendered homeless in the incident.

The park officials on Saturday had given the residents of Kusum Khola a week's notice to vacate the area, which they say falls under the park's territory.

Kajiman had come to Kusum Khola around three decades ago after his house in Chitwan was swept away by a landslide.

"I don't know the exact year or the date when I built a hut here but it has been more than twenty years," he said. "The hut was home to my seven-member family."

Over the last few years, around 160 Chepang families have left the settlement and migrated to an area adjacent to Bharatpur Madi Thori Postal Highway with the help of Madi Municipality. But 10 families, including Kajiman's, were yet to move from the settlement.

"We know that the municipality will help us construct houses in Naya Basti but the plan was to move there in the dry season," said Kajiman, "We couldn't move earlier this year because of the pandemic and now the monsoon's here, so we decided to postpone our move. But we had never imagined that the park would try to evict us in this difficult time."

The ten households lost their identity documents, money and other possessions in Saturday's arson and vandalism.

Kajiman's son Dan Bahadur had set aside Rs 10,000 for a rainy day but lost his savings when his hut was set ablaze. "We were all frightened that day. I couldn't even retrieve my money and documents from the hut," he said.

The second house set on fire was Dip Bahadur's; he also lost all his possessions in the incident. He, along with his wife and son, has been taking shelter at a neighbour's house since then.

Kabita Chepang, one of Kajiman's neighbours, was home on Saturday when the park officials came to the settlement.

"The park employees asked me why I wasn't leaving the settlement for good. They had so many questions and I was nervous," she said. "I requested them not to torch my hut but they still charged at it with elephants and vandalised it."

Arjun Chepang, another resident of the settlement, said the park employees have asked them to evacuate the settlement by coming Saturday or face consequences.

"We have nowhere to go. The municipality has assured us they will build us houses but the area designated by the municipality is near a stream and prone to floods during monsoons," said Arjun.

Kusum Khola is a two-hour walk from Bagai in Madi and to get to the settlement, one has to cross several rain-swollen streams.

Meanwhile, refuting allegations of arson, Chief Conservation Officer of Chitwan National Park Narayan Rupakheti on Wednesday said that the incident hasn't been reported to him. "I did receive a report that says six huts and five guard posts, which were constructed to guard maize crops, were torn down," he said. "I am yet to receive information about two huts being set ablaze."

Thakur Dhakal, mayor of the municipality, said his office is planning to shift the 10 families to a safer location within the next few days.

"They will be relocated outside the Kusum Khola area. We are compiling a list of the affected families and taking notes of the damage incurred," he said.

Amnesty International Nepal has condemned the eviction of the Chepang families from their settlement by the Chitwan National Park authority. The human rights group has asked the authorities concerned to stop enforced eviction of the indigenous community from their settlement, and have asked for those involved in the vandalism and arson to be held accountable.
---
---