A Sindhuli school is taking classrooms to the students during lockdown
Prabhat Secondary School in Kamalamai Municipality is sending teachers to students' homes to keep children abreast with the curriculum.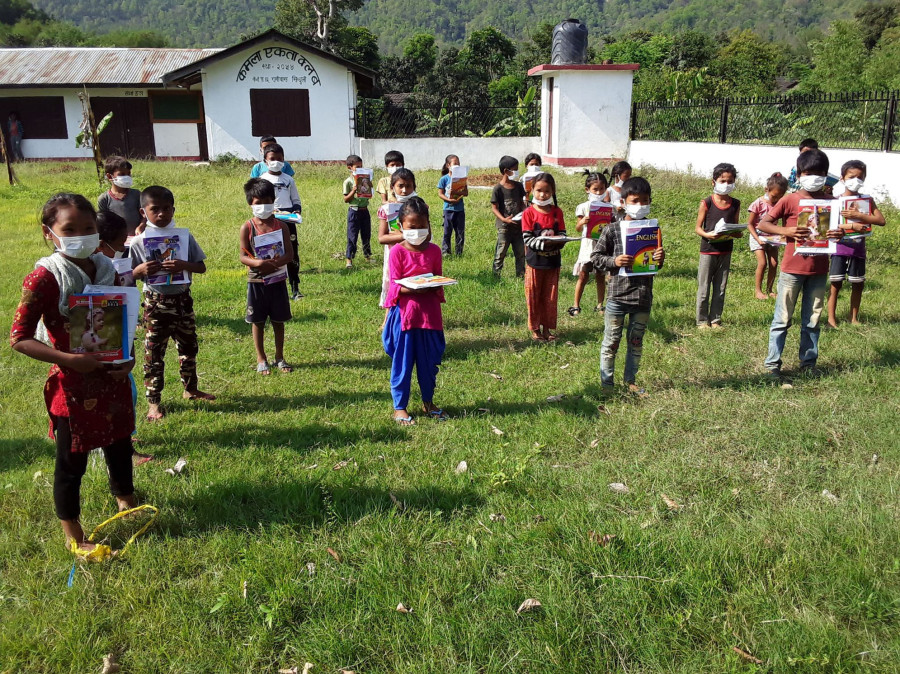 Post file photo: Raj Kumar Karki
bookmark
Published at : June 4, 2020
Updated at : June 4, 2020 08:17
Sindhuli
A public school in Sindhuli has adopted an alternative education approach to teach the students stuck at their homes due to the Covid-19 lockdown.
Prabhat Secondary School in Kamalamai Municipality has resumed the classes for students up to grade five by sending teachers to the students' homes
"Our teachers go to the students' homes and assign them homeworks and help with their lessons," Arun Kumar Thing, the school's headmaster, said"The school decided to run the classes to ensure that the students are abreast with the curriculum."
The school recently distributed textbooks for this year's academic session, which has been halted due to the lockdown enforced in the wake of the coronavirus pandemic. The entire country is under the lockdown since March 24.

"Besides assigning homeworks and helping the children with their lessons, our teachers are also sensitising the children and their parents about the coronavirus and Covid-19 and the importance of hygiene and social distancing," Thing said.
The school is also planning to run a similar teaching programme for students above Grade 5. The school is taking classrooms to the students by deploying teachiers to the homes of the students as they lack the resources and infrastructure for online classes.
"We want our students to be familiar with their curriculum since online classes is not possible," said Pradip Dahal, chairman of the school management committee.
The government has proposed virtual classes for schools and colleges, but a majority of the students and schools in the country do not have the resources to make a switch to remote teaching-learning.
"There is no internet coverage in rural areas, so organising virtual classes is out of the question. There is no option than to mobilise teachers to the homes of students," said Min Prasad Baral, a teacher at the school.
Mohan Bahadur Karki, whose daughter is a grade five student at Prabhat Secondary School, is pleased with the school's decision to send teachers to the students during the lockdown. ""We were worried about her education. Then her teachers started visiting her at home to help her out with her lessons," Karki said.
The school has prepared a schedule to mobilise 24 teachers to students' homes.
"The teachers of different subjects will visit students at regular intervals," said Thing.
The school has 482 students.
Netra Prasad Gajurel, chief of the District Education Coordination Unit, Sindhuli, lauded the initiative launched by the school.
"The situation is not favourable to resume regular classes, but depriving the children from education is also not a good idea," Gajurel said. "Prabhat Secondary School is doing exemplary work, which other schools can follow."
There are 575 schools and child development centres in Sindhuli.
---
---