Injured wild elephant dies while being tranquilised for treatment
The adult tusker hadn't been able to to walk since the past two weeks, say locals.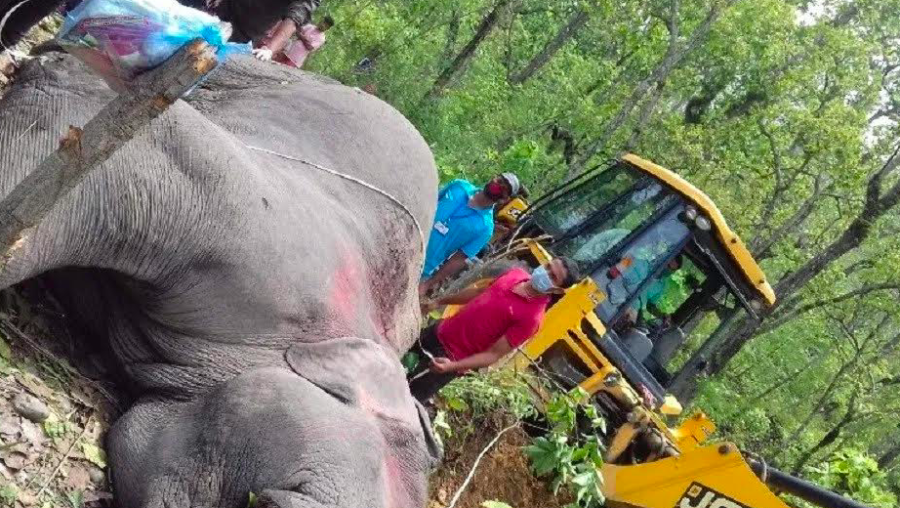 Post file photo: Raj Kumar Karki
bookmark
Published at : May 21, 2020
Updated at : May 21, 2020 10:18
An injured wild elephant died while a rescue team attempted to tranquilise it for treatment in Sindhuli on Wednesday.
A rescue team from the Division Forest Office, Sindhuli, and Chitwan National Park darted the animal with tranquiliser, but it died soon after. "The elephant died a few minutes after we tranquilised it," said Narayan Kumar Shrestha, chief at the forest office.
The adult male was found at Sinhadevi Community Forest in Ward No. 13 of Kamalamai Municipality. According to conservationists, the elephant had been spotted regularly in Kamalakhonch area in Sindhuli district for the past few years.
Locals had seen the injured elephant some two weeks ago and informed the forest office.
"We saw the crippled elephant in the community forest. We thought it was injured as it stayed in the area for about two weeks and could not walk properly," said Pujan Bakhrel of Ranibas.
The elephant had sustained a deep wound on its right hind leg.
Vets at the District Animal Service Office conducted the elephant's autopsy on Wednesday. Shrestha suspected that it might have been shot by a poacher.
"The postmortem report will confirm the cause of its death," he added.
Poaching of wildlife has gone unchecked in several districts during the lockdown period.
---
---