Musahar children are enrolled in schools but only a few go to classes
Officials say despite annual enrolment campaign and mid-day meal programme, children from the Musahar community are not regular to school.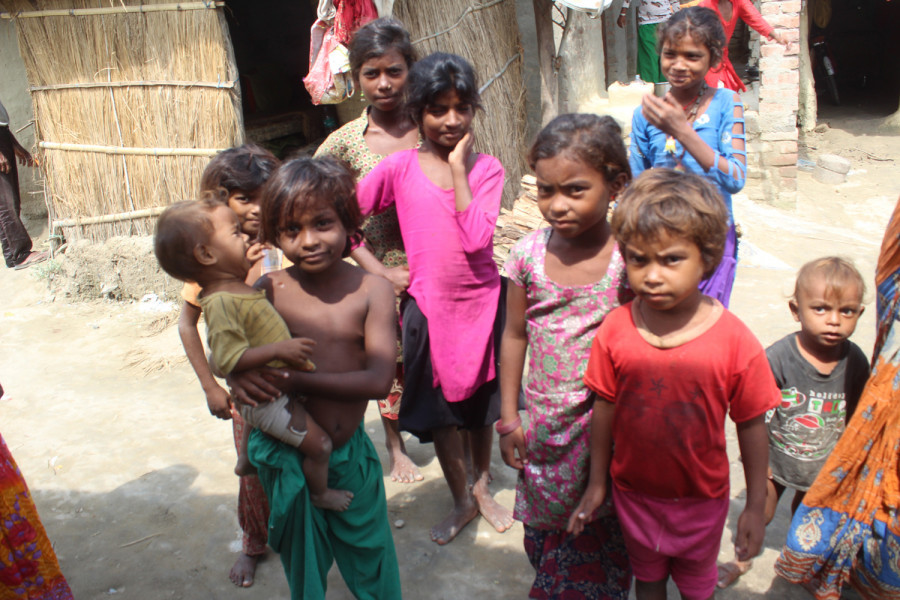 Shiva Puri/TKP
bookmark
Published at : March 5, 2020
Updated at : March 5, 2020 14:51
Rautahat
School enrolment drive and mid-day meal programme have failed to produce desired results in Rautahat's Chandrapur Municipality.
Many children, mostly from the Musahar community in Chandrapur, continue to remain out of school, according to officials.
Read: A Musahar settlement in Rautahat lacks land to build toilets
There are 100 children of schoolgoing age at a Musahar settlement in Chetnagar village. Only a few of them go to school, even though they were admitted in Pancha Basic School during the enrolment drive for the current academic season.
"Less than 10 percent of Musahar children come to school. I visit the Musahar settlement almost every day and request the parents to send their children to school, but they never listen," said Gagan Dev Yadav, the school headmaster.
Read: Musahar girl champions the cause of ending child marriage in community
Bhagawat Chaudhary, one of the teachers at the school, said a few Musahar children come to school and that too irregularly.
"They are usually present on Fridays, and that is because the school serves eggs as mid-day meal," Chaudhary said. "The mid-day meal programme has failed to attract children, particularly from the impoverished communities like Musahar."
Dev Prasad Timilsina, an MP elected from Rautahat, said when he visited the Musahar settlement on a school day a few days earlier, he saw many children playing on the streets.
"When I advised the parents of these children to send their kids to school, they offered me a vague assurance," Timilsina said.
Bhutani Devi Musahar has five children aged between 5 and 14. All five of them were enrolled in school, but they rarely attend their classes.
"We have to work as daily wage workers to manage food. How can we educate our children?" said Bhutani. "We cannot afford stationeries and school supplies to send our children to school."
In Padahariya village of Chandrapur, 12 Musahar children were admitted at local Janapriya Basic School in the current academic year. But only two to three students are regulars in their classes.
"I frequently visit the Musahar settlement and request them to send their children to school. The children come to school for a few days. And then they stop," said Birendra Prasad, the school headmaster.
Anup Majhi, a leader of the Musahar community, said that poverty was the main hurdle for the Musahar people to send their children for education. According to him, only 635 of 3,800 Musahar children in Rautahat go to school.
Dipendra Mandal, chief of the education unit at the municipal office, said they were working on a policy to ensure that all children are included in the school system.
"We plan to address the problem starting from the upcoming academic session," he said.
---
---