Violence against girls goes unabated
Seventy-nine rape cases reported in Morang this fiscal year; nearly two-thirds of the victims are children.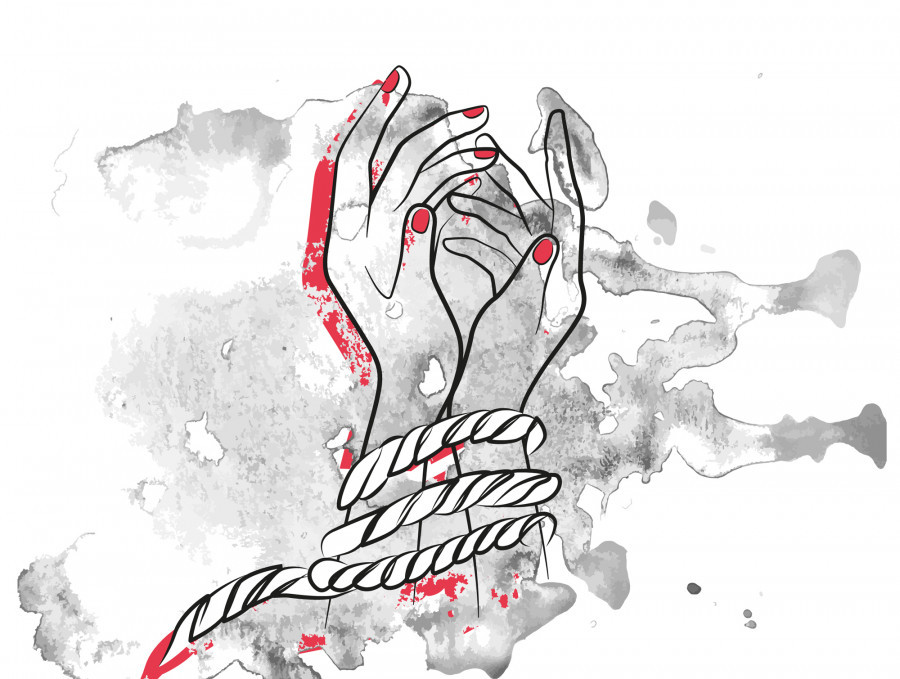 A total of 327 rape incidents were reported in Morang in the past three years. Shutterstock
bookmark
Published at : March 31, 2022
Updated at : March 31, 2022 01:35
Biratnagar
On March 11, an 18-month-old child was raped and murdered in Ganeshpur of Sundarharaicha Municipality in Morang district. Police arrested 25-year-old Ajay Chaudhary and 28-year-old Mithun Chaudhary in connection with the crime. According to police, the accused are drug abusers who lured the infant some 150 metres away while she was playing outside her home in the evening and raped her. After the crime, they left the unconscious child and fled.

The child died in the course of treatment.
In another instance that took place in Letang, police arrested three individuals in connection to the rape and murder of a 13-year-old girl who had gone missing on February 23 while returning from school.
The body of the sixth-grader was found buried three days later in Lalhira Community Forest. A post-mortem report confirmed that she was raped and murdered.
Last year in December, a four-year-old child was raped by a house guest at Katahari Rural Municipality in the district. Police arrested Mukesh Sardar, 24, who was visiting the family from India. Sardar had allegedly lured the child to the banks of Lohanda River with a candy and committed the crime. He has been sent to jail following the order of the district court.
In November, a 17-year-old disabled girl was raped by a 22-year-old man. The police arrested the accused while he was trying to run after committing the crime. The accused is currently in judicial custody awaiting the final hearing.
Earlier this week, a 12-year-old student had accused her school teacher of sexual harassment. According to the student, the 56-year-old Social Studies teacher came to her house during Holi celebrations and sexually harassed her. When the police came to arrest the accused, a mob of locals turned violent and attacked the police. A female police constable who was stabbed in the neck by the angry mob succumbed to her injuries.
These are some of the incidents of rape and sexual harassment that have come to light in Morang district of late. DSP Manjul Mukarung informed that as of February-March this year, 79 such incidents have taken place in the district that include the deaths of two minor victims.
According to Mukarung, 51 cases of rape, 13 rape attempts, 11 child sexual abuse cases and two unnatural sex cases have been reported in the district this year.
Senior Psychologist Roshan Pokharel said that most of the time in such incidents, the perpetrator(s) are found suffering from mental and moral degeneration.
"Such individuals will not bother about the age or condition of their victims so long as they get to satisfy their sexual needs," said Pokharel, who is also a secretary at the Health Ministry.
A total of 327 rape incidents were reported in Morang, a Tarai district of Province 1, in the past three years. According to the District Police Office in Morang, 79 rape cases have been reported in the current fiscal year as of now. The number of sexual assaults reported in the district was 178 and 92 in the fiscal years 2020-21 and 2019-20 respectively.
The police data reveals that nearly two-thirds of the victims of sexual assaults are children this year. Police said cases of sexual assaults on children have been on the rise for the past few years.
Around 58 percent of the rape victims, according to the district police office, were children in the fiscal year 2017-18.
"Out of the total cases of sexual assault in the current fiscal year, around 65 percent involved children," said Mukarung. "Children are unsafe within their family and society. Social awareness is equally important along with police investigation and legal action to control incidents of sexual violence against children and women."
According to Hemanta Malla Thakuri, the former deputy inspector general of police and criminologist, most of the victims are raped by familiar persons or relatives. "Incidents of sexual violence are on the rise due to the lack of moral education and discipline. The perpetrators easily trap innocent children and commit the crime," said Thakuri.
Thakuri is of the opinion that there has been an uptick in rape cases in the last few years even though most rape cases go unreported.
"The victims hesitate to reveal that they have been victims of sexual assault or rape fearing ostracisation from society. But with the increase in public awareness, victims are gradually speaking up," said Thakuri.
Police attribute easy access to the internet, alcoholism and misuse of various social media platforms to unchecked rape incidents.
Sociologists argue that incidents of sexual assault are increasing mainly due to the lack of self-discipline, diminishing social norms and values and frustration.
"Education on moral values, self-discipline and good conduct are essential. Providing such education should start from home," said sociologist Mukesh Singh.
"The victims of sexual violence do not have easy access to justice. The perpetrators enjoy impunity and are easily freed from legal action with political as well as financial influence. As a result, cases of sexual violence are unchecked in the country," said Bishnu Sharma, a rights activist. He underscored the need of launching awareness campaigns at the grassroots and making the legal system effective to control cases of sexual assault in the country.
As per the data available at the provincial police office in Biratnagar, a total of 284 rape cases were reported in 14 districts of Province 1 in the first eight months of the current fiscal year 2021-22. The number of reported rape cases was 476 in the last fiscal year of 2020-21.
The Criminal Code 2017 has the provision of life imprisonment for raping a person younger than 10 years or older than 70 years; 18 to 20 years for raping a person aged between 10 and 14 years; 12 to 16 years for raping a person aged between 14 and 16 years; 10 to 14 years for raping a person aged between 16 and 18 years; and 10 to 12 years for raping a person older than 18 years. Those who mediate compensation or reconciliation between the victims' and rapists' families face up to three years of imprisonment and up to Rs30,000 in fines. Moreover, individuals holding public office or people's representatives trying to mediate are liable to face more stringent laws, with their jail term increased by six months if found guilty.
---
---