Himalayan Black Bear inside Taplejung District Hospital awaits rescue
The wild animal entered the hospital premises on Thursday and will be rescued only on Sunday after the wildlife rescue team arrives from Chitwan.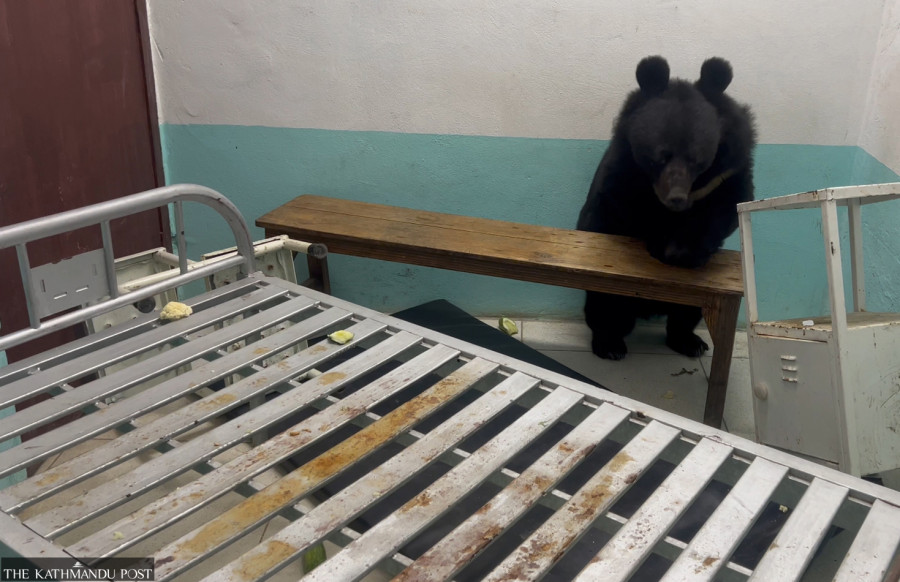 According to hospital officials, the bear could have entered the hospital through the morgue wing, close to the forest nearby. Ananda Gautam/TKP
bookmark
Published at : March 4, 2022
Updated at : March 4, 2022 19:35
Taplejung
A Himalayan Black Bear that entered the District Hospital in Taplejung district on Thursday night will be spending another two nights at the hospital, owing to a delay in the arrival of animal rescue personnel.

According to Birendra Shah, Chief at the Division Forest Office in Taplejung, the technical team deployed to rescue the bear trapped in the maternity ward of the hospital will complete their preparations by Friday and leave for Taplejung on Saturday and arrive at the district hospital on Sunday.
The team involved in the rescue of the wild animals by tranquilising them is based only in Chitwan, Bardiya and Kathmandu. The team mainly comprises a veterinary doctor, wildlife expert and two to three field-level workers.
"The doctor tranquilises the animal and the other team members transport the animal and release it in its natural habitat," said Shah, adding that until the team arrives the animal will be kept inside the hospital room and be properly fed.
Resha Ojha, a medical worker at the hospital, had first spotted the bear as she was returning to her quarters after duty.
"I was returning to my quarters when I saw the bear," said Ojha, "At first, I thought it was a big dog and moved on. Only later when others started shouting did I realise it was a bear."
The hospital soon informed the police.
By the time the police personnel reached the hospital, the bear had entered the maternity ward. Police personnel entered the ward and locked the bear inside the room.
According to hospital officials, the wild animal could have entered the hospital through the morgue wing, close to the forest nearby.
Conservation Officer Ramesh Yadav of Kanchenjunga Conservation Area said that the wild bear could be 7-8 years of age as per the videos and photographs taken by the bystanders.
Meanwhile, the situation has shed light on the lack of wildlife rescue officials in the province. The Division Forest Office falls under the jurisdiction of the provincial government. However, the government has not yet set up a wildlife rescue team for incidents such as the recent one.
"We called the forest department under the provincial government, and we also sought assistance from the Kanchenjunga Conservation Area. But there was no wildlife rescue team available," said Shah. "This has caused the wild animal to remain inside the hospital room for a longer period."
---
---