Locals living around Urlabari-Rabi road section suffer from health complications caused by dust pollution
The road has been under construction for the last seven years with no sign of completion.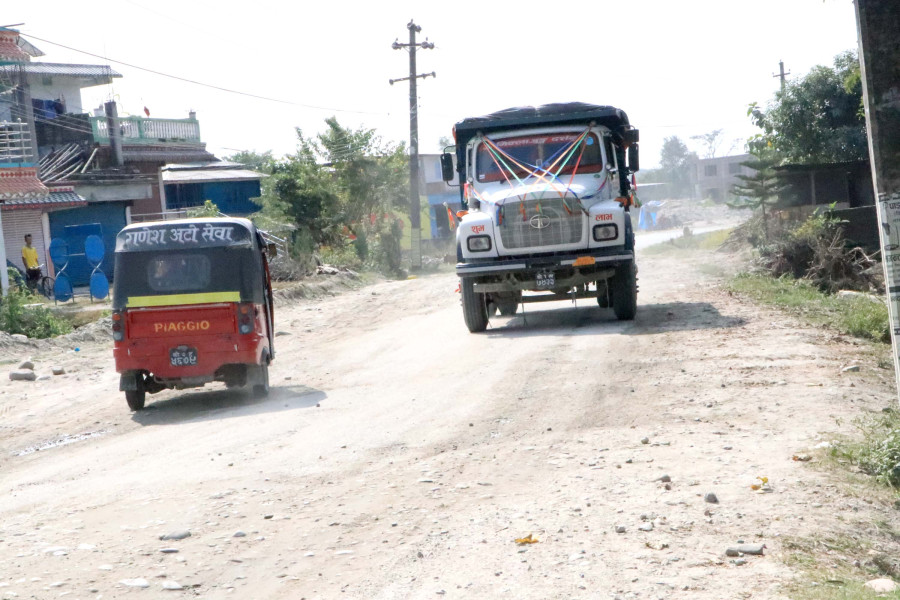 As a short-term solution, locals have resorted to sprinkling water on the road and the nearby areas. Deo Narayan Sah /TKP
bookmark
Published at : November 9, 2019
Updated at : November 9, 2019 07:55
Morang
Construction work on the 12.4km Urlabari-Rabi road started some seven years ago but it is yet to see completion.
Prera/Jyoti JV Construction in Kathmandu had received a tender from the then Eastern Division Road Office in Biratnagar on May 2012. The contractor had to blacktop the 12.4km of the road within two years, according to the agreement. But till date, there has been little progress on the road.
Buddhiman Chaudhary, a local of Miklajung, says that people living in the area are living in poor health conditions because of the air pollution caused by the construction work. "My village is close to the road and we haven't been able to breathe clean air for so many years now. The surrounding area is always covered in billowing clouds of dust because of the construction," he said. "I have installed solar panels on the roof of my house but they don't work because of the layers of dust that settles on the panels every day."
As a short-term solution, locals have resorted to sprinkling water on the road and the nearby areas. Devi Khadka, a local of Madhumalla, said they have been requesting the concerned authority to complete the construction of the road soon but to no avail. "The residents living near the road construction site are suffering from respiratory diseases and common cold due to dust particles in the air," she said.
Every day, hundreds of speeding vehicles leave a trail of dust behind. Man Bahadur Shrestha, a local of Urlabari, said, "We have asked the concerned authority to complete the construction work of the road as soon as possible. We are living in hazardous conditions because of this road project."
Shailendra Kumar Singh, an engineer at the Infrastructure Development Office under the provincial government, said that his office has tried to contact the representatives of the contractor company to carry out the construction work but they have been able to reach the company representatives.
According to him, the contractor had used substandard materials while constructing the road. "After the Commission for the Investigation of Abuse of Authority (CIAA) started investigation upon the financial irregularities five years ago, the contractor company has fled," said Singh. The investigation of the CIAA is still ongoing.
The Division Road Office in Biratnagar, which was under the federal government, had handed over the road project to the provincial government last year. But the provincial government has not prioritised the completion of the road project, locals say.
---
---