Differences persist among top leaders over MCC compact
Dahal wants consensus bid postponed until after elections while Madhav Nepal and Upendra Yadav call for review of pact terms.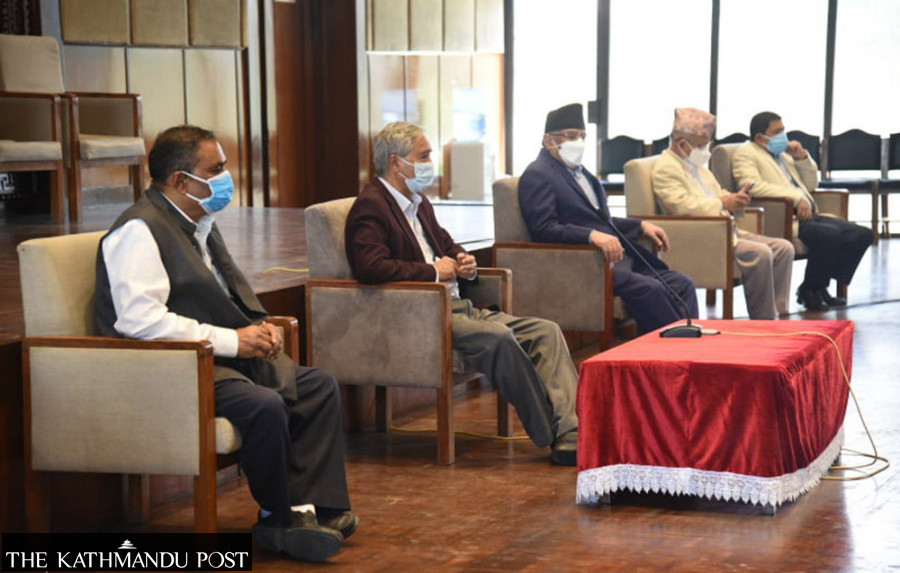 Post File Photo
bookmark
Published at : February 12, 2022
Updated at : February 12, 2022 01:44
Kathmandu
As pressure builds on Nepal for parliamentary ratification of the Millennium Challenge Corporation compact, under which Nepal will receive a $500 million grant from the United States, key parties in Parliament continue to have different takes on the grant.
Of the five parties in the ruling coalition, only the Nepali Congress is fully committed to its ratification. The Communist Party of Nepal (Maoist Centre), CPN (Unified Socialist) and Rastriya Janamorcha are dead against the compact's ratification "in its existing form". The Janata Samajbadi Party is divided.
When it comes to parties outside the government, the CPN-UML has maintained a constant position—it will make its position clear only after the ruling alliance comes up with a common stance on the grant. The Loktantrik Samajbadi Party is in favour of endorsing the MCC compact.
Amid delays in ratification of the compact, which Nepal signed with the United States, in September 2017, American officials over the past few months have been exerting pressure on the Nepali leadership for its early ratification. In the past week, the US, however, has taken a tougher stance. Days after MCC vice president Fatema Z Sumar said that the US cannot wait beyond February 28, US Assistant Secretary of State Donald Lu on Thursday told top three leaders of Nepal that failure to ratify MCC from the deadline could mean reviewing ties with Nepal. In his phone calls to the leaders, Lu also conveyed to Prime Minister Sher Bahadur Deuba, UML chair KP Sharma Oli and Maoist Centre chair Pushpa Kamla Dahal that failure to ratify the MCC compact could have serious ramifications for Nepal.
Maoist Centre chair Dahal, who fears the current ruling coalition could break down due to differences among its constituents over the US compact, on Friday rang up UML chair Oli to discuss the compact.
Leaders close to them, however, have given different versions.
CPN-UML deputy chief of Publicity Department Bishnu Rijal in a tweet on Friday morning said: "When Maoist Centre chair Pushpa Kamal Dahal called up our party chair KP Oli last evening asking 'you must decide on MCC', our chair replied in clear words that 'you all had given your word that you will pass [the compact] after KP Oli is ousted from power' and after his removal you had promised in writing that you will 'endorse [the compact] in 4-5 months.' 'Now you all are in the government and there are 165 members in the House of Representatives. First you decide, and the UML will take its decision.'"
After Rijal's statement, Dahal's chief personal secretary Ramesh Malla wrote on Facebook saying Oli did not take Dahal's request to make his and his party's stance on MCC seriously. Malla wrote that Dahal had asked Oli to make attempts to forge national consensus [on MCC compact] and also asked him to postpone it until after the polls since there is no situation of forging consensus among the parties. "But chairman Oli didn't take it seriously. He responded irresponsibly saying he won't allow the parliament to run until there is the presence of non-lawmakers."
The Nepali Congress, meanwhile, has been discussing taking the MCC to parliament as it has already decided in favour of the compact's parliamentary ratification. "We have already decided to endorse the MCC both from our party committee and our parliamentary party," said Prakash Sharan Mahat, the newly appointed spokesperson of Congress. "Ongoing meeting of the party's work execution committee will request all the parties to endorse the compact unanimously instead of creating unnecessary hassle."
Prime Minister and Congress President Deuba, who is desperate to ratify the American grant, has been seeking support of the main opposition UML, which has 98 seats in Parliament.
According to UML leaders, they can extend their support to Deuba, but the prime minister must break the alliance first.
Deuba appears to be ready to leave behind those partners who are opposing MCC compact's ratification, but he fears a communist alliance during the polls that could affect his party's performance.
Congress leaders say there is a need to move the MCC compact forward in Parliament for ratification, but none could offer an answer to how.
In the Janata Samajbadi Party, the faction led by Baburam Bhattarai, a former Maoist leader who has served as prime minister and finance minister in the past, is in favour of ratifying the compact.
But the party's chairman, Upendra Yadav, is for endorsing the compact only after revising some of the provisions although the party has not made its official stance clear on the compact.
Likewise, the Madhav Nepal-led CPN (Unified Socialist) that was formed after a split in the CPN-UML with 23 lawmakers, also wants some of the provisions of the compact revised before it could be ratified by parliament. While addressing a press meet in Birgunj on Friday morning, Nepal has clarified that his party cannot support the MCC in its existing form.
"Some of the provisions of the MCC should be revised, as public opinion is against it. There is a challenge to assure the public," Nepal said at the press meet organised by his party's media wing Samajbadi Press Organisation. "It would be better if we could delay it so that we could further study and discuss it. We need to clarify on issues which have been floated in the media."
Similarly, the Janata Samajbadi Party is sharply divided with its chairman Upendra Yadav demanding revision of the compact's terms before its endorsement, while Baburam Bhattarai, another senior leader of the party, calling for the compact's immediate ratification.
The party formed through a merger of three different parties–Yadav-led Sanghiya Samajbadi Forum, Bhattarai-led Naya Shakti Party and Mahantha Thakur-led Rastriya Janata Party on different dates–is currently on the verge of split with the Bhattarai-led faction accusing chair Yadav of running the party on his personal whims.
Thakur, along with several leaders of the former Rastriya Janata Party, launched a new Loktantrik Samajbadi Party last year after differences with Yadav and Bhattarai over supporting the immediate past KP Oli government.
Thakur's Loktantrik Samajbadi Party currently has 13 lawmakers and is in favour of endorsing the MCC compact at the earliest.
"We are for endorsing the MCC at the earliest because Nepal has already signed the deal and delay in its endorsement has been sending a negative message to the international community," said Keshav Jha, a member of the party's executive committee. "We should not take the US grant lightly."
---
---