Opposition boycotts all-party meeting called by House Speaker
Agni Sapkota decided to call the meeting after continuous obstructions of parliamentary proceedings by the UML, but the party has refused to attend.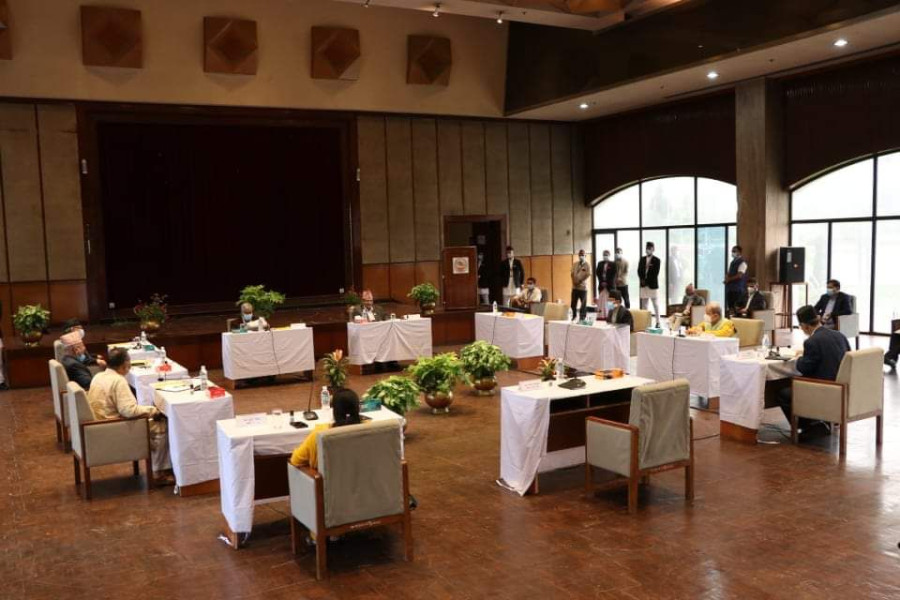 Photo Courtesy: Parliament Secretariat
bookmark
Published at : September 13, 2021
Updated at : September 13, 2021 15:54
Kathmandu
The main opposition CPN-UML refused to participate in the all-party meeting called by Speaker Agni Sapkota in a bid to discuss the ongoing obstructions of the House of Representatives.
The UML has been obstructing the House proceedings ever since the new session began on Wednesday.
The main opposition had initially taken exception to Speaker Sapkota's refusal to issue a notice regarding the party's decision to expel as many as 14 lawmakers, including Madhav Kumar Nepal. The UML had expelled th0se lawmakers on August 17.
The Nepal group on August 26 formed its own party, CPN (Unified Socialist), splitting from the UML.
The UML is now enraged that the government forcefully presented an ordinance to amend the Political Parties Act and a replacement bill for the budget ordinance despite their obstructions.
After the main opposition continued obstructing the House proceedings on Sunday, Speaker Sapkota decided to call an all-party meeting.
UML Chief Whip Bishal Bhattarai said the Speaker should have held talks with the UML directly instead of inviting everyone.
"There is no meaning in inviting leaders like Pushpa Kamal Dahal, Madhav Nepal and Upendra Yadav as well as Prime Minister Sher Bahadur Deuba," Bhattarai told the Post. "If he has the moral foundation, he should talk to the UML leadership."
The UML has accused Speaker Sapkota of being complicit in splitting the party, as he failed to act as per the party's decision to expel the 14 lawmakers.
Instead of issuing a notice as per the UML's decision, the Speaker on August 29 issued a statement saying there was no need to take action against the UML lawmakers because a new party, CPN (Unified Socialist), had already been formed [by them].
Officials at the Parliament Secretariat say Monday's all-party meeting was called after the main opposition complained that the Speaker did not take initiatives for dialogue to defuse the crisis.
"The main opposition's refusal to attend the all-party meeting shows its double standards," said an official at the Parliament Secretariat.
Earlier on Monday, Subhas Nembang, deputy leader of the UML's Parliamentary Party, told the Post that his party won't attend the all-party meeting.
"The Speaker is the cause of the current crisis, as he has been pushing everything forcibly," said Nembang. "An environment for dialogue will be created if the Speaker issues the notice regarding the UML's decision of expelling the lawmakers from the party.
---