Ruling party Standing Committee meeting postponed, yet again, until 3pm Sunday
Party chairs Oli and Dahal have sought more time to discuss the outstanding issues.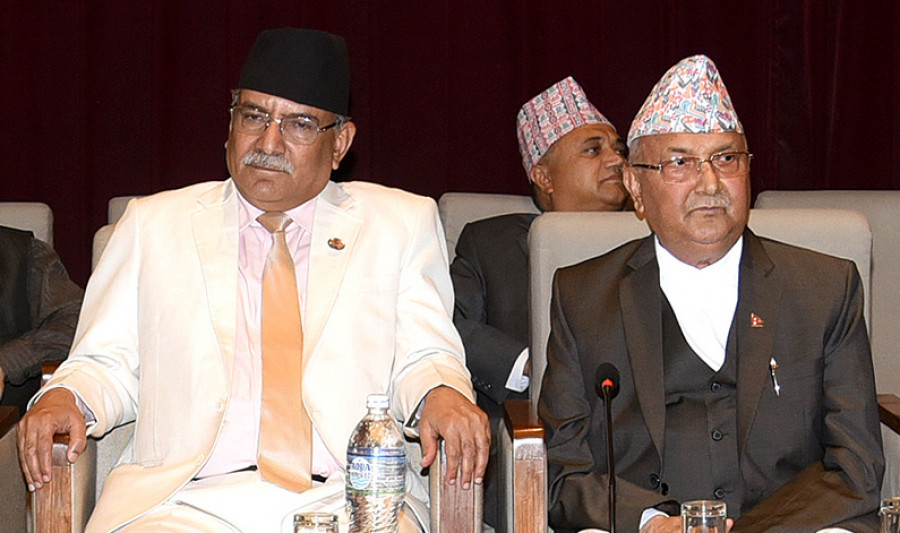 Post File Photo
bookmark
Published at : July 17, 2020
Updated at : July 17, 2020 13:22
Kathmandu
The ruling Nepal Communist Party's Standing Committee meeting that was rescheduled for 3pm on Friday has once again been postponed until Sunday after two chairs KP Sharma Oli and Pushpa Kamal Dahal sought more time to discuss the outstanding issues.

"The meeting has been fixed for 3pm Sunday," Surya Thapa, Oli's press advisor, wrote on Twitter.
[Read: 6 reasons why the Nepal Communist Party's Standing Committee meet was postponed]

This is the sixth time the meeting has been postponed. The last time the meeting was held on July 2.
Feuding between the Oli and Dahal factions has brought the party close to a split and both the chairs are in a desperate bid to save the party unity.
After the Dahal faction, backed by senior leaders Madhav Kumar Nepal and Jhala Nath Khanal, started piling pressure on Oli to step down both as party chair and prime minister, Oli had hit back–first by suddenly proroguing the House session and then alleging that the rival faction was hatching plots to oust him and impeach the President.
[Read: How the strongest communist force in Nepali history came so close to imploding]

Oli's moves put the rival faction on the back foot, as he hinted at taking stern measures including a party split, and Dahal and Nepal did not want to be perceived as the cause.
For the last two weeks, the two chairs have been holding talks to find a middle ground.
On Thursday, the two leaders also invited Nepal to join the meeting. There was an understanding between them about leaving the disputed issues for the Central Committee to decide.
Later on Thursday evening, the Dahal faction decided to take all the outstanding issues to the Central Committee. This faction is for calling the Central Committee by the third week of August. The Dahal-Nepal faction holds the majority in the 445-member Central Committee as well, just like in the Standing Committee.
Just when the Dahal faction gathered at his residence at Khumaltar, Oli called leaders loyal to him to Baluwatar for discussions.
The leadership is under pressure not to postpone the Standing Committee meeting anymore.
Despite pressure, Oli has refused to step down either as party chair or prime minister.
According to leaders, a larger power-sharing deal could mean "management" of senior leaders and the party reins to Dahal but he does not seem to be in a mood to make any concession in less than the prime ministerial post.
But Oli is not going to hand over the government reins so easily, said a leader close to Oli.
---