Statements by ruling party's youth wing against democratic values, analysts say
Both the NCP and the central body of Yuwa Sangh appeared to distance themselves from the district chapters' statements.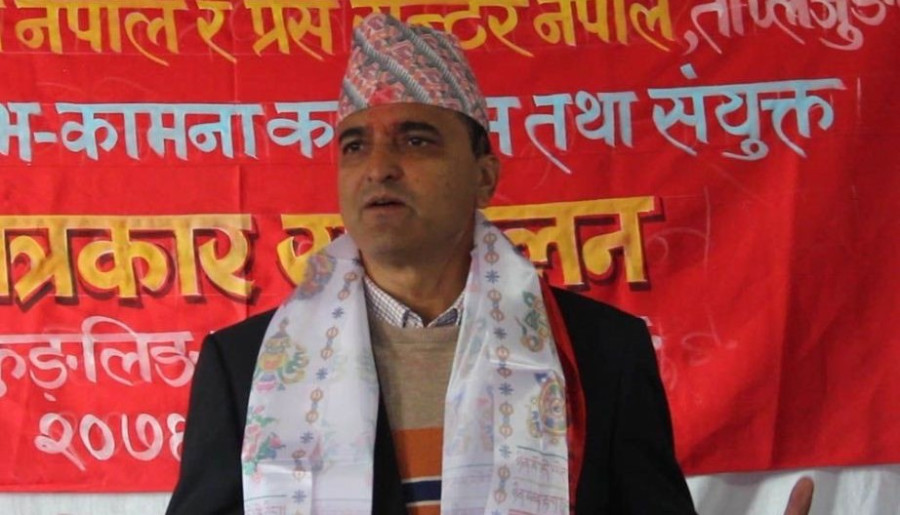 Tourism Minister's delaying of flight has kicked up a controversy. Post File Photo
bookmark
Published at : September 17, 2019
Updated at : September 17, 2019 07:20
On Monday, as the debate over the tourism minister's delaying of a Buddha Air flight continued online, Yogesh Bhattarai's personal aide issued a statement, which many said was in bad taste for the choice of words.
Prem Guragai's statement reeked of braggadocio. And as though it was not enough, the Kaski chapter of the ruling Nepal Communist Party's youth wing—Rastriya Yuwa Sangh Nepal—issued another statement late Sunday, declaring that Gyanendra Shahi, the person who led an altercation with Bhattarai in Nepalgunj for delaying the flight, has been banned from entering the district.
Hours later, the Dhanusha district committee of the Sangh has also issued a separate statement, barring Shahi's entry into the district.
"We warn Gyanendra Shahi not to participate in any programme and enter Dhanusha district," the statement issued by Saroj Yadav on behalf of the Sangh said.
But the central body of the youth wing refused to wholly own the statements issued by its districts chapters.
"The district committees may have issued the statements because they were angry at the way the minister was attacked," said Ram Prasad Sapkota, central coordinator for the Sangh. "But we have not adopted any policy to impose restrictions on the movement of any political party or individual."
According to Sapkota, Shahi, the person in question in the Bhattarai-related incident, has all the right to express his opinion and be involved in the politics of his choosing. Shahi was detained by police on Sunday but was released on Monday.
Ruling party leaders, however, refused to comment on their youth wing's statements.
Party General Secretary Bishnu Poudel said he "needed to study the statements" before making comments. A secretariat member said it was beneath him to comment on "such nonsense."
"It's definitely not appropriate to take such decisions on an issue related to an individual," he told the Post, wishing to be anonymous because he said such drivel did not warrant a formal response.
A series of statements from Bhattarai as well as the ruling party's sister wings comes amid NCP leaders' continuous refrain that the federal republican system is under threat from regressive forces.
Political commentators, while stressing the need to protect hard-earned political achievements, say recent activities of the government and the ruling party show the party itself is engaged in politics of negation.
"If the leaders of today's Nepal Communist Party fought for true democracy, then they should stop engaging in such activities," said Rajendra Maharjan, a political analyst. "Restricting an individual from free movement is not acceptable regardless of who it is aimed at, be it Gyanendra Shahi, Gyanendra Shah, [Pushpa Kamal] Dahal or [KP Sharma] Oli."
In a democracy, Maharjan said, all citizens should have the right to express dissent and right to free movement.
"A person's movement cannot be restricted unless he or she raises arms," said Maharjan. "The Maoist leaders have gone through the phase during the armed conflict and they should know it better. The Maoists are in the ruling party now and such restrictive measures are not acceptable."
Earlier in February, the same youth wing had left the ruling party red-faced after it issued a strong statement against folk singer Pashupati Sharma for his new song, in which he takes a jibe at leaders indulged in corruption.
Such activities, political analysts say, are against the constitution, multi-party polity and parliamentarian system.
Jhalak Subedi, who has followed Nepal's leftist politics for decades, said both parties and leaders in the government should counter ideas through ideas, not restrictions.
"After all, the ruling party has always maintained that it fought for democratic values," said Subedi. "It should practise what it preaches."
***
What do you think?
Dear reader, we'd like to hear from you. We regularly publish letters to the editor on contemporary issues or direct responses to something the Post has recently published. Please send your letters to [email protected] with "Letter to the Editor" in the subject line. Please include your name, location, and a contact address so one of our editors can reach out to you.
---
---