Diplomacy, in 280 characters or less
In Kathmandu, key diplomats are using Twitter to engage with Nepalis—and to wield soft power

Photo: Shutterstock | Illustration: Raj Kumar Poudyal
bookmark
Published at : June 26, 2019
Kathmandu
On June 20, Chinese Ambassador to Nepal Hou Yanqi announced her arrival on Twitter—a platform banned in China—with a tweet about a conference on the Belt and Road Initiative.
Nepalis on Twitter were quick to respond, welcoming the Chinese ambassador on the social media platform.
Hou's three tweets so far have been strictly about Chinese assisted projects in Nepal. Even when she's wishing Nepalis a good harvest season, she's reminding them of the role China has played in supporting Nepal's agriculture.
"Late monsoon, but never absent! Wish a good harvest for our Nepali friends, and fruitful hybrid rice cooperation between China and Nepal!" she wrote.
Hou's social media engagement is quite uncharacteristic of Chinese diplomats in Kathmandu, who've historically been shy of expressing opinions or doing interviews with the media.
Despite over 60 years of diplomatic ties with China, the northern neighbour's engagement in Nepal has rarely been as visible as it has in recent years. But with Nepal signing up to China's Belt and Road Initiative two years ago, any mention of the northern neighbour evokes a lot of interest among Nepalis.
Hou, who first charmed Nepalis with a video of her dancing to a Nepali folk song at an embassy programme, has already amassed over 2,500 followers injust a week on Twitter.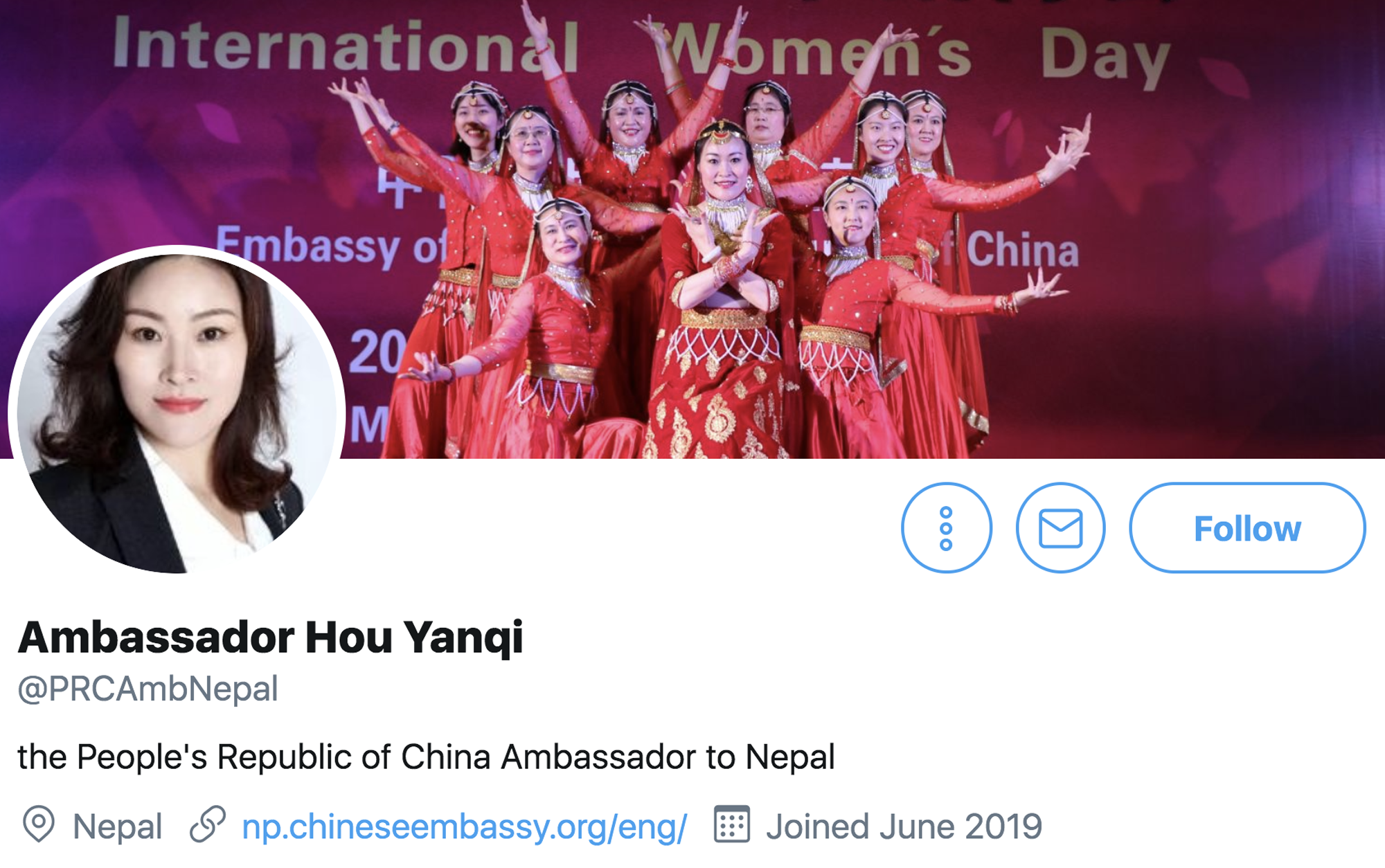 A screenshot from the official twitter account of the Chinese Ambassador to Nepal, Hou Yanqi. Photo: via Twitter
Many say the Chinese envoy's foray into Twitter is an attempt to exercise soft power, as the social media platform has increasingly emerged as an unmediated public space for world leaders and diplomats.
"There's no question that diplomats are using social media to wield their soft power," said Vijay Kant Karna, a political scientist who served as Nepali ambassador to Denmark.
It is the US ambassador to Nepal, however, who seems to have made most of this soft power. Ambassador Randy Berry, who took over the Twitter account from his predecessor Alaina B Teplitz in September 2018, has over 166,000 followers and a well-curated page.
While Berry too tweets about infrastructure projects built in Nepal with US support, he has also been asking Nepalis to share their own stories of the personal impact the relationship between the two countries has had on their lives, using the hashtag #CloseWhereItCounts.
Berry's posts are full of well-produced videos, gifs and photographs. His Twitter is also less conspicuous, especially when compared to Hou's, in its attempt to showcase all the assistance that his country provides.
The ambassador also conducts the 'Chit chat with Ambassador Berry' programme, a campaign that he says is aimed at interacting with the four million followers of the US Embassy's various social media pages.
"At a time when the president of the US himself pronounces his foreign policy decisions via Twitter, it is natural that diplomats have to disseminate their views and activities of their embassies from the social media," said Nischal Nath Pandey, director of the Centre for South Asian Studies.
However, when it comes to the actions of great powers in Nepal playing out on social media, there is one ambassador who is conspicuously behind—the ambassador from India, which has historically had more engagements in Nepal, politically as well as economically.
Indian Ambassador Manjeev Singh Puri, who also joined the platform this month, is markedly less popular. Puri's account, which has so far posted only five tweets, all about the International Yoga Day, has a little over 300 followers (at the time of publication). Most of India's engagements in Nepal, however, are posted from the Indian Embassy's Twitter account.
So while there is a marked difference in the manner the ambassadors from three of Nepal's closest diplomatic partners are approaching social media, there is no question that diplomacy plays out on all spheres—real or virtual.
---
---