Subas Nembang, the leader of Nepal's constitution project
Government decides to give the former Speaker, who died on Tuesday, a state funeral.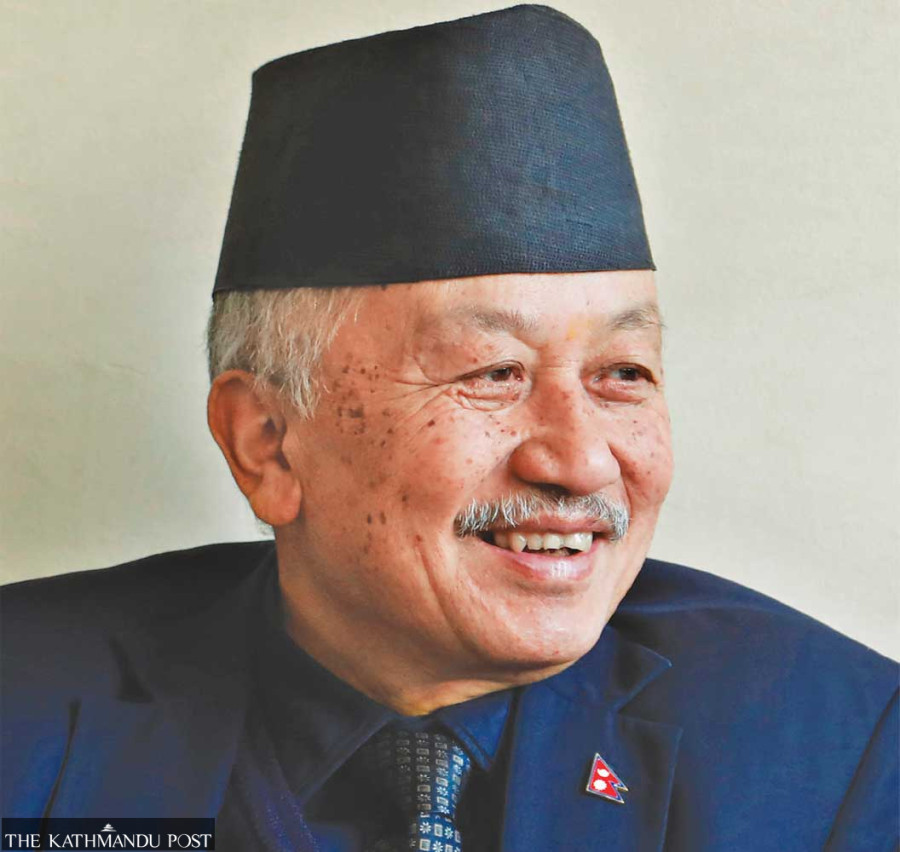 Subas Chandra Nembang (1953-2023) Photo: Courtesy of Rajan Kafle
bookmark
Published at : September 13, 2023
Updated at : September 13, 2023 10:29
Kathmandu
Former Speaker and chairman of the Constituent Assembly Subas Chandra Nembang, who was also vice-chair of the CPN-UML, passed away early Tuesday morning. He was 70.

According to UML Chief Whip Padam Giri, Nembang had suffered a heart attack at his Baluwatar-based residence. He died at TU Teaching Hospital at 1:50 am on Tuesday.
An emergency Cabinet meeting on Tuesday decided to give the UML leader a state funeral for his contribution to shaping the constitution, Minister for Culture, Tourism and Civil Aviation Sudan Kirati said.
The meeting also decided to declare Thursday, when Nembang's funeral rites will be held, a public holiday, Kirati added.
Nembang served as the Speaker of the House of Representatives that was reinstated in 2007. He was elected the Speaker the same year and served as Constituent Assembly chairman/Speaker in 2008 and 2013. Nembang was re-elected Speaker in 2015.
The House meeting scheduled for Wednesday has been postponed, to mourn Nembang's death. On Thursday, the House is scheduled to pass a condolence resolution over his death, General Secretary of the Parliament Secretariat, Dr Bharatraj Gautam told the Rastriya Samachar Samiti.
"For me he was not just the UML vice-chairman but also a good friend," CPN-UML Chairman Oli wrote on social media. "We will always remember his contribution in constitution-making. Heartfelt condolence to soft-spoken and humble friend of mine Subhas Nembang!"
Nembang's death is an irreparable loss to Nepal's communist movement, democratic movement and the entire country, party's Acting General Secretary Pradeep Gyawali said in a condolence statement.
"He was soft spoken, honest and equally loved by all irrespective of their ideological inclination," Gyawali said.
US Ambassador to Nepal Dean R Thompson took to X, to express his condolences to Nembang's family. "His commitment to building a democratic and prosperous Nepal was an inspiration to many," he added.
Nembang was a member of the National Assembly, the upper chamber of Parliament, after the 1991 parliamentary elections. In 1994, he became law minister in the minority UML government led by Manmohan Adhikari.
He would play his most prominent role in drafting and promulgating the constitution under his House leadership in 2015, using all of his natural charm and expertise as a legal practitioner.
On Tuesday, people from all walks of life were present at the CPN-UML office in Chasyal, Lalitpur, to pay him their last respects. Among those present were Prime Minister Pushpa Kamal Dahal, UML Chairman KP Oli, former President Bidya Devi Bhandari, Nepali Congress President Sher Bahadur Deuba, former prime ministers and other dignitaries.
Nembang was born to Ram Bahadur and mother Apendra Kumari Nembang at Ilam Municipality-7 of Ilam district in 1953.
He is survived by his spouse, two sons and two daughters.
---