Government forms committee to probe death of Biratnagar protest victim
Limbu, who had sustained serious injuries during a police assault on March 19, died on Friday.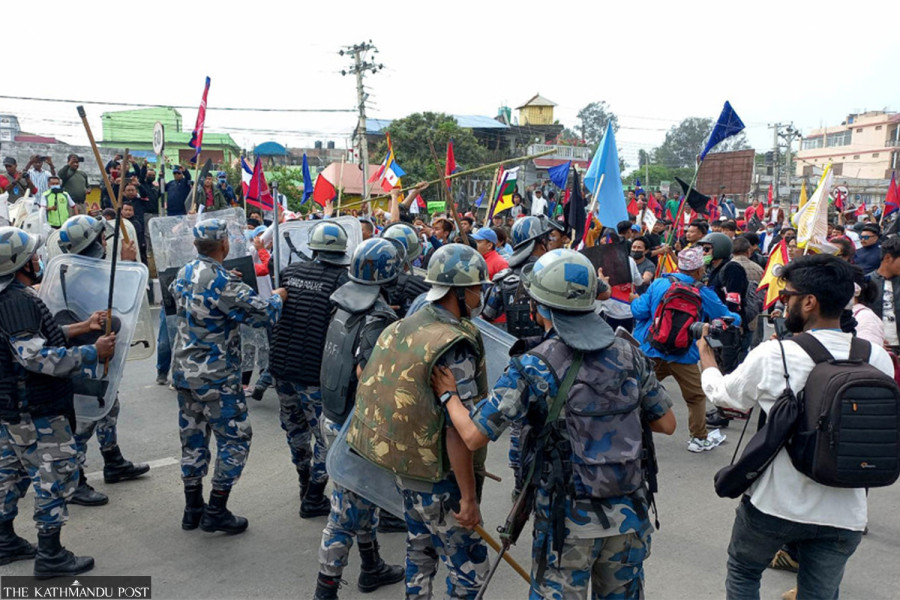 bookmark
Published at : March 25, 2023
Updated at : March 25, 2023 17:21
The government has formed a six-member committee headed by joint secretary of the Home Ministry Ram Bandhu Subedi to probe into the death of a protester during the demonstration staged in Biratnagar on March 19.
During discussions with the agitating side at the prime minister's residence in Baluwatar on Saturday morning, the government had announced forming a committee to probe the incident.
The committee has been entrusted to submit a report within seven days, the Home Ministry said in a statement.
Prime Minister Pushpa Kamal Dahal said the protest programmes of the agitating sides have drawn the attention of the entire nation and appealed to the agitating sides to sit for talks by withdrawing the protest programmes, said PM Dahal's Personal Secretary Ramesh Malla.
PM Dahal called the representatives of various organisations launching agitation under the banner of Province Naming Joint Struggle Committee –Nepal Federation of Indigenous Nationalities, Kirat Rai Yoyokkha, Kirat Yakthum Chumlung, Sanghiya Loktantrik Rastriya Manch and Sherpa Association of Nepal–to Baluwatar and held a discussion.
The government is seriously concerned about the incidents that unfolded in the Koshi Province, said Minister for Information and Communications Rekha Sharma, who is also the spokesperson of the government.
The government has also called on the concerned agitating groups for dialogue, Sharma added.
On March 19, clashes ensued between security personnel and protesters who demonstrated against the naming of the province as Koshi in Biratnagar.
Armed Police Force personnel fired four rounds of bullets in the air and lobbed around 24 shells of tear gas after the protesters from the indigenous communities breached a prohibited area to stage the protest.
The police allegedly baton-charged protesters, during which one Padam Limbu Lajehang had sustained serious injuries.
According to the Province 1 Renaming Joint Struggle Committee, an organisation protesting the name of Koshi Province, Limbu Lajehang, who had sustained head injuries during the police baton charge died on Friday morning.
Lajehang, 42, of Bajhgara in Dharan-15, was the central co-commander of the Limbuwan Volunteer affiliated to Sanghiya Loktantrik Rastriya Manch led by Kumar Lingden.
The story has been updated.
---