Can Dahal walk the foreign policy tightrope?
Nepali premier needs to find an equilibrium in ties with two neighbours and calibrate country's relations with the West.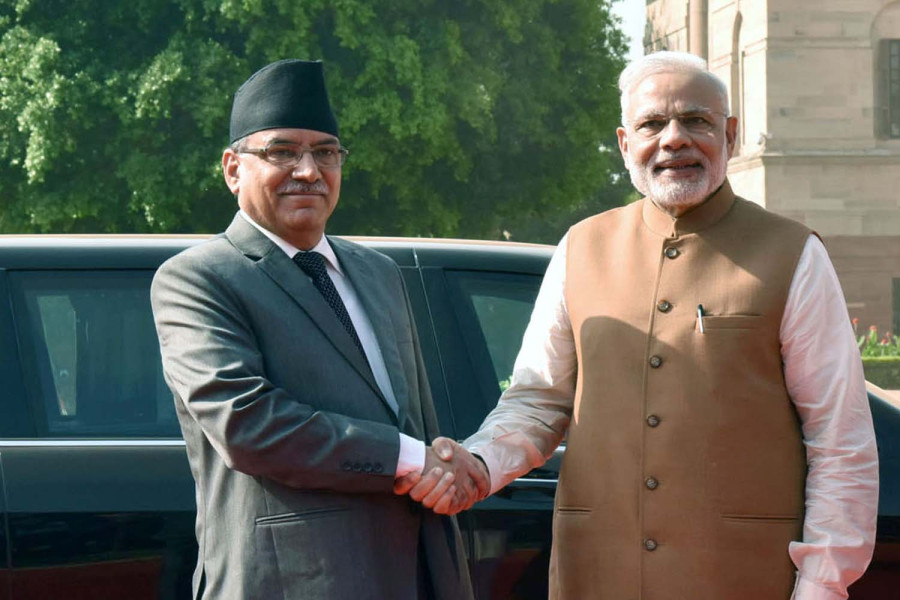 Pushpa Kamal Dahal's new rise to power is being followed with great interest in New Delhi. Photo courtesy: Press Information Bureau
bookmark
Published at : December 29, 2022
Updated at : December 29, 2022 07:41
Kathmandu
Prime Minister Pushpa Kamal Dahal has a chequered past in terms of dealing with the immediate neighbours and big powers. He has a habit of making easy promises but failing to keep them.

Once again Dahal is at the helm of government, and he again faces huge domestic and international challenges. Experts closely following the foreign policy priorities of the new government said that Dahal has a bumpy road ahead and the biggest challenge for him would be to strike a balance between the neighbours and Western powers.
"He has the task of negotiating a delicate balance between the neighbours and big powers," said CPN-UML leader and former foreign minister Pradeep Gyawali. "The immediate past Sher Bahadur Deuba government made some mistakes in international relations, and the new government should correct them."
Though Dahal has not declared his foreign policy priorities and a foreign minister is yet to be appointed, his government's major challenges include winning the trust of neighbours and major powers, implementing the $500 million Millennium Challenge Corporation Nepal Compact, executing some projects under the Belt and Road Initiative, expediting the stalled SAARC process, and effective conduct of labour diplomacy. There are peripheral challenges too.
"There are some ruptures and cracks which need to be fixed. As this is his third stint as prime minister, he will hopefully act as a mature politician. He has himself declared that this is his last chance to serve the nation. He should establish himself as a credible politician by pursuing a balanced and nuanced foreign policy," said Gyawali, who is also the deputy general secretary of the CPN-UML, the largest coalition partner of the Dahal government.
Dahal is known as an "unpredictable" politician in Kathmandu's diplomatic circles. He was exposed last year ahead of the MCC compact ratification when he publicly denied having signed a joint letter that he and Deuba sent to the MCC headquarters.
Unlike the last time, he now leads a government of parties with conflicting political ideologies and philosophies.
"Whether the two big communist parties and others in the coalition remain in a 'live-in relationship' or they will 'marry' will determine Nepal's future political landscape," said Ramesh Nath Pandey, another former foreign minister.
"The government has to get a vote of confidence within 30 days. The two communist parties that were fighting in the streets after an acrimonious divorce two years ago have again come together, so a lot of things will depend on how their newfound relationship develops."
If their partnership sustains, the government will understandably be more friendly to China, and other major powers will come up with strategies to tackle Chinese influence in Nepal accordingly, Pandey added. "So we need to invest huge amounts of time and energy to balance the strategic interests of major powers," said Pandey.
Given the geostrategic importance of Nepal, Dahal's startling rise to power is being followed with great interest in New Delhi, Washington, Beijing, Brussels and other capitals.
And, how does New Delhi view Dahal's comeback? According to Constantino Xavier, a research fellow at the Centre for Social and Economic Progress in New Delhi, India's Nepal policy since the late 2000s is marked largely by continuity, and frequent government changes here does not surprise them.
"Delhi knows it has to live with the different leaders in Kathmandu, so no fundamental change in relationship is expected," Xavier said.
"Despite ups and downs in trust levels, Prime Minister Dahal is a familiar figure in Delhi, and he is seen as predictable and transactional. The Kalapani episode left a bitter aftertaste in Indian mouths, so it is doubtful it will ever fully trust Oli again. But again India will deal with Oli also when his turn comes," Xavier, who frequently writes on Nepal issues, told the Post from New Delhi. "And with Dahal, despite the growing tilt towards China, he will continue to cultivate relations with India even if only to extract concessions."
Dahal will face institutional lethargy as the role of the Ministry of Foreign Affairs is weakening. There are several issues and disputes—including those related to boundaries—with both India and China.
Professor Khadga KC says Nepal should negotiate the middle path in its relations with the two close neighbours. "We cannot embrace one over the other. Dahal should also be mindful that the Americans do not feel left out." he said.
"As the MCC compact was ratified with the backing of Dahal's party while the UML remained a mute spectator, it is now his obligation to implement the MCC," KC who teaches international relations at Tribhuvan University said. "But Beijing could also be upbeat to see Dahal back at the helm."
KC advised Dahal to try to maintain "a delicate balance between benefits and risks."
"He should not provoke one neighbour against the other. And at the same time, striking a fine balance in the relations with the West is as important," added Prof KC.
---
---