Poll body using army, police to monitor media
Observers swiftly criticise the poll body's decision.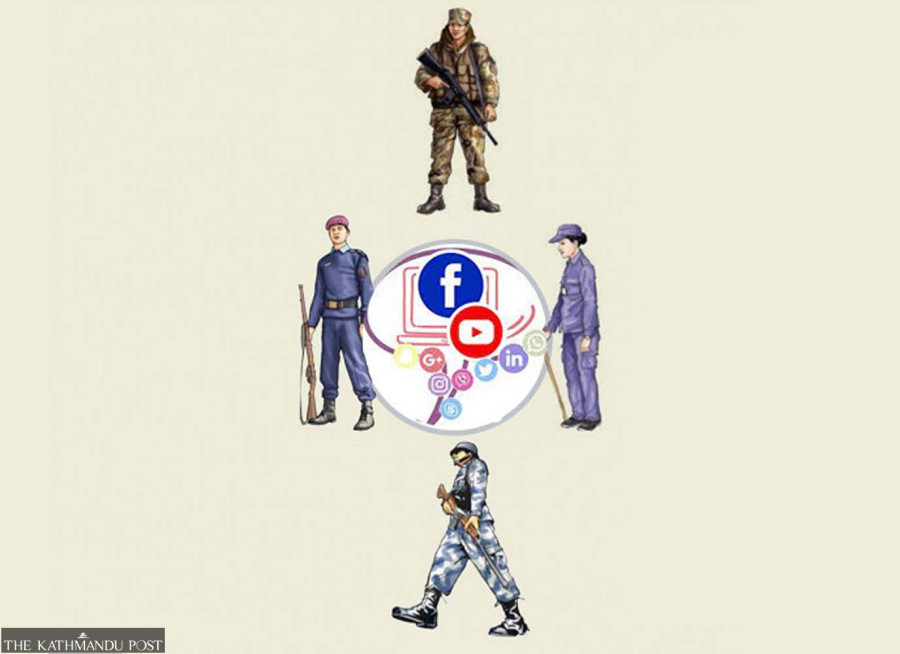 Post Illustration
bookmark
Published at : September 30, 2022
Updated at : September 30, 2022 07:57
Kathmandu
The Election Commission is set to mobilise a unit comprising army and police personnel to monitor online and social media content during the upcoming elections.

The commission formed a separate mechanism involving representatives from cyber units of the Nepal Army and the Nepal Police, the Advertisement Board and the Nepal Press Council. The mechanism will be led by a joint secretary of the commission.
The unit, named Press Office, will monitor online and social media content and ask anyone involved in posting misleading information to remove such content and recommend action against such individuals.
Constitutional expert Bhimarjun Acharya termed the decision to mobilise such a unit to curtail the right to expression of an individual an example of an authoritarian tendency.
"Individual freedom is an important feature of our constitution and this fundamental right can't be curtailed under any pretext," Acharya said.
Assistant spokesperson for the Election Commission, Kamal Bhattarai, described it as a unit set up for the poll body's internal purposes.
However, Rajendra Dahal, former chairman of the Nepal Press Council, said forming a 'press office' and mobilising army and police personnel to monitor media content in itself sounded unnatural. "Mobilising a team including army and police personnel gives the wrong message," Dahal said. He said if any media is found to have violated the election code, the Commission should forward the case to the authorities for action if needed.
President of the Federation of Nepali Journalists Bipul Pokharel also criticised the Commission's move. "There is the Nepal Press Council to monitor media content. This task doesn't fall under the jurisdiction of the Election Commission," said Pokharel.
Likewise, senior advocate Radheshyam Adhikari, who is also a former member of the National Assembly, also found the commission's decision inappropriate. "Army and police personnel shouldn't be involved in such a task," Adhikari said.
Former Supreme Court justice Girish Chandra Lal suspected chances of misuse of rights when the commission mobilises such a unit.
Assistant Spokesperson of the Commission Bhattarai said they involved security personnel to monitor possible misinformation and disinformation on social media.
---
---