Stateless in Nepal
Politicisation of the citizenship bill has deprived many of their fundamental rights.

Children of Nepali parents with citizenship by birth who have been deprived of citizenship in lack of a law stage a demonstration at Maitighar in Kathmandu on Wednesday after President Bidya Bhandari refused to authenticate an amendment to the Citizenship Act. Angad Dhakal/TKP
bookmark
Published at : September 3, 2022
Updated at : September 3, 2022 07:31
Kathmandu
Indrajit Safi of Ganeshman Charnath Municipality in Dhanusha district completed his engineering degree in 2019. Safi, 29, graduated from Kurukshetra University in Haryana, India.
But he does not have a job yet. He does not have a licence issued by the Nepal Engineering Council. He does not have a bank account. Neither does he have a phone sim card to his name—the mobile phone he is currently using is registered in his friend's name. The reason—he does not have a document to prove he is a Nepali.
As of now, he is stateless.
Safi's grandfather, grandmother and father had acquired Nepali citizenship by birth in 2007, while his mother, Sonawati Devi, is a citizen by descent.
If the provision of Article 11 (2) (b) of the Constitution of Nepal is implemented, Safi could acquire Nepali citizenship by descent through his mother. However, Safi has not been able to apply for citizenship because his father's citizenship is based on birth.
Article 11 (2) (b) says: Any person whose father or mother was a citizen of Nepal at the birth of such person [shall be the citizen of Nepal by descent].
Safi completed his secondary education from Navashanti Vidyashram in his hometown and did his intermediate level in science from Pentagon International College in Kathmandu.
Thereafter his door for higher studies closed.
"I wanted to pursue engineering but since I do not have a citizenship, I lost one year," said Safi. "So I went to India after I learnt that students could pursue studies by just presenting birth and educational certificates. I finished my degree and came back. Now I don't have a job because I don't have citizenship yet."
A resident of Baragadhi Rural Municipality-1, Bara, Prabej Alam's father Lal Hussain Dewan has citizenship by birth while mother Jaibun Nesa is a Nepali citizen by descent.
Prabej, now 21, has five siblings. Two of them have citizenship and three, including Prabej, don't. One younger brother is yet to reach the age of 16.
So by and large, half of the Dewan-Jaibun Nesa family is stateless.
"After the promulgation of the constitution in 2007 my two elder brothers got their citizenship because they were eligible," Prabej said. "Now we are three stateless citizens in our family even after we are eligible by age—me, my younger brother and younger sister."
Both his elder brothers are currently working in Nepal after returning from foreign employment. They got the opportunity to go abroad because they could get passports as they had citizenship certificates. But for Prabej, that's a pipedream; he cannot even go abroad for work—he needs a passport which cannot apply for without citizenship.
Prabej completed a Health Assistant course from BP Memorial Health Institute and Research Centre, Dhapasi with full scholarship from Bagmati provincial government. He is waiting to apply for his registration at the Nepal Health Professional Council.
"Citizenship certification is mandatory to apply for the licensing exam," Prabej told the Post. "There are so many problems for us—acquiring a driver's licence, passport, sim card and opening a bank account. I have not been able to get a health assistant licence even after passing the Health Assistant course with distinction."
The Interim Constitution of Nepal, 2007 had provisioned granting citizenship by birth to those who were born in Nepal before April 12, 1990 and had applied for citizenship ahead of the Constituent Assembly election on April 10, 2008.
For a brief period after that, children of Nepali parents with citizenship by birth passed citizenship by descent to their children as per the provision in the Interim Constitution and the Citizenship Act, which stated that "children of Nepali parents can get citizenship by descent."
However, chief district officers stopped providing citizenship to the children of those who had acquired citizenship by birth, citing the absence of a separate law.
A few people moved the court and were granted citizenship; however, a large number of people are still deprived of citizenship and the rights it confers.
According to the Home Ministry, a total of 190,726 people were issued citizenship by birth, but most of their children are still stateless.
The amendment to the Citizenship Act 2006 is an effort to implement the constitutional provision of providing citizenship by descent to the children of those who have citizenship by birth. This is the third time the amendment bill has been presented in the current House of Representatives. The amendment bill was first registered in Parliament on July 20, 2018. However, the bill did not get endorsed. It was deliberated for 22 months at the State Affairs and Good Governance Committee, which passed it by adding a provision of seven years of cooling-off period for foreign women married to Nepali men to get naturalised citizenship.
The erstwhile government under prime minister KP Sharma Oli on May 23, 2021, tried to address the citizenship issue through an ordinance, which was struck down by the Supreme Court. The ordinance didn't mention the cooling-off period.
The current government then on July 5 decided to withdraw the earlier bill and tabled a new one on July 8 to amend the Citizenship Act 2006. The bill was endorsed by both houses of Parliament. After certifying it, Speaker Agni Sapkota sent it to President Bidya Devi Bhandari for authentication.
President Bhandari, however, on August 14 returned the bill to the House of Representatives for a review. The House on August 18 again endorsed the bill without any changes and forwarded it to the National Assembly.
The Legislative Management Committee of the upper house on August 31 endorsed it and sent it to the full House without making any change.
After discussions on the bill on Thursday and Friday the Upper House endorsed the bill without amendments on Friday.
Ever since the President returned the bill for a review with her 15-point concerns and suggestions, it has become a subject of national debate, with discussions mostly focused on issues that the current bill does not aim to address.
And people like Safi and Prabej are at the receiving end.
Had the bill been authenticated by the President, Safi and Prabej, along with thousands of others, who are eligible to acquire citizenship, would have been at least able to start the process for obtaining the document.
Safi and his sister Ranjita on September 10, 2019 had jointly filed a petition at the Supreme Court against the Home Ministry. The court, which issued a show cause notice the next day, has not heard the case even once after that.
According to the website of the Supreme Court where the cause list of cases are published, the petition was listed for hearing four times but was not heard even once "for a lack of time."
"I have reached out to everyone I could—the ward chair, mayor, deputy mayor, chief minister of the Madhesh Province, [federal] home minister and the President," said Safi. "After failing to get justice, I decided to launch street protests last year."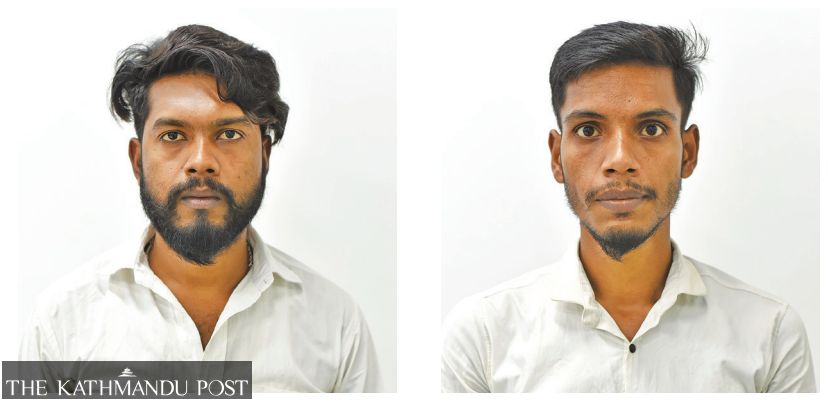 Indrajit Safi (left) and Prabej Alam have been deprived of citizenship. Post Photos
On May 21 last year, Safi took to the streets in Dhalkebar, Dhanusha. Since then he has demonstrated in 15 districts. Many others like Safi who are also waiting for citizenship then joined him. Safi then was elected to lead the Citizenshipless People's Struggle Committee, Nepal. The committee has also constituted district committees.
The struggle committee organised a protest march from Maitighar to Parliament building at New Baneshwar in August last year and also handed over memorandums to the Home Minister, the National Human Rights Commission, the Madheshi Commission, as well as the Nepal office of the United Nations. They also handed over memorandums to President Bhandari and Vice-President Nanda Bahadur Pun on August 9.
"Earlier, I used to feel I was the only stateless person," Safi told the Post. "Now I feel there are many others like me and I should continue this struggle also for my friends across the country sharing my woes."
Prabej, who was confident that he would get citizenship after the bill to amend the Citizenship Act 2006 was endorsed by the federal parliament, says he is extremely disappointed by the politicisation of the citizenship issue.
According to Phanindra Mani Pokharel, spokesperson for the Home Ministry, the government has estimated that there could be around 400,000 people who have been deprived of citizenship by descent despite their parents possessing citizenship by birth.
"At my home, father, mother and two brothers have citizenship, but me, my younger brother and sister don't," said Prabej. "Half of our family belongs to this state, and half is stateless. We don't know what danger our politicians think we could pose to this state if we are granted citizenship."
The bill has the provision to provide citizenship by descent to the children of those who have received citizenship by birth and the provision is in line with the constitution. Besides, it has also included a provision to provide citizenship to Non-Resident Nepalis with certain conditions. Though there are no protests against both of these provisions, debates are being held at the political level on naturalised citizenship for women married to Nepali men.
The bill has continued the provision of the Citizenship Act of 2006, which says foreign women married to Nepali men can get naturalised citizenship once they begin the process of renouncing the citizenship of their country of origin.
During the deliberations on the bill, the main opposition CPN-UML had demanded a cooling-off period before issuing marital naturalised citizenship to foreign women. The party, however, stayed neutral when the bill passed the lower house on July 22. Ever since the President returned the bill for a review, the UML has been pressing for inclusion of a seven-year cooling-off period for naturalisation of foreign women married to Nepali men.
But even if the bill gets stuck in Parliament due to the ongoing debate it won't affect the foreign women married to Nepali men from getting their citizenship as per the previous provision, as the bill has nothing to do with that issue.
The ultimate sufferers will be people like Safi and Prabej.
Experts say political parties have been delaying the bill without actually knowing the intention of the amendment to Citizenship Act.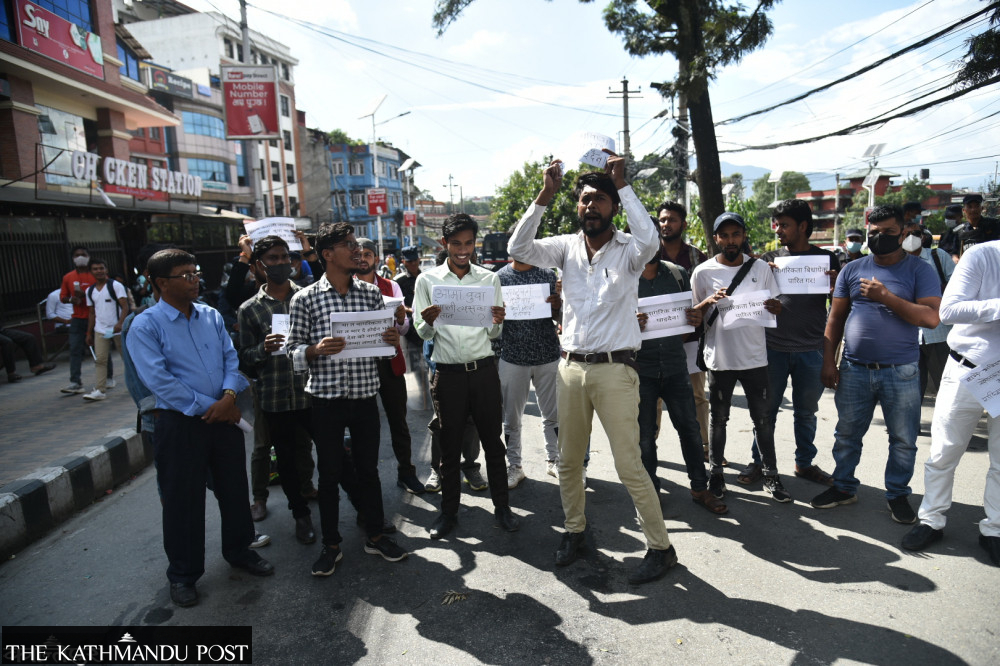 Nepalis without citizenship stage a demonstration at Maitighar, Kathmandu on Wednesday. Angad Dhakal/TKP
"This bill has no connection with any other issues of the Citizenship Act except allowing the children of those who had got citizenship by birth after the Act came into effect in 2006 and the children of those whose father and mother are not identified," said advocate Dipendra Jha, who is currently chief attorney of the Madhesh province government. "Our political parties and authorities make their opinion without properly understanding the issue. This is unfortunate."
Women's rights activist and advocate Meera Dhungana said some people are raising unnecessary issues and have delayed the bill and this has left a large number of people suffering.
"It's justifiable to raise the issue of discrimination against women in the case where the father's whereabouts is unknown but there is no point in delaying the bill over issues which it does not intend to address," Dhungana told the Post. "Dozens of people visit me and other lawyers to know how they can get citizenship."
She hopes that the bill will be soon authenticated by the President, paving the way for many youngsters to become citizens.
Meanwhile, the National Assembly on Friday endorsed the bill and now it will be sent to the lower house. The Speaker, after certifying it, will send it again to the President for authentication.
As per Article 113(4), the President will have 15 days to authenticate it.
Laxman Lal Karna, a lawmaker from the Loktantrik Samajbadi Party, says the delay has deprived many bona fide Nepalis of citizenship.
"There was no need for any separate provision as the interim constitution had said citizenship by descent will be granted to the children through the father or the mother with citizenship by birth, but that provision was continuously dismissed in various ways," Karna told the Post. "If citizenship had not been blocked since 2007, the current problem would not have arisen."
Karna believes ultra-nationalist rhetoric is creating the problem.
"If the bill was authenticated earlier, many people would have already got their citizenship by now," Karna said.
---
---