Drivers of five school buses caught drink-driving with students on board
Last week also drivers of four schools were caught. Stakeholders say drivers' wrongdoing is inexcusable. Schools promise stern action.

Photo courtesy: Metropolitan Traffic Police Division
bookmark
Published at : August 1, 2022
Updated at : August 1, 2022 08:16
Kathmandu
Every morning, thousands of parents in Kathmandu dread when they see their wards off to school, given the chaotic traffic and a lack of safe walkways. One of the ways they try to ensure their children's safety is by using the buses operated by schools, as they pick up and drop students at certain points.

But in what could be any parent's worst nightmare, traffic police on Sunday found that the persons behind the wheel in some school buses were under the influence of alcohol.
According to the Kathmandu Valley Traffic Police Office, traffic police on Sunday morning conducted a surprise check and impounded at least five school buses carrying school children with their drivers under the influence.
Of the 16 buses that were booked, said traffic police, 11 had violated various traffic rules.
On Sunday morning, traffic police had checked 175 school buses in the Valley.
"This is a very serious issue," said Deputy Inspector General Mira Chaudhari, who is also the chief of Kathmandu Valley Traffic Police Office. "We have confiscated the documents of all those found drink-driving and informed the educational institutions concerned."
Traffic police used breathalysers to check the blood alcohol content.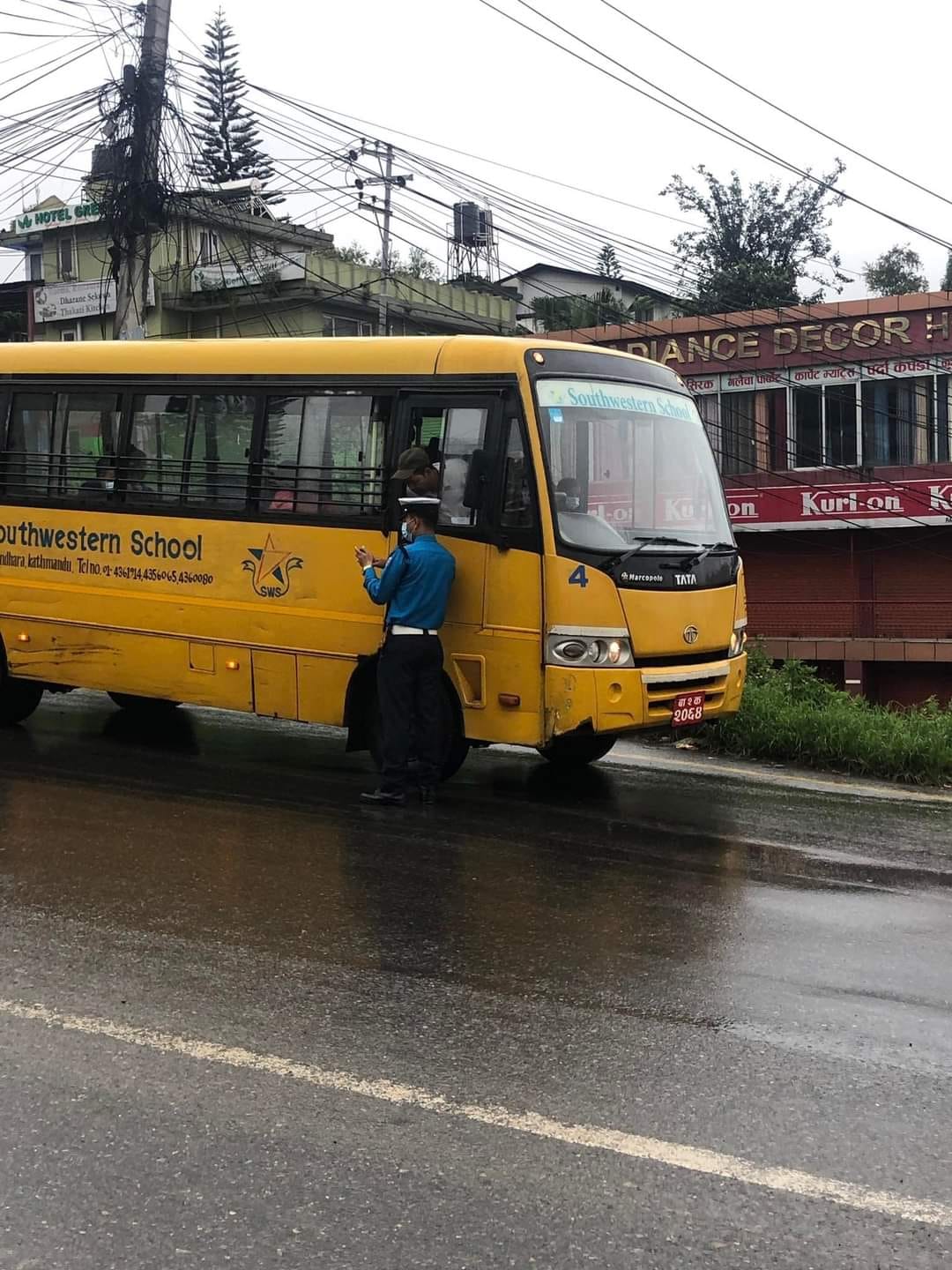 Photo courtesy: Metropolitan Traffic Police Division
According to the traffic police, during inquiry, the drivers said that they had consumed alcohol on Saturday night.

Nepal has strict rules around drink-driving, with even a trace of alcohol detected in the breathalyser leading to booking of the driver. The fine is Rs1,000 and the drivers must attend a one-and-a-half-hour class on road safety.
For how long alcohol remains in the system for breathalysers to detect, however, remains a debated issue which has no definitive answer. However, in general breath tests can detect blood alcohol content in the body system for about 24 hours.
As part of its zero tolerance policy against drink-driving, traffic police started a crackdown in December 2011. It has been a successful campaign, yielding positive results and leading to visible reduction in road accidents.
Traffic police reports show that since the introduction of the MaPaSe [Nepali acronym for madak padartha sewan, or consumption of alcohol], road accidents have fallen by 16 percent.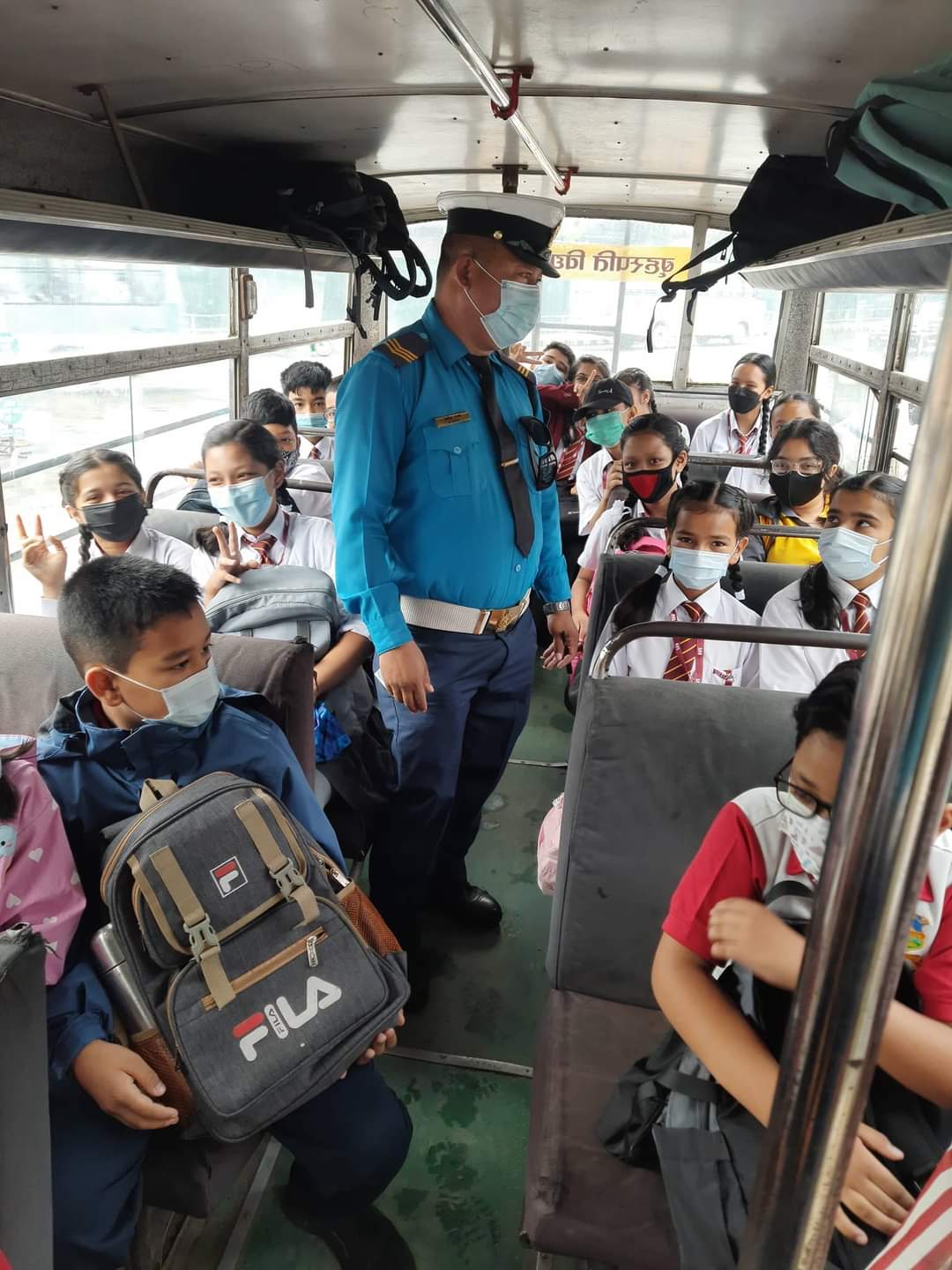 Photo courtesy: Metropolitan Traffic Police Division
This is the first time traffic police have put school/college bus drivers under breath tests.
The drivers who were booked on Sunday morning for drink-driving are from White House College, New Baneshwar; Bridgewater College, Sinamangal; Cosmic College, Koteshwar; and Uniglobe College, Kamaladi, according to traffic police.
The colleges told the Post that they were informed by traffic police about their bus drivers and that the offence is inexcusable.
"It's quite a serious issue," said Sansun KC, executive director of Uniglobe College. "We are unaware of the issue, but if it is true, then we will take action against the driver."
Sita Chhetri, administration head of the White House College, said the institution has already sacked the driver.
"After we learnt about the driver's wrongdoing, we summoned him for clarification," said Chhetri. "He said he had taken alcohol last night. But since he was booked for drink-driving in the morning, we took action against him. She also said that the college administration has already instructed the transportation in-charge to look into the issue so as to avoid a repeat of such acts."
Traffic police have been running a campaign since last week to regulate school buses on the roads in coordination with the Private and Boarding School Organisation Nepal (PABSON) and National Private and Boarding School Association Nepal (N-PABSON) after complaints that school/college bus drivers were flouting traffic rules and even driving under the influence.
"Last week, we had booked four school drivers for drink-driving," said Senior Superintendent Rajindra Prasad Bhatta, spokesperson of the Kathmandu Valley Traffic Police Office. He said the educational institutions concerned should take further action against the drivers.
As per the traffic police report, the schools whose drivers were booked for drink driving last week include Pathshala Nepal Foundation, Baneshwar; Capital Hill College, Teku; Xavier International School, Tusal; and Manaslu international college, Chuchhepati.
PABSON chair DK Dhungana said it is unfortunate if bus drivers are driving under influence while carrying children.
Photo courtesy: Metropolitan Traffic Police Division
"How can they put so many children at risk? Those institutions should immediately take action against their drivers," said Dhungana. "We will also write to all schools and colleges on Monday to take the issue seriously. It's illegal to drive under the influence and inexcusable to drive school buses."
Suprabhat Bhandari, chairperson of Guardian's Federation Nepal, called it an unforgivable crime.
"Earlier in our meeting with traffic police, we had developed a code of conduct for ordinary drivers and school bus drivers," said Bhandari. "But we didn't discuss drink-driving involving school bus drivers because it was beyond our imagination."
Bhandari suggested that schools and colleges must keep close watch on their drivers to avoid such incidents in future.
"Parents also need to be vigilant and continue to press schools to maintain discipline of their staff, including drivers," said Bhandari.
---
---