Indiscriminate use of pesticides taking toll on farmers in Tarai
There's a lack of awareness and monitoring, which impacts not only those who use the chemicals but also those who consume the produce, experts say.

Farmers are often the first victims of the adverse impacts of pesticides on health. Post File Photo
bookmark
Published at : July 31, 2022
Updated at : July 31, 2022 07:02
Sarlahi, Rautahat & Kathmandu
Mahendra Mahato of Farhadwa in Haripur Municipality-3 suffered severe chemical burns on his back last summer when the knapsack sprayer he was carrying leaked toxic pesticide.

The 45-year-old farmer had to spend more than Rs15,000 on his treatment, and the scars he bears are still fresh.
Birendra Pandit of Kabilasi Municipality-1 Piparia suffered a similar injury. His sugarcane field was attacked by pests last May, and he had no alternative but to spray pesticides.
When Pandit returned home after spraying his field, he began experiencing difficulties. Within a few minutes, his body started swelling. He was rushed to a private clinic where doctors said it was a case of severe poisoning.
Pandit does not know which pesticide he used because he bought it from a seed store near his village. He didn't adopt safety measures and wasn't fully clothed when he sprayed the compound.
Pandit said he spent two days in the hospital which cost him Rs10,000.
Like Mahato and Pandit, hundreds of farmers in the Tarai plains rely on what are commonly called "agrovets" that have been selling harmful pesticides. These supply stores for farmers may or may not be registered, but they operate freely.
"All farmers do the same here. We spray pesticides suggested by the agrovet," Pandit said. "It's just like buying medicines when people fall sick."
Farmers are the first victims but they appear to be unaware of the health impacts of pesticides. Such chemicals may cause short-term health effects, also called acute health effects, as well as chronic adverse effects which can be seen months or years after the exposure. Blisters, rashes, nausea, dizziness, diarrhoea and stinging eyes are some of the acute adverse effects caused by pesticides. Chronic effects include cancers, birth defects, disruption of the endocrine system, immunotoxicity and reproductive harm.
The pesticide use affects the consumers as well. When the crop is sold in the market, consumers suffer after eating the contaminated produce.
A few days ago, Mithu Pandit of Piparia bought a batch of bottle gourds at the local market. "The vegetable tasted different, so we threw it away," said Mithu. "Farmers are using pesticides without much thought to increase output. This is putting the health of consumers at risk."
Vegetables laced with harmful pesticides arrive in the market as farmers don't complete the waiting period which has been increasing health risks, experts say.
Farmers have to wait for at least three to 30 days, depending on the pesticide, after using it on their vegetables. But if they get a good price, they sell it early without waiting for the full period.
Kamal Dev Mahato, chief of the Agriculture Knowledge Centre, said many farmers do not read the prescribed waiting time.
Doctors say that the consumption of vegetables with pesticide residues can lead to severe illnesses.
"Regular use of pesticide-laced foods does not only affect the immune system but can also cause serious diseases like paralysis and cancer," said Dr Nabal Kishor Jha, medical superintendent of the Provincial Hospital.
"When people come in contact with pesticides, they may experience symptoms such as dizziness, headache, nausea, itchy skin and gastric problems," Jha added. "Children and pregnant women are more affected by the use of pesticides."
Cancer cases have been rising in many Tarai districts. It is not exactly known whether it's due to the increasing use of harmful insecticides or something else.
In Ghurkauli, Hariwan Municipality, a pocket area for vegetable production, 22 people have died of cancer in the last five years, according to reports. More than half a dozen residents are suffering from cancer.
Skin and blood cancers are seen in most of the patients in the area. Hariwan Municipality said that 36 cancer patients came into their contact in the last fiscal year.
Shashikant Singh, the local unit's health coordinator, said people come to the municipality to get recommendations about health treatment expenses.
"The actual population affected by cancer could be higher," he said.
Initially, locals assumed that the polluted water could be the cause. But a few years ago, when experts from Janakpur tested the water, they did not find anything.
Only arsenic was found in the water, and no other elements were found that would cause cancer.
Two years ago, the Federal Drinking Water and Sewage Management Project, Janakpur tested the water after one of the settlements saw high cases of cancer.
The number of cancer patients is also significant in other municipalities which are leading producers of vegetables.
Padam Rayamajhi, a health coordinator at Bagmati Municipality, said 146 cancer patients have come into contact in the past five years. Among them, heart and blood cancer is the most common ailment.
"The number could be even higher," said Rayamajhi.
In Lalbandi Municipality, 44 new cancer patients came in contact with the municipality in the last fiscal year.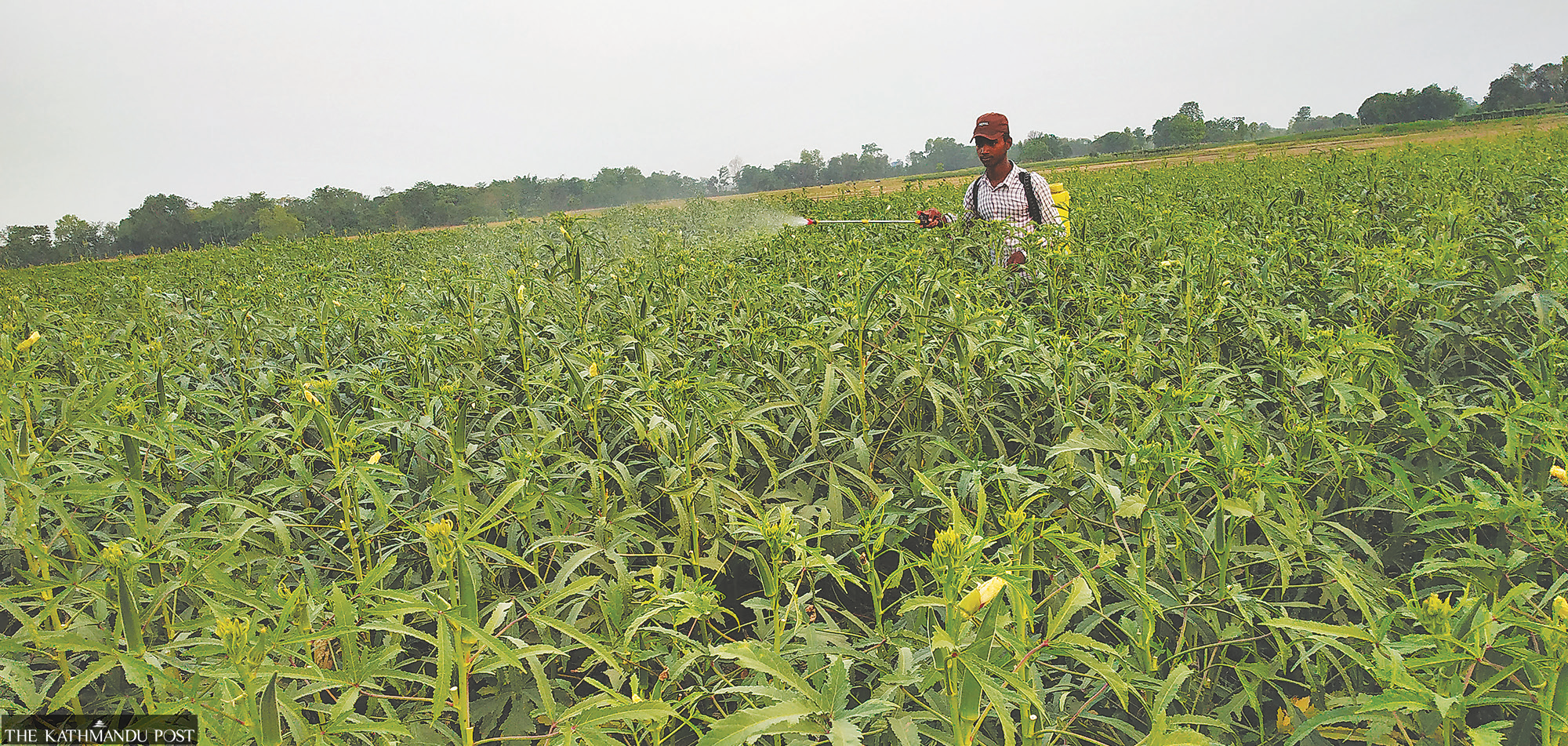 Due to weak law enforcement, banned pesticides are available in the districts bordering India. Post File Photo
Satya Narayan Yadav, a health coordinator in Barhathwa Municipality, said that 63 cancer patients obtained the municipality's recommendation letter in the last fiscal year.
"Among them were 28 women and 35 men," he said.
"Our office only keeps data of poor people obtaining recommendations for the government's serious health schemes which provide up to Rs100,000 per patient," said Singh, the health coordinator of Hariwan.
Being a centre of vegetable production, the amount of pesticides used in Sarlahi is increasing every year.
Locals say that agrovet is the most flourishing business in the district after alcohol.
The government has banned 21 types of pesticides that seriously affect human health. But because of the open border with India, banned pesticides easily enter the country.
Due to weak law enforcement, banned pesticides are easily found in the border districts of Nepal, say farmers.
According to the Department of Customs, Nepal imported 6,993 tonnes of pesticides worth Rs2.53 billion in the last fiscal year.
Locals say that due to the high profit margins and promotional schemes offered by pesticide companies, agrovet firms have flourished in the region.
In some areas, agrovets are found forcefully selling pesticides.
Hari Shyam Raya, a farmer from Sisautia, said that when he went to an agrovet to buy fertiliser, he was told he had to buy pesticides first. Raya said he brought pesticides worth Rs400 to buy chemical fertiliser worth Rs1,000.
Prakash Ghimire, plant protection officer at Vegetable Crop Development Center under the Department of Agriculture, told the Post that most of the farmers—both commercial and non-commercial—are not aware of the correct use of pesticides.
"They don't even use protective gear while spraying such chemicals, exposing themselves to the short- and long-term health risks," said Ghimire.
The history of pesticides in Nepal dates back to the 1950s when they were used for malaria eradication. Then several types of such chemicals were used in high-value and vegetable crops for better yield.
Improve handling, improper storage, improper transport and unsound disposal methods of the pesticides, however, have been a common problem in Nepal.
"There is no monitoring mechanism for the use of pesticides by farmers," said Ghimire. "The government has invested a huge amount of money in awareness campaigns on using pesticides correctly, but the results are not up to the mark."
Hari Dahal, a former agriculture secretary, says there's lack of awareness among the farmers to the extent that they tend to believe the pesticide sellers more than government agencies meant to support them.
"Farmers rather than visiting agriculture officers from Agriculture Knowledge Centres for pesticide problems head straight to sellers and use chemicals indiscriminately," Dahal told the Post. "They are even using banned pesticides which can have a profound impact on them, on the soil they grow their crops and people living nearby."
According to Dahal, farmers tend to look for quick benefits at the expense of their health.
"Haphazard use of pesticides indeed has emerged as a major problem," he said. "This issue needs to be addressed… the sooner the better."
---
---