They worked as domestics and dishwashers. Now they are successful entrepreneurs
Nepalis in the industrial city of Ludhiana in Punjab, India share their rags-to-riches stories.

Hira Chand is the owner of an apparel designing firm Hira Printers in Ludhiana, India. Rajesh Mishra/TKP
bookmark
Published at : June 28, 2022
Updated at : June 28, 2022 08:41
Ludhiana
When Bikash Magar left his village in Arghakhanchi at the age of 17, he didn't know about his next destination. He arrived in Ludhiana, a district in the Punjab state of India, just by chance as he had heard that there were many Nepalis working, also from his district.
"My family's financial situation was bad, so I needed to find some work. When I left home, I had not even completed my 10th class," Bikash Magar, who is usually known as Bikash Reshmi, told the Post on a recent afternoon seated at a decent office he has built for himself. "It took me years to earn this office and a decent life."
Reshmi is 36 now.
From working as a domestic help to doing odd jobs to make ends meet, Reshmi has now made his name as a well-known businessman. He runs a catering business in Ludhiana.
Reshmi has contracts for car parking and canteens on the premises of the Christian Medical Colleges and Hospital.
"There are around 70 people working with me," he said. "Besides, I own Reshmi Caterers where there are 50 people working."
From a poor man in a village which now falls in Panini Rural Municipality to a businessman in India's industrial district, Reshmi's journey has not been easy.
"It was when I was working in canteens that I got the idea of operating such a facility," he said. "I managed to get the contract to operate a school canteen through some acquaintances. Thereafter, I didn't have to look back."
Reshmi says he owes his success to Ludhiana, which gave him shelter, work and the business he owns now.
Located a little over 100 kilometres west of Chandigarh, the capital of Punjab, Ludhiana is the state's largest and most populous city. The city is famous for small-scale industrial units that produce industrial goods, machine parts, auto parts, household appliances, hosiery, apparel, garments, bicycles and parts, and employs millions of people. It is also known as the Manchester of India.
A large number of Nepalis are employed in Ludhiana mostly as domestic help, hotel workers, and employees in small and large factories, although there is no definite data.
But there are some Nepalis like Reshmi who have made riches in Ludhiana.
Hira Chand is from Baitadi. One fine day in 1988, he left his home for Mumbai to visit his uncle. But he caught the wrong train to land in Ludhiana.
He ran out of the little money he had. He was in a city where he knew no one.
"Left with no option, I started to look for some work," he said. "The job I got required me to count medical needles in a needle manufacturing company."
The job, he said, sustained him for a few months.
"Later I got a job at Duke, an apparel and footwear company," he said. "That's where I learned quite a few things."
Today he is the owner of Hira Printers, a company that designs clothing. He also employs dozens of people.
Chhabilal Bhattarai, central secretary of Pravasi Nepali Sangh, India, says the number of Nepalis in Ludhiana could be in the thousands.
According to Bhattarai, there are dozens of Nepalis who have established themselves as successful businessmen.
Bhattarai, who is from Biratnagar, is an entrepreneur who operates Pari Travels and Tours.
"This is a big city with a big heart which has provided employment and opportunities to many Nepalis, some of whom have achieved success," said Bhattarai. "There are many Nepalis who own businesses; they own homes and drive fancy cars around the city to reach their offices."
According to Bhattarai, times have changed and Nepalis are no longer looked upon as those who only do menial jobs in India.
"The success of some Nepalis here also serves as an example of what people can achieve in their lives with hard work and dedication, given there are opportunities around," he said.
Dayananda Medical College and Teaching Hospital is one of the oldest healthcare facilities in Ludhiana. With more than 1,000 beds, including 800 teaching beds, its need to feed patients and visitors is equally huge.
Hari Prasad Ghimire of Butwal has taken up that responsibility.
Ghimire operates the canteen at the hospital. He is known as one of the most successful ones in the field of canteen and catering, according to locals and Nepalis in Ludhiana.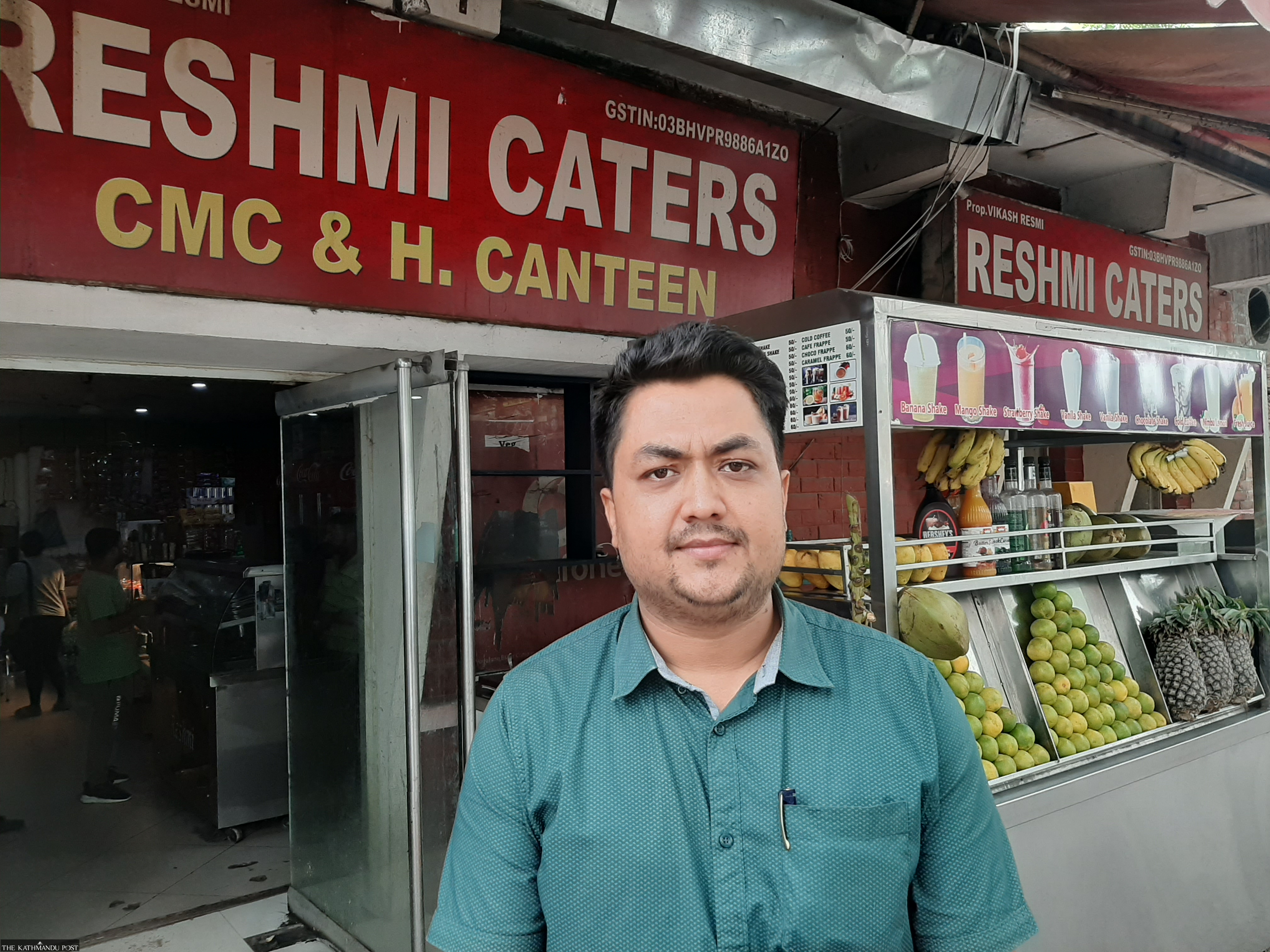 Rajesh Mishra/TKP
His VR Food company has earned a name in the city for outdoor catering.
"I came to India first in 1980. I washed dishes at restaurants. I worked as a watchman," he said. "I saved every little penny I could before I set up a small catering business. It has now grown over the years."
According to Ghimire, Nepalis who come to work in India should consider setting up their own enterprise once they have some savings. "It does not have to be big. Even a small business of your own, like a tea shop, can help earn a decent living," he said. "No matter what age you are, if you have good skills, finding employment is not a problem. What I can say is, in a city like Ludhiana, you don't have to go hungry."
When one talks about Ludhiana, one cannot help but talk about bicycles. The city is not only India's but also Asia's largest hub of bicycle manufacturing. There are said to be over 4,000 cycle manufacturers in the city.
Loknath Pandey from Gaindakot may not own a big cycle manufacturing unit, but he owns a decent-sized company that manufactures various bicycle parts.
After arriving in Ludhiana in 1984, Pandey also did menial jobs in the initial days like many other Nepalis, including as a labourer at a cycle factory.
He then set up his own Pandey Trading Company. His eldest son, Shashi, has an MBA and the younger one, Manoj, is a BTech graduate.
"We also make bicycles, but mostly we sell parts to many local cycle manufacturers," said Shashi.
In the last three months, Shashi said they have sold bicycles worth around INR5 million, or Rs8 million.
"We sell about 500 bicycles a month but we are hoping to take this number to 2,000," he said. "Given my father's experience in this field, I think we can pull it off."
---
---