A slew of deals likely as Chinese foreign minister lands in Kathmandu today
Wang Yi will meet some political figures as well during his three days in Nepal where he is flying straight from Delhi.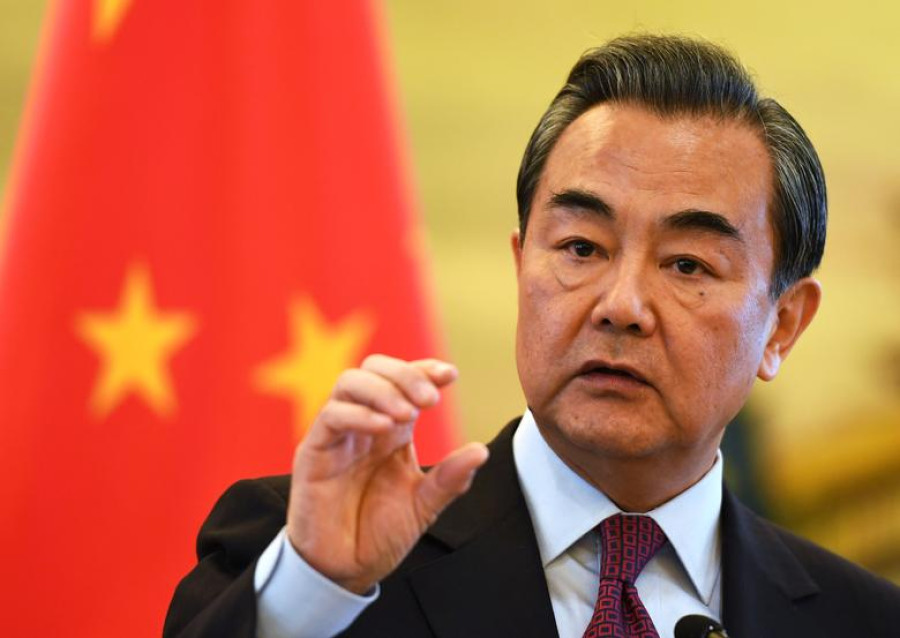 Reuters
bookmark
Published at : March 25, 2022
Updated at : March 25, 2022 01:27
Kathmandu
Nepali government officials on Thursday were busy giving final touches to some agreement documents on economic and technical assistance from China, which are likely to be signed during Chinese Foreign Minister Wang Yi's three-day visit to Kathmandu, starting Friday.

Wang, who is on a tour of South Asia, will fly to Kathmandu on Friday from New Delhi. He is the first high-level official to visit Nepal from China since Sher Bahadur Deuba assumed office as prime minister in July last year.
Officials familiar with the preparations said as many as 10 agreements related to technical and economic assistance to Nepal are likely to be signed during Wang's visit.
According to some top government sources, agreements on the construction of the Ratmate-Rasuwagadhi-Kerung Transmission Line, a feasibility study of Kerung-Kathmandu railway under the Chinese grant and technical assistance, implementation of the $450 million (Rs56 billion) Chinese aid announced by the Chinese President Xi Jinping's Nepal visit in 2019 and handover of the Pokhara regional airport on a virtual mode.
Likewise, deals on additional financial and technical assistance for Bharatpur Cancer Hospital in Chitwan and construction of the Madan Bhandari Technical University in Makawanpur, a new Bir Hospital (Nepal's oldest hospital built with Indian assistance) type of health facility in Bhaktapur, and construction of a dry port in Humla are also on the cards.
Agreements on technical and economic cooperation between Nepal and China and exporting of Nepali hybrid grass to China are also likely, said officials.
According to them, there is a separate request from the Ministry of Commerce regarding the opening of Tatopani-Khasa and Rasuwagadhi-Kerung trading points and resumption of exports to China from Nepal.
The Chinese side has also expressed its readiness to finance the dry port currently being constructed in Timure (Rasuwa) and Hilsa (Humla) and sent a proposal to set up a multi-functional quarantine facility in bordering area to facilitate the export Nepali goods to China, according to the Chinese proposal received by Ministry of Commerce, Supplies and Industries.
Similarly, the Chinese side has also forwarded a proposal to set up cross-border economic zones in Rasuwa, Panchkhal (Kavre district), Pokhara (Kaski) and Nuwakot, according to officials at the Ministry of Commerce and Supplies. The Chinese have also forwarded a proposal to revive the joint working group on trade and commerce that has been inactive since 2020, the officials at the ministry said.
Imports through the two-border points have slowed to a crawl and Nepal has not been able to export anything to the north, especially since the pandemic began.
The proposed agreements are not new though, as they have been either discussed earlier or have been communicated.
Nepal will ask China to allow Nepali vehicles to enter China from Tatopani and Kerung-Rasuwagadhi border points, according to Navaraj Dhakal, the Nepali consul general in Lhasa who is currently in Kathmandu. Since the start of the Covid pandemic, China on the one hand has barred Nepali vehicles from entering the country through the two border points, and on the other hand, it has been allowing fewer Chinese cargo trucks into Nepal.
The Chinese side has been allowing only 20 Chinese cargo containers to cross over to Nepal daily via the Tatopani border and nine containers via the Kerung border.
"We will request them to allow Nepali vehicles to enter China by relaxing the Covid protocol," said a Nepali diplomat requesting anonymity. "And we have also requested the Chinese side to allow more Chinese cargo trucks to enter Nepal."
Wang is visiting Kathmandu on the heels of the ratification of the Millennium Challenge Corporation Nepal Compact, which Beijing has expressed reservations about. The visit from the north is also seen as Beijing's renewed effort to push some projects under the Chinese Belt and Road Initiative, which Nepal signed up to in May 2017, four months before signing the MCC compact, which involves a $500 million American grant.
Not even a single project has taken off under the BRI in Nepal in the last five years.
Focus will be on inking at least implementation agreements for projects to be developed under the BRI, officials said.
Both sides, however, are still in the negotiation stage on the draft documents which will pave the way for selecting the projects, financing them and developing them in a time-bound manner.
The Nepali side, according to knowledgeable sources, has some reservations about financing and developing projects under the BRI.
According to the sources, the Nepali side has made it clear that there should be a joint mechanism for selecting the projects, preference should be given to grants but if a loan is required then the loan interest should not go beyond two percent and that repayment time for the loan should be decided based on a mutually agreed timeline.
"We can only guess what the Chinese would say but we will make our position clear on the MCC Nepal Compact that Beijing has objected to on more than one occasion and the Belt and China Initiative that we signed with the Chinese in 2017," a Nepali Congress leader, who is familiar with the visit from the north, told the Post.
As far as projects under the BRI are concerned, the Nepali side had also set a condition that there should be a competitive bidding and it should be open to all, not just Chinese firms.
"After shortlisting projects, we can move ahead with a few under the BRI," said Prakash Sharan Mahat, spokesperson of the Nepali Congress who was former foreign minister when the BRI was signed in 2017. "Preference should be given to infrastructure and connectivity related projects as per our requirements and priority."
According to Mahat, focus should be on receiving grants and if that's not possible, Nepal should make utmost efforts to ensure soft loans whose interest rates should be on par with those of multilateral lending agencies.
"And there should be a level playing field so that all competent firms can bid, not only the Chinese," said Mahat.
A Finance Ministry official said if the Chinese side agrees to the Nepali conditions, an implementation agreement for projects under the BRI is certain, but if they don't, further negotiations will be needed.
Nepal is also expected to raise the issue of the Nepali students enrolled in Chinese universities who are currently stuck in Nepal after returning home due to the pandemic.
With China not opening flights, those Nepalis who were pursuing higher education in various Chinese cities are in a state of limbo.
On the feasibility study of Kerung-Kathmandu railway under the Chinese technical and economic assistance, Keshav Sharma, joint secretary at the Ministry of Physical Infrastructure and Transport, said that the Ministry of Finance is dealing with the matter.
"We are not involved in the rail negotiations. The Finance Ministry is working on it," Sharma told the Post.
The Chinese foreign minister's visit to Pakistan, India and Nepal also comes amid a geopolitical flux. Nepal is the last stop of his South Asia tour that he began on March 23 from Pakistan to attend the 48th Organisation of Islamic Cooperation (OIC) foreign ministers' meeting.
On Wednesday, Wang drew rebuke, the sharpest ever, from Delhi over his statement on Tuesday that China "shares the same hope" as the OIC on Kashmir. India has been fighting an armed insurgency in Kashmir for decades and the OIC has long advocated Kashmiris' "inalienable right to self-determination".
India took umbrage at the statement and in a rare move called out Wang.
"We reject the uncalled reference to India by the Chinese Foreign Minister Wang Yi," the Indian foreign ministry said in a statement on Wednesday. "Matters related to the Union Territory of Jammu & Kashmir are entirely the internal affairs of India. Other countries including China have no locus standi to comment. They should note that India refrains from public judgement of their internal issues."
On Thursday, Wang made an unannounced visit to Kabul, while he was expected to fly directly to Delhi from Islamabad. Wang landed in New Delhi late in the evening, and according to Indian media reports, he is expected to hold talks with National Security Advisor Ajit Doval and External Affairs Minister S Jaishankar.
Wang's is the first visit to India by a high-level Chinese official since the clash in Galwan in June 2020 and the subsequent border standoff in eastern Ladakh.
His South Asia tour also comes at a time when Kathmandu has taken a different position than that of Beijing and Delhi on the Russian invasion of Ukraine, which Nepal has opposed. Both India and China are on the same page as they have stood by Moscow.
As soon as Wang concludes his visit to Nepal, Prime Minister Sher Bahadur Deuba will leave for New Delhi in his first official foreign trip since assuming office in July last year. Deuba is scheduled to visit India on April 1-3.
During his stay in Kathmandu, Wang is scheduled to call on President Bidya Devi Bhandari and Prime Minister Deuba.
According to the Foreign Ministry, he will also meet with CPN-UML chair KP Sharma Oli and CPN (Maoist Centre) chair Pushpa Kamal Dahal.
"As China has always encouraged unity among communist parties of Nepal, we are sensing that he may explore if there's such an opportunity," said a UML central leader. "But since he is representing the government rather than the party, the issue may not figure. We can't say anything now."
Currently, one of the vice chairs of the UML, Bishnu Poudel, and three party members are in Kunming to attend a function where they have met with Song Tao, currently serving as the head of the International Liaison Department of the Chinese Communist Party.
Song has over the past few weeks engaged Nepali communist leaders with a series of video conferences.
Government officials and members from the prime minister's secretariat said that by Friday there will be clarity on the agreements that could be signed during Wang's visit.
"It's a work in progress. Officials are working on draft documents," said
Govinda Pariyar, press chief to Prime Minister Deuba. "We are working to make the most out of this high-level visit from the north, focusing on projects related to health, education and connectivity."
---
---