On Ukraine, Nepal has not taken sides, foreign minister says
Statement comes amid concerns from some quarters if Nepal has deviated from the non-alignment policy and is falling into geopolitical traps.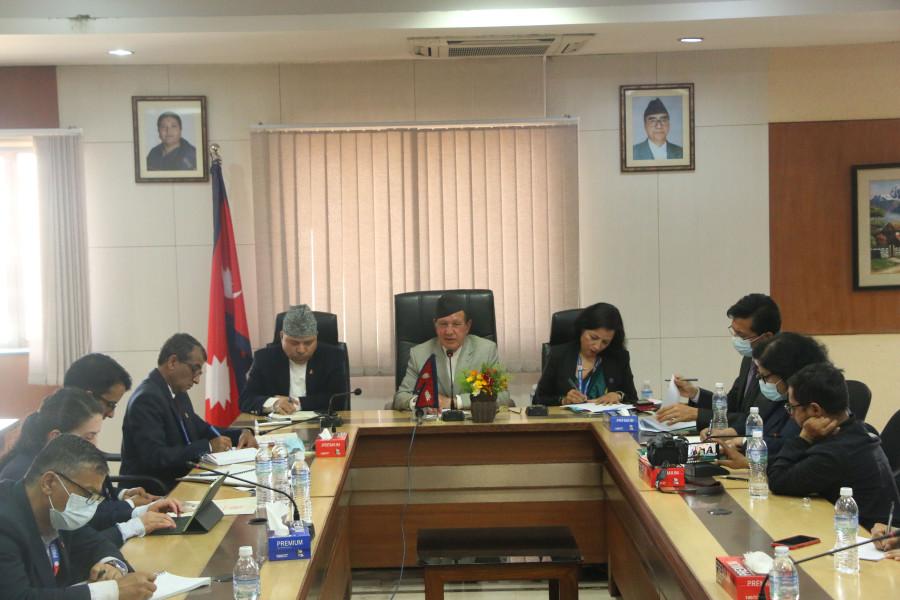 Foreign Minister Khadka during Monday's press conference. RSS
bookmark
Published at : March 8, 2022
Updated at : March 8, 2022 07:43
Kathmandu
Standing in support for Ukraine does not mean taking sides, as Nepal has always been for world peace and respects sovereignty and territorial integrity of small nations, Foreign Minister Narayan Khadka said on Monday.
In his first press conference since he was appointed foreign minister on September 22, Khadka defended Nepal's decision to vote in favour of Ukraine that has been under attack from Russia since February 24.
Hours after the Russian invasion of Ukraine, Nepal's Ministry of Foreign Affairs issued a statement saying that Nepal opposes any use of force against a sovereign country in any circumstance and believes in peaceful resolution of disputes through diplomacy and dialogue.
"Nepal views that the principles of sovereignty and territorial integrity as enshrined in the UN charter are sacrosanct and must be fully respected by all member states," the ministry said.
On Wednesday, during a vote at the United Nations General Assembly, Nepal supported the resolution demanding Russia "immediately, completely and unconditionally withdraw all of its military forces from the territory of Ukraine within its internationally recognised borders."
A section of Nepalis, however, raised concerns if by supporting Ukraine, Nepal was taking sides and whether it had deviated from its long-held non-alignment policy.

"Panchasheel, respecting the sovereignty and territorial integrity of all countries and equality are the key elements of non-alignment policy and we have stuck to that policy," said Khadka. "Sovereignty of all nations, big or small, is equal."
Nepal's position on Ukraine this time is starkly different from that of its two giant next-door neighbours—India and China.
India has sat on the fence, stopping short of criticising Moscow for invading Ukraine, for reasons more than one. Delhi and Moscow share a long-standing relationship with Russia being India's biggest defence supplier.
China has stood fast behind Russia, with Chinese Foreign Minister Wang Yi on Monday reinforcing friendship between Beijing and Moscow.
"China's friendship with Russia is 'rock solid' and the prospects for cooperation are very broad," said Wang, according to Reuters. "Cooperation between the two countries brings benefits and well-being to the two peoples."
Both India and China abstained from voting on the UN resolution to deplore Russia.
Nepal was among 141 member states—out of 193—to vote in favour of the UN resolution. Five members—Belarus, North Korea, Eritrea, Syria and naturally Russia—voted against.
Some communist leaders like former prime minister Jhala Nath Khanal; Rajan Bhattarai, the chief of Foreign Affairs Department of the main opposition CPN-UML; and former deputy prime minister and Minister for Foreign Affairs Raghubir Mahaseth, who is also a UML leader, among others, have said the Sher Bahadur Deuba government deviated from Nepal's long standing non-alignment policy by voting in favour of Ukraine under the influence of the West and the United States.
"Nepal issued a statement in a hurry even as Nepal's two neighbours, India and China, were absent in the UN voting," Khanal said on March 2. "As Nepal pursues a foreign policy based on non-alignment, Nepal should not speak in haste. Is Nepal tilting towards the American camp? Prime Minister Sher Bahadur Deuba must clarify."
On March 3, Bhattarai took to Twitter to say "non-alignment, non-interference, equality, territorial integrity, peaceful world order and friendship are the foundations of our foreign policy."
"Deviation from the above-mentioned beliefs is a failure of foreign policy. The government's decision in the case of Ukraine and Russia has raised concerns. This should be ended soon," Bhattarai wrote.
Before voting for a UN resolution to condemn Russia, Nepal also voted in favour of Kyiv's call at the UN Human Rights Council for an urgent debate on the Ukraine crisis.
Foreign Minister Khadka's statement on Monday defending Nepal's position on Ukraine comes amid rising concerns if Nepal is falling into a tricky geopolitical quagmire, especially in the wake of the ratification of the Millennium Challenge Corporation Nepal Compact, a $500 million American grant.
The United States had said it wanted to see the MCC ratified by Nepal Parliament by February 28, a deadline set by the Nepali leadership. Days before the MCC was ratified, the US embassy in Kathmandu had said in a statement that MCC was a gift by the American people.
Beijing so far has issued at least three statements, and two of China government's mouthpieces—China Daily and Global Times—have written as many editorials saying "...it is in Nepal's best interest to stay out of the US' geopolitical games" and "diplomatically, Nepal will be forced to change its "equidistance" policy toward China and India."
The back-to-back statements by the Chinese and the US embassy in Kathmandu were also raised during Monday's press conference. When asked if Nepal had requested both the US and China not to indulge in a "war of words", Minister Khadka said that Nepal's concerns have been communicated to both the countries directly and indirectly.
Khadka stopped short of elaborating what kind of communication Nepal has made to both the US and China.
On February 20, the Ministry of Foreign Affairs issued a statement about the views appearing in various media on the MCC compact where it stated that "the decision to accept development assistance is taken by Nepal in terms of our national interest and priority. The sovereign parliament of Nepal alone decides what development assistance is needed in the best interest of Nepal and Nepali people."
On the Ukraine issue, Khadka said on Monday that Nepal strictly adheres to the Panchasheel and the UN charter.
"We stand for human rights, peaceful co-existence of small nations and the UN charter," said Khadka. "Respecting the idea of non-alignment policy does not mean that we are associated with one particular camp."

Though Nepal has stood for Ukraine, Kathmandu's efforts to evacuate its citizens from the war-hit country have remained sluggish. Government officials even failed to provide the exact number of Nepalis residing in the eastern European country.
Nepali Ambassador to Germany Ramkaji Khadka, however, said on Saturday that most of the Nepali nationals in Ukraine have already left the country and only a few are remaining. As of Monday, 533 Nepali nationals have already left Ukraine, said Khadka.
The number provided by ambassador Khadka, however, is less than the data provided by Nepal's embassy in Berlin on Friday, which said around 551 Nepalis had left Ukraine by that day.
Last Wednesday, Foreign Secretary Bharat Raj Poudyal also said that not many Nepalis are left in Ukraine and that some reports had bloated the number of Nepali nationals there.
"We have seen some misleading reports about the number of Nepalis living and working in Ukraine," said Poudyal. "Some Nepalis have received permanent residency, whose number is around 50. Since they are Ukrainian nationals, we can hardly say anything about them. We are in touch with Nepali nationals."
---
---