Nepal votes in favour of Ukraine call at UN for urgent debate on Russian invasion
29 nations vote in favour, five including China vote against debate. India among 13 absent.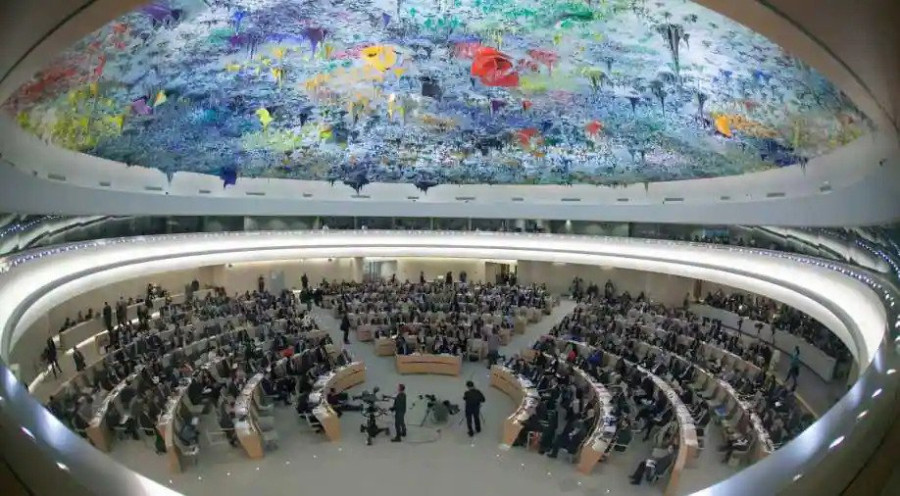 Reuters
bookmark
Published at : March 1, 2022
Updated at : March 4, 2022 17:32
Kathmandu
Nepal has voted in favor of Ukraine's call at the UN Human Rights Council for an urgent debate on the situation in Ukraine and to condemn Russia's military operation.

According to the UN Human Rights Council, 29 nations including Nepal voted in favor of holding an urgent debate on the situation of Ukraine.
Five nations—China, Cuba, Eritrea, Russian Federation and Venezuela—voted against holding an urgent debate , with 13 abstentions, including India.
Nepal is a member of the UN Human Rights Council.
The Human Rights Council Monday opened its 49th regular session, hearing statements from the President of Switzerland, the President of the General Assembly, the United Nations Secretary-General, and the High Commissioner for Human Rights, according to the UN Human Rights Council.
With 29 nations voting in favour, the council decided to hold an emergency debate on the situation in Ukraine.
The council has 47 members.
Russia on February 24 launched a large-scale invasion of Ukraine.
Immediately after Russian forces invaded Ukraine, Nepal's Ministry of Foreign Affairs called for all parties concerned to exercise maximum restraint not to escalate tension.
"We are closely following the development inside Ukraine," the ministry said in a statement. "As a member of the United Nations, Nepal views that the principles of sovereignty and territorial integrity as enshrined in the UN Charter are sacrosanct and must be fully respected by all member states."
"Nepal opposes any use of force against a sovereign country in any circumstance and believes in peaceful resolution of disputes through diplomacy and dialogue," the ministry added.
Over two hundred Nepali nationals are said to be living in Ukraine, either pursuing higher education or doing jobs and businesses.
Over 185 nationals have fled the country since the Russian invasion and reached neighbouring countries like Poland, Slovakia, Romania and Hungary, according to the Nepali embassy in Germany.
The urgent debate will take place at 3pm on Thursday.
Highlighting grave concerns over the toll on civilians from the "military attack on Ukraine", UN High Commissioner for Human Rights Michelle Bachelet said that "countless lives" were being put at risk, according to the Human Rights Council.
---