Nepalis in Ukraine fear for their lives after Russian invasion
Around 200 Nepali nationals are said to be in the eastern European country which is facing the biggest attack since World War II.

Nepalis at a railway platform, in Iviv, a city in western Ukraine some 70km from Poland border. Photo Courtesy: Binod Gaihre
bookmark
Published at : February 26, 2022
Updated at : February 26, 2022 11:48
Kathmandu
Prakash Tamang, a university student at Bila Tserkva, on Thursday morning woke up to sounds of bombings, as war hit the country following Russian President Vladimir Putin's order of what he called a special military operation in Ukraine.
War fears were mounting for days as Russia had been massing its troops on Ukrainian borders.
"The bombardment started at around four in the morning," Tamang told the Post on the phone on Friday from his residence at Bila Tserkva.
"We don't know what to do," said Tamang, a permanent resident of Mulpani in Kathmandu. "People are fleeing towards the western border area as the Russian troops have surrounded from three other sides. However, we are yet to decide whether to stay here or leave the place."
Bila Tserkva is a city in north-central Ukraine, about 80 kilometres south of the capital Kyiv.
Tamang left for Ukraine last year to study for a Bachelor's in Business Management with a plan to earn a European degree. The Russian invasion has now put his life at risk.
The exact number of Nepalis in Ukraine is not known but, according to the Non-Resident Nepali Association there, around 200 Nepalis are estimated to be residing in the eastern European country.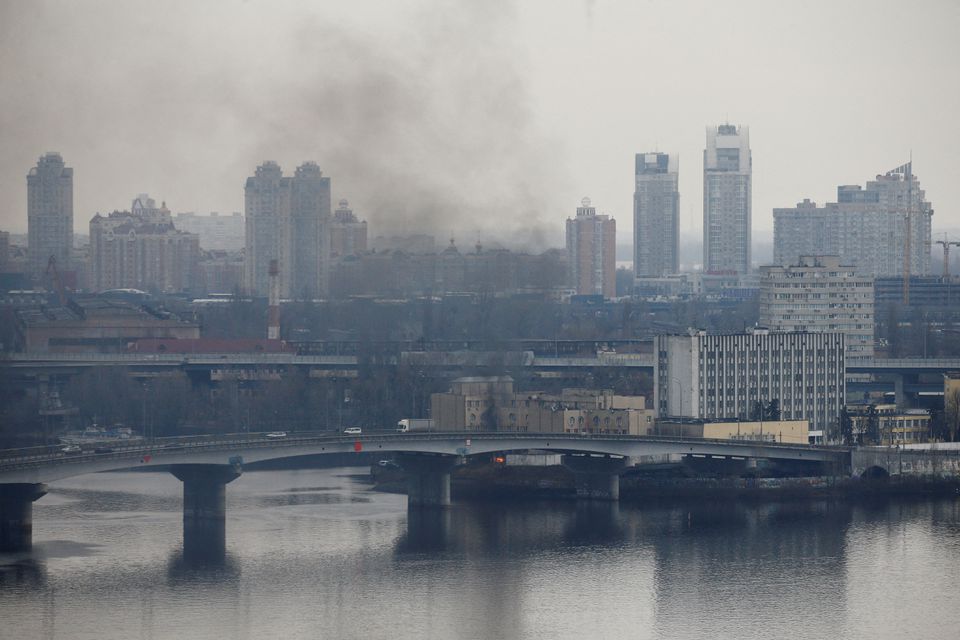 Smoke rises from the territory of the Ukrainian Defence Ministry's unit, after Russian President Vladimir Putin authorized a military operation in eastern Ukraine, in Kyiv, Ukraine February 24, 2022. Photo: Reuters/Valentyn Ogirenko. The Wire
As Ukrainian forces battled the Russian invasion with missiles rained down around the country after Moscow unleashed the biggest attack on a European state since World War II, tens of thousands of people were left with no option but to flee their homes. Frightened Ukrainians are taking to subway stations and basements to seek shelter.
Hari Bahadur Malla, president of Non-Resident Nepali Association in Ukraine, told the Post over the phone on Friday that bombings have continued.
"Most Nepalis have reached the Slovakia border as Slovakia has opened its border," said Malla. "As far as I know, most Nepalis have reached the border to enter Slovakia."
Slovakia falls in Schengen countries, the world's largest visa free zone where 26 European countries have abolished their internal borders, and it has given unrestricted movement to people.
Malla, originally from Myagdi district, has been into business in Ukraine for over three decades.
Robin KC, 24, who reached Ukraine about three years ago, said he and 14 other Nepalis are living in terror inside a building in Odesa, also known as a port city on the Black Sea in Southern Ukraine.
"We don't know where to go. Every time the Russian forces drop bombs, our building shakes… it feels like a huge earthquake. Bombings have continued since yesterday (Thursday)," said KC.
KC, who is originally from Tulsipur in Dang, said he and his other Nepali friends have been in touch with their parents in Nepal through Facebook messenger or WhatsApp.
"Our parents are extremely worried. They want us to return to Nepal immediately, but we don't know how," said KC.
The Nepal government has not taken any initiative as of now to evacuate Nepalis from Ukraine.
On Thursday, the Ministry of Foreign Affairs said in a statement that it has been closely following the developments in Ukraine. The ministry has also called on all parties concerned to exercise maximum restraint not to escalate the tension.
Ram Kaji Khadka, Nepal's ambassador to Germany who is also accredited to Ukraine, said that some Nepali nationals have reached the borders of Slovakia, Poland and Hungary.
"We have received messages from several Nepali nationals that they are gradually leaving Ukraine and reaching the borders of Slovakia and Poland," Khadka told the Post on Friday. "Hungary also opened its borders from today. Even those who are not vaccinated against Covid are allowed to enter those countries."
According to the Nepali embassy in Berlin, there are around 170 Nepali nationals currently living in Ukraine and of them, 38 have obtained residential permits in Ukraine.
Besides those who have obtained residential permission, most Nepali nationals are students, doing jobs and business in Ukraine.
"We are in touch with the office bearers of the Non-Resident Nepali Association and as per their information, around 20 Nepali nationals have reached the border of Poland," said Khadka. "Two Nepalis have reached the bordering area of Slovakia. Once they enter these countries, if they need to return to Nepal, we will provide travel documents to them. We will make all possible arrangements for them to get out of there."
Binod Gaihre, 22, also a Nepali student, said that the situation has turned worse. On Friday, he and his friends headed to Kyiv, the capital, from Mariopul (south eastern Ukraine) on a train for a safer place, he said.
From there they reached Lviv (western Ukraine), which is 70 kilometres from the Poland border.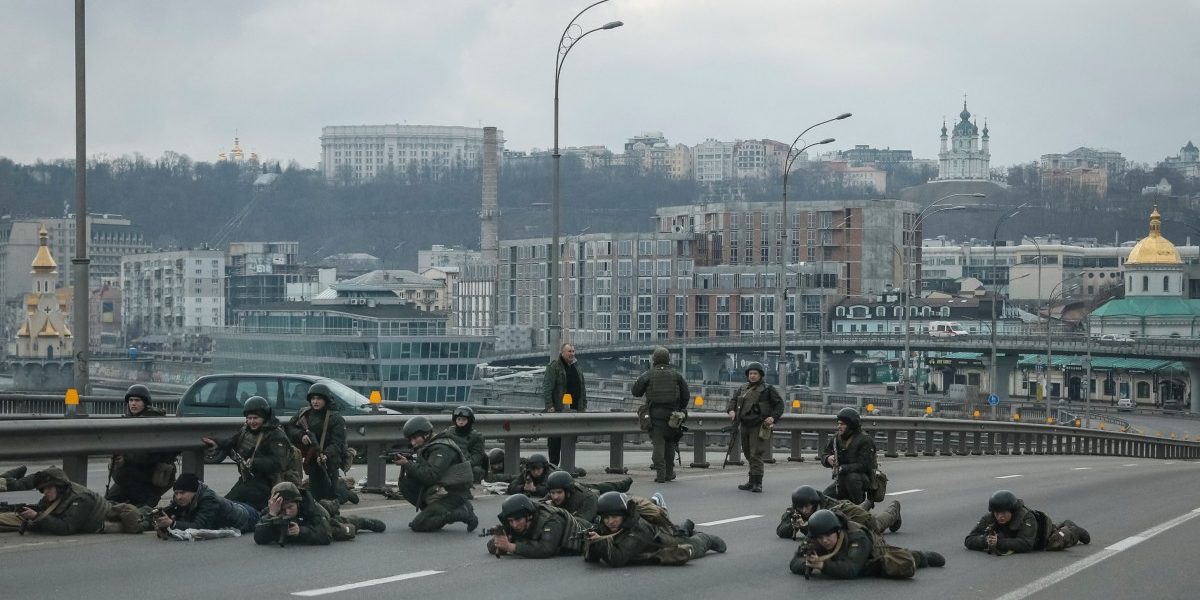 Servicemen of the Ukrainian National Guard take positions in central Kyiv, Ukraine February 25, 2022. The Wire
"It's hard to get a train from here and we want to get out of here as soon as possible," Gaihre told the Post on Facebook Messenger. He said looking at the present situation in Ukraine, he wants to get back home but his family has taken Rs 700,000 as loan. "I wonder how I will be able to pay back my loan," said Gaihre.
Gaihre is from Madhyabindu Municipality in Nawalpur district. He is studying Bachelors in Business Management at Mariupol State Humanitarian University, in southeastern Ukraine.
"It's just been three months since I came here from Nepal for my further studies. I am really worried," Gaihre told the Post through Facebook Messenger.
Nepali students say they have spent up to Rs1 million in fees and other costs to enter Ukraine and now they are worried.
Tamang said they were expecting to get part-time jobs which could make it easier to manage expenses as they continued their studies.
But the coronavirus first came as a problem, said Tamang.
"Now we are fearing for our lives," he added. "The Russians invaded this country just as the virus situation was normalising."
On Thursday, the Nepali embassy in Germany issued a travel advisory for Nepalis living in Ukraine after civilian flights were temporarily restricted in Ukraine's airspace.
The embassy has asked its people living in Ukraine to stay indoors and follow the instructions issued by the Ukraine government, university or the company they are working for.
The embassy has also suggested that Nepalis go to the western part of Ukraine if possible as it is safer. It has asked them to carry their passports, identity cards, driving licence and bank cards and stay in frequent touch with friends and family members.
The embassy has also requested Nepalis to go to nearby bomb shelters or in underground metros if they hear air raid sirens or bomb warnings.
Nepalis in Ukraine, however, say just a travel advisory or a press note from the government of Nepal is not enough.
"We have been advised to reach the Slovakia or Poland borders from where we could be rescued," said KC. "But how do we get there? We may be killed on our way to those borders. We are in a hopeless situation."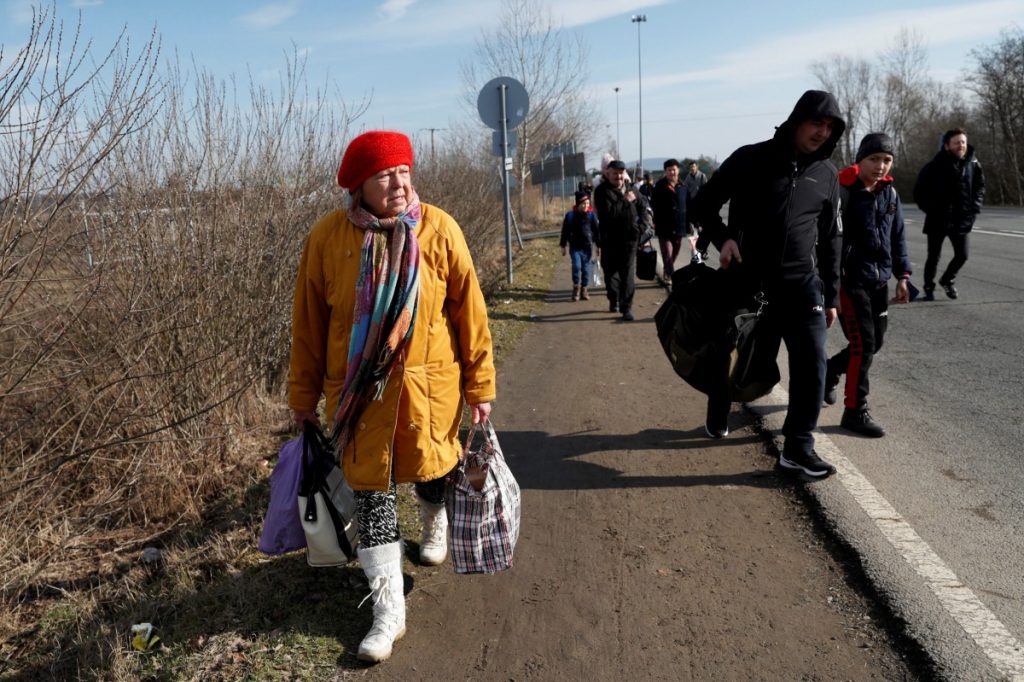 People walk as they flee from Ukraine to Hungary at a border crossing in Beregsurany, Hungary, February 25, 2022. The Wire
Contact details for Nepalis in Ukraine
+491709808063
Sahara Chaulagain, Embassy of Nepal in Berlin
Email: [email protected]
+79680702815
Sushil Ghimire, Embassy of Nepal in Moscow
+380934347700
Hari Bahadur Malla
President of Non-Resident Association Nepal of Ukraine
---
---