Failure to ratify compact may mean ramifications for Nepal, MCC warns
In its response to a letter by Deuba and Dahal, MCC Compact Operations has indicated cuts in aid, assistance, private investment and foreign direct investment, officials say.

bookmark
Published at : February 6, 2022
Updated at : February 6, 2022 15:35
Kathmandu
After repeated communications amid Nepal's delays in ratifying the Millenium Challenge Corporation-Nepal Compact, the Department of Compact Operations appears to have now taken a tougher stance.
It has set a February 28 deadline, as per the request made from the Nepal side, for the ratification and has said a failure to do so could lead to the end of MCC's partnership with Nepal.
"Without action by February 28, the MCC Board of Directors will discuss next steps at its March 22 meeting including whether to continue with the compact," said Fatema Z Sumar, vice president at MCC Compact Operations, in an interview. "Without ratification, it is within the MCC Board's authority to discontinue Nepal's eligibility to receive the 500 million dollar grant from the United States. Such a decision will effectively end MCC's partnership with Nepal."
Sumar also said MCC received a letter from Prime Minister Sher Bahadur Deuba and Communist Party of Nepal (Maoist Centre) chair Pushpa Kamal Dahal on September 29 seeking four or five months to build consensus.
"February 28 is the conclusion of that five-month period and we are looking for the compact to be ratified by that date," said Sumar. MCC provided a response letter to Deuba on Friday, according to Sumar.
Nepali officials said MCC has sent the response letter to Prime Minister Deuba, Maoist Centre chair Dahal, Finance Minister Janardan Sharma and Finance Secretary Madhu Marasini, among others.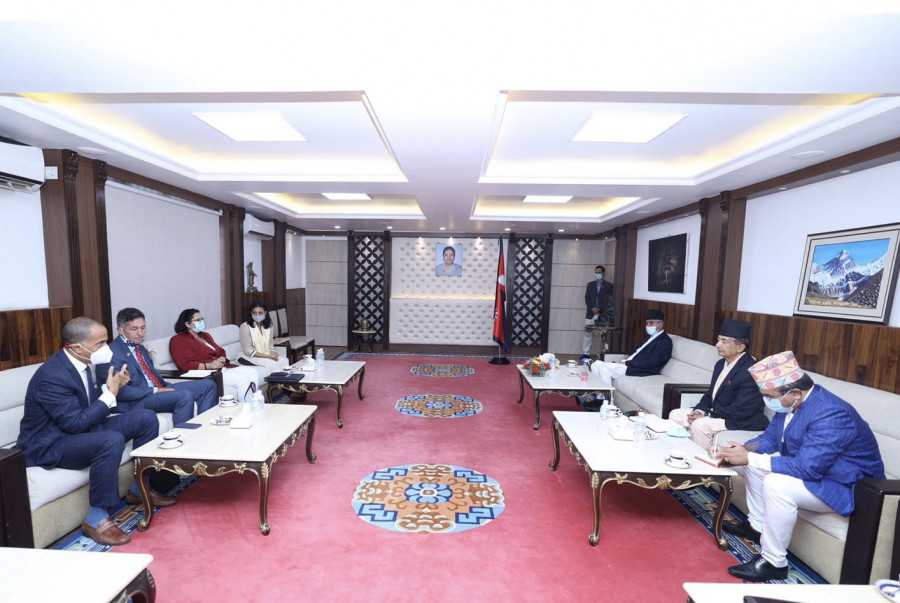 File photo via Sher Bahadur Deuba's Twitter
Bhanu Deuba, Prime Minister Deuba's chief personal assistant, and Finance Secretary Marasini confirmed receiving the response from the MCC headquarters. Ramesh Malla, personal assistant to Dahal, however, said he was not aware of the letter.
Marasini declined to share the content of the response letter.
Officials, however, said the letter from the MCC headquarters has clear indications that any further delays could lead to the end of the US grant for Nepal.
Nepal and the United States signed the MCC-Nepal Compact in September 2017.
The Nepal Compact was MCC's first compact in South Asia, under which Nepal is eligible to receive $500 million in grant from the United States to strengthen Nepal's energy sector, improve regional energy connectivity and roads.
Deuba was prime minister back in 2017 also when Nepal signed the MCC-Nepal Compact. He was leading a government backed by Dahal. Incumbent Communication Minister Gyanendra Bahadur Karki signed the compact agreement as the finance minister then.
Earlier, erstwhile prime minister KP Sharma Oli was planning to move the MCC compact forward in Parliament for its ratification. At that time, Dahal, who was co-chair of the Nepal Communist Party (NCP) along with Oli, played a role in blocking its presentation in the House for voting.
Now, Dahal as Deuba's partner is putting pressure against tabling the MCC compact in Parliament for its ratification.
The American grant has become such a politically divisive issue that the current coalition of five parties led by Deuba faces a breakdown threat.
Sources told the Post that if the present coalition fails to take a concrete decision on MCC by mid of this week, more US officials are likely to ring up Nepali authorities in the coming days.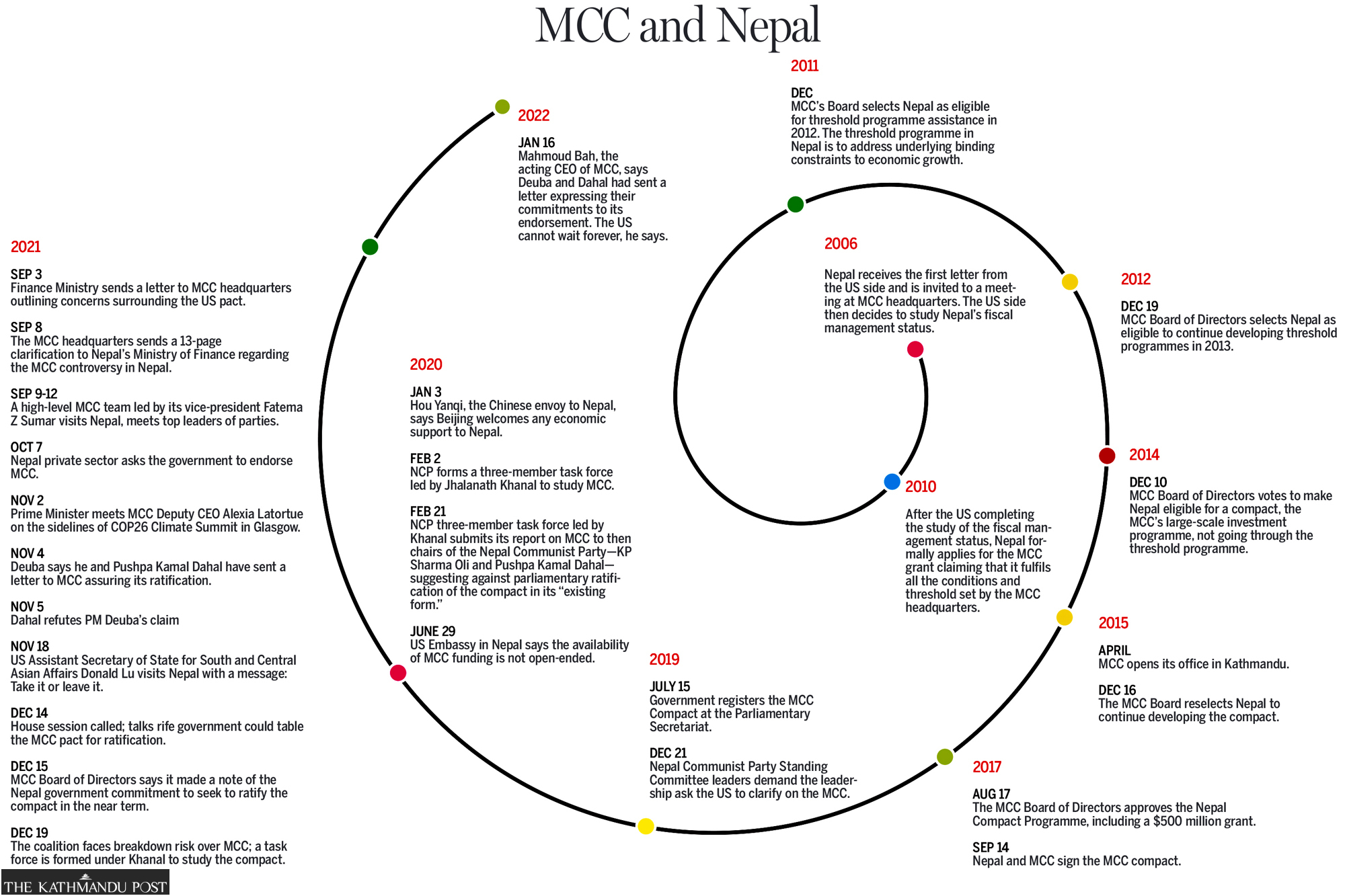 Already some MCC board members have telephoned Deuba, Dahal and other leaders directly from Washington and communicated about the possible ramifications if MCC is not ratified by the given deadline, according to sources.
"And, if progress is not made, the State Department will get into action," a diplomatic source told the Post. "Senior State Department officials will communicate with top political leaders of Nepal."
A senior US State Department official in November also raised concerns about the delays in MCC ratification.
Donald Lu, assistant secretary of State for the Bureau of South and Central Asian Affairs, during his visit to Nepal, gave a clear message to Nepal on the MCC pact—take it or leave it.
"If Nepal does not take the grant, we will spend the money in some other country. And, it's okay with us if Nepal does not endorse it," said Lu during an interaction with the media after his meetings with Nepali politicians, including Prime Minister Deuba. "[Whatever is the decision] it is the sovereign decision of Nepal. We have urged you to find out what you want to do with the MCC."
A senior government official said Nepal will definitely suffer if the United States withdraws MCC from Nepal.
"And that will have multiple ramifications," said the official. "If MCC discontinues Nepal's eligibility to receive the grant, Nepal in the future may struggle in securing foreign aid, assistance, loan and foreign direct investment."
According to the official, who spoke on the condition of anonymity because he was not authorised to speak to the media, Nepal's diplomatic credentials will also be at stake if the MCC is turned down.
"We will be deprived of several bilateral and multilateral opportunities," said the official.
While Prime Minister Deuba has hinted at ratifying MCC from Parliament, his coalition partners—Maoist Centre and CPN (Unified Socialist)—are demanding amendments to some provisions, saying the agreement cannot be endorsed "in its existing form".
The senior official said the MCC office, in its response letter, has hinted at some serious consequences like cuts in aid and private financing as well as foreign direct investments not only from the United States but also other countries.
Multiple officials familiar with the response said there are clear indications that the grant to Nepal will come to an end if MCC is not ratified by the deadline. MCC headquarters is unlikely to entertain any further request for deadline extension, according to them.
A joint-secretary at the Finance Ministry said it's not just that Nepal will lose the United States' goodwill in the event of failing to ratify the MCC compact.
"Nepal may get cornered also by other countries that are allies to America," said the joint-secretary who also spoke on the condition of anonymity citing the sensitivity of the matter.
The latest developments have put Deuba under pressure. In a bid to get the MCC compact through Parliament, his government had formed a three-member task force. But the task force has become irrelevant now, after its members failed to arrive at any conclusion amid huge differences over some of the American grant's provisions.
Deuba is learnt to have been in communication with UML chair Oli through various channels, seeking support in MCC endorsement from the House. But the UML is unlikely to extend support unless the present coalition breaks down, as Oli has his own axe to grind against Dahal and CPN (Unified Socialist) chair Madhav Nepal.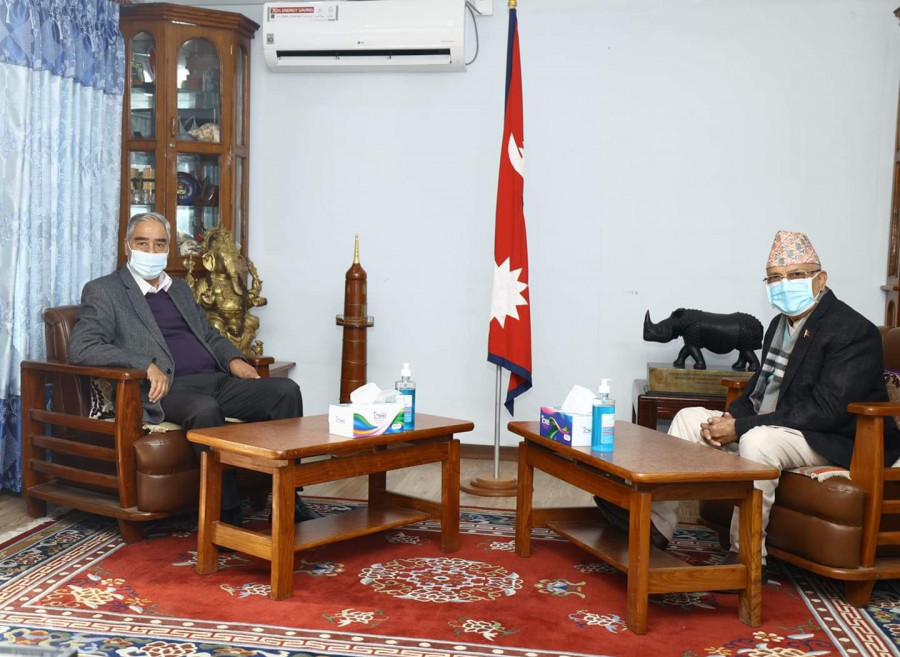 Photo via Prime Minister private secretariat
Amid confusion over the American grant, the Post last week reached out to the US embassy in Kathmandu to solicit its views.
"The US trusts the Nepali government and its leaders to fulfil their signed obligations and do what is in the best interests of Nepal's citizens and promote their prosperity," US Embassy spokesperson Anna Richey-Allen said in an email response. "This is a sovereign decision for Nepal to make, as a democratic nation, and Nepal's decision alone."
"Should outside influence and corruption interfere in this sovereign decision, we believe it would be deeply concerning development and loss for the people of Nepal," she added.
---
---