Nepal's mask-averse politicians
On most occasions, Nepali leaders barely cover their nose and mouth, while they often play fast and loose with health safety protocols, disregarding the virus threat.

Despite authorities calling on all to strictly follow health safety protocols, Nepali politicians rarely stick to the mask mandate. RSS
bookmark
Published at : January 10, 2022
Updated at : January 10, 2022 15:20
Kathmandu
On Saturday, at three minutes past ten in the morning, Ganga Dahal, daughter of Pushpa Kamal Dahal, announced on Twitter that the Communist Party of Nepal (Maoist Centre) chair tested positive for coronavirus. At the same time, Prime Minister Sher Bahadur Deuba was holding a meeting with CPN-UML chair KP Sharma Oli.
Deuba was already a contact. On Friday and the day before, on Thursday, both Deuba and Dahal were present in the meetings of the high-level political coordination committee. Before meeting Oli on Saturday, Deuba, according to his private secretariat, had met with some party members in Baluwatar.
Deuba's secretariat told the Post on Saturday that he had self-isolated and that he would undergo a test on Sunday. But on Sunday, his secretariat said the prime minister would go for a test on Monday.
"The prime minister has isolated himself since Saturday and is planning to go for a test on Monday," said Govinda Pariyar, who has been informally working as prime minister's press advisor. "The prime minister doesn't have to be present everywhere necessarily and he can instruct officials. The secretariat is here to work on his behalf."
According to Baluwatar sources, the prime minister is holding only essential meetings with a few ministers in well-ventilated space by wearing a mask and keeping distance.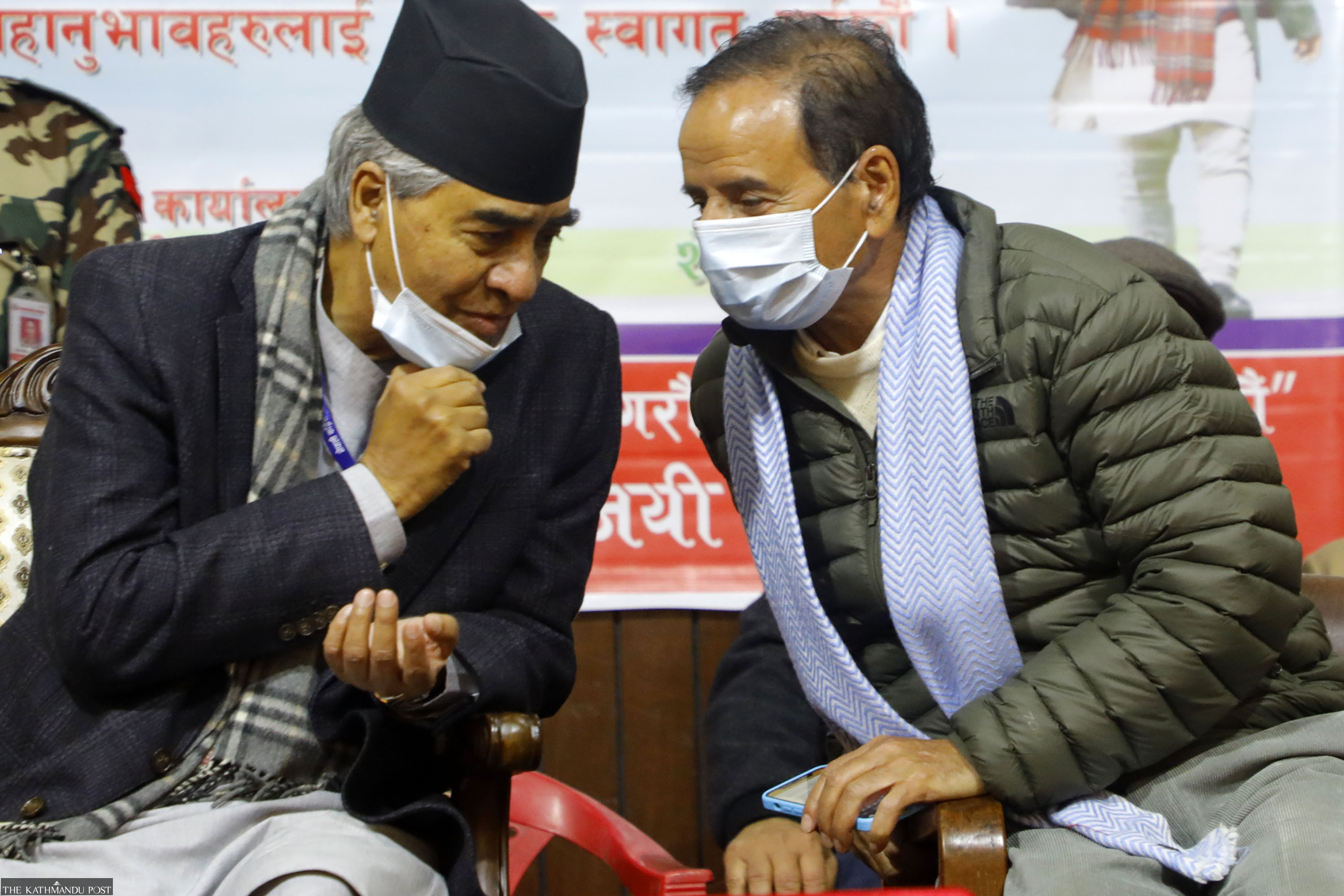 Post File Photo
Chief Secretary Shanker Das Bairagi said the prime minister has been conducting his regular duties from Baluwatar since Saturday.
"There were no formal meetings today," Bairagi said. "He has been working with the help of people in his secretariat."
Several senior leaders of the five-party alliance were present in the meetings on Thursday and Friday.
Purna Bahadur Khadka, Nepali Congress vice president who was also present in the meeting of the high-level political coordination committee, said he has minor symptoms and that he would go for a test on Monday.
Dahal had undergone an antigen test on Friday itself, which returned a positive result, following which a PCR test conducted on him also showed he had contracted Covid-19.
This is the first time scores of leaders have gone into isolation, and at a time when the Omicron variant, which has a high transmissibility rate, has already made its foray into Nepal.
Post Photo
On Friday, the Health Ministry confirmed 24 new Omicron cases in Nepal on samples collected from across the country.
The ministry on Sunday said 841 new cases were confirmed from 8,848 PCR tests while 326 positive cases were reported from 3,784 antigen tests in the last 24 hours.
Past few weeks' data suggest the cases have been rising, with daily positivity rate climbing—an indication that more positive results were coming out of the tests.
Despite authorities calling on all to strictly follow health safety protocols, Nepali politicians rarely stick to the mask mandate.
Leaders and cadres were seen either not wearing masks or without properly covering their nose and mouth during the recently held national conventions of different political parties—CPN-UML, Rastriya Prajatantra Party, Nepali Congress and CPN (Maoist Centre).
A photo posted by Dahal's chief personal secretary Ramesh Malla shows half of the top leaders present in the high-level political coordination committee meeting on Friday hadn't put on masks or had not worn properly.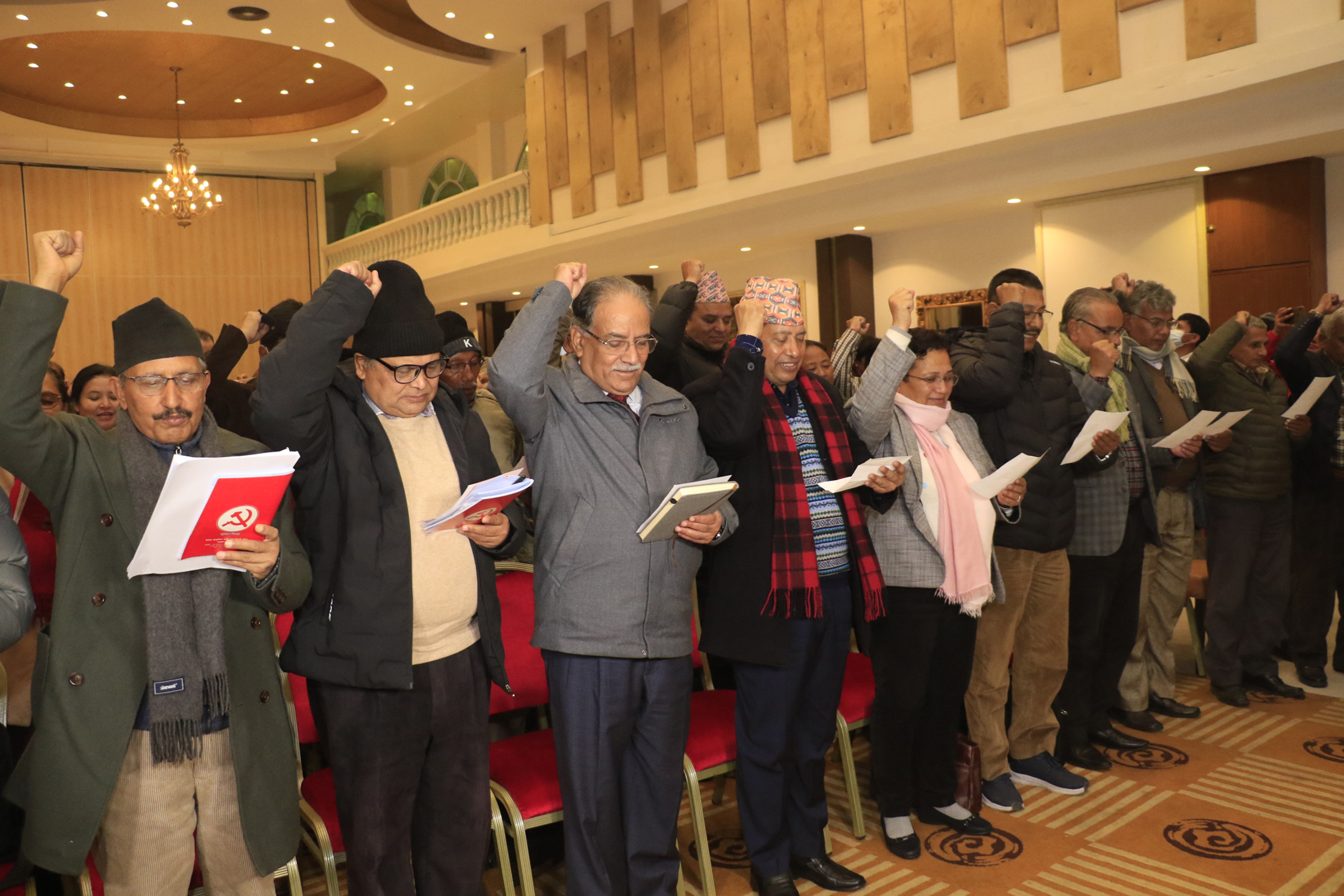 RSS
According to the prime minister's secretariat, the meetings on Thursday and Friday had lasted for about 2 hours each.
Public health experts say anyone meeting the other person for more than 15 minutes and one of them not wearing a mask makes him or her "a contact" if the counterpart tests positive. By that definition, all those who were present in the meetings participated by Dahal become contacts, according to doctors.
According to Dr Prabhat Adhikari, an infectious disease expert, chances of a person getting infected will be high if one comes in contact with an infected person for more than 15 minutes, one of two persons did not wear a mask properly, distance between them is less than two metres and if the room is not ventilated properly.
"If anyone learns that s/he came in close contact with the infected person, such a person should immediately self-isolate until the test report comes," Adhikari told the Post.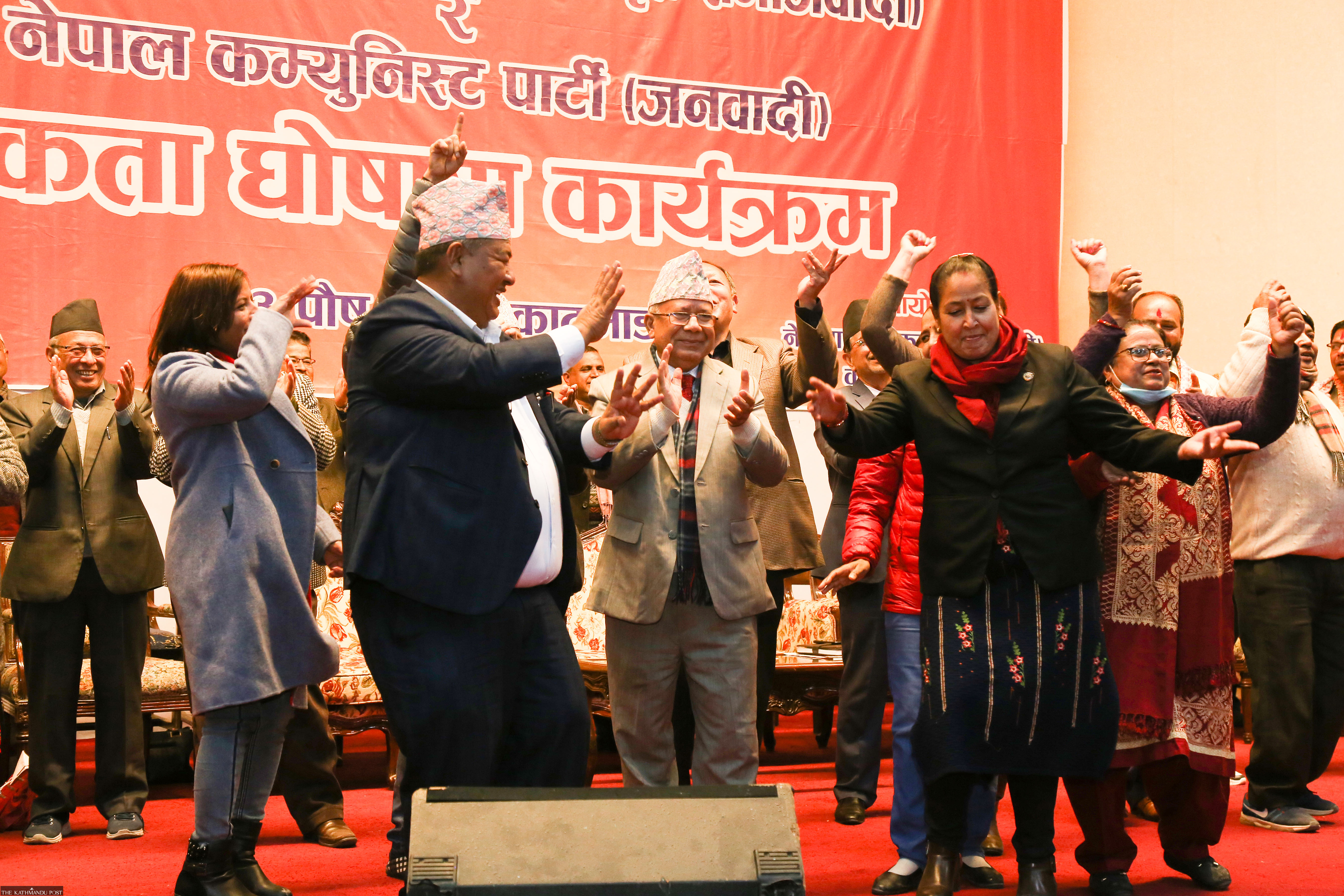 Post Photo
But some leaders who came in contact with the infected have said they don't need to stay in isolation because they were sitting far away.
"I don't need to remain in isolation and follow health protocols because I was sitting far from Dahal. I do not have any symptoms," said Upendra Yadav, chairman of Janata Samajbadi Party. "Why should I even go for a test? I don't need it."
Nepali Congress senior leader Ram Chandra Poudel, coordinator of the committee, said he hasn't stopped meetings because he was sitting far from Dahal.
"I am in semi-isolation. I am meeting people with caution putting on masks," said Poudel, referring to a term not available in any protocol laid down by the government or the World Health Organization.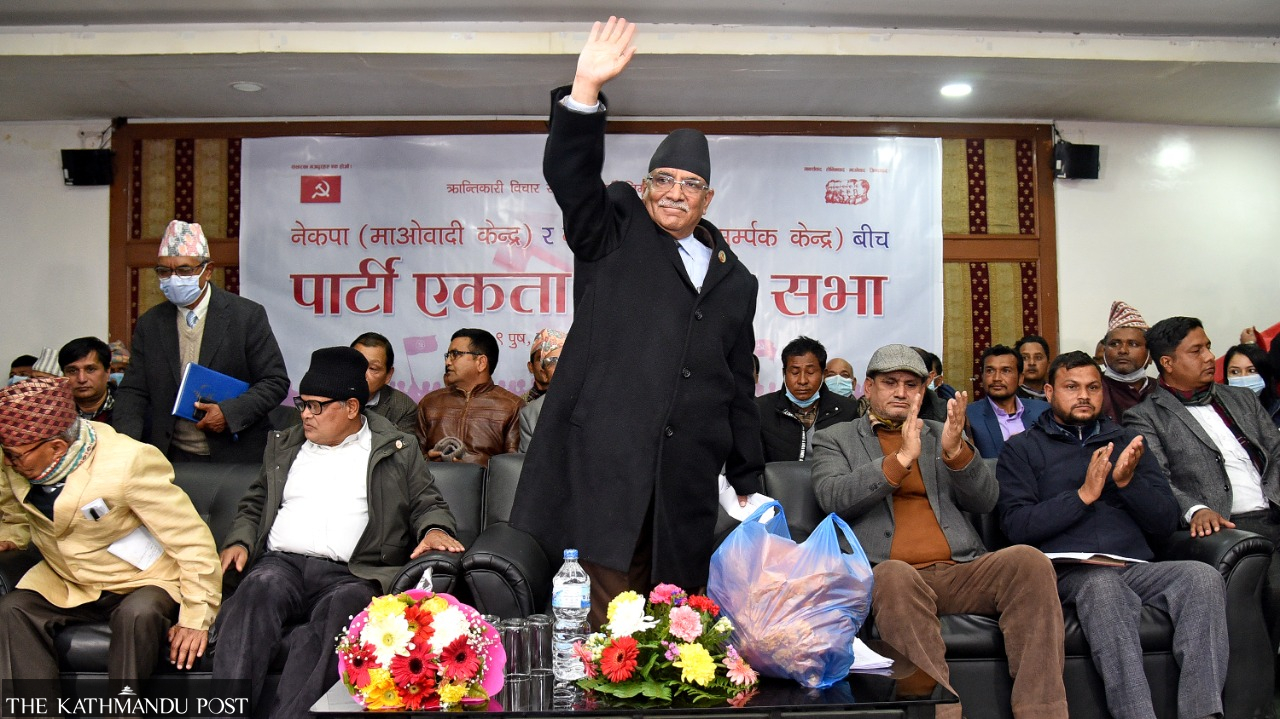 Post Photo
Dahal and Yadav were among those who didn't have the masks on them during the meeting.
Besides Dahal, scores of leaders from the Maoist Centre, including Narayan Kaji Shrestha, Matrika Yadav, Haribol Gajurel, Dinanath Sharma, Shakti Basnet, Satya Pahadi, Mukti Pradhan, Ram Prasad Sapkota, Subodh Serpali, Pancha Singh, and Ramesh Malla have tested positive for the virus.
None of the top Maoist Centre leaders had masks on them when they took the oath as the party's Central Committee member on January 6.
Public health experts say while the members of the public need to follow the guidelines and health protocols, leaders have more responsibility because they are public figures.
"We have been requesting leaders for a long time to follow health protocols properly because they are the role models for the people," said Dr Sher Bahadur Pun, chief of the Clinical Research Unit at Sukraraj Tropical and Infectious Disease Hospital in Teku. "But they never followed; probably they were thinking the number of cases was going down."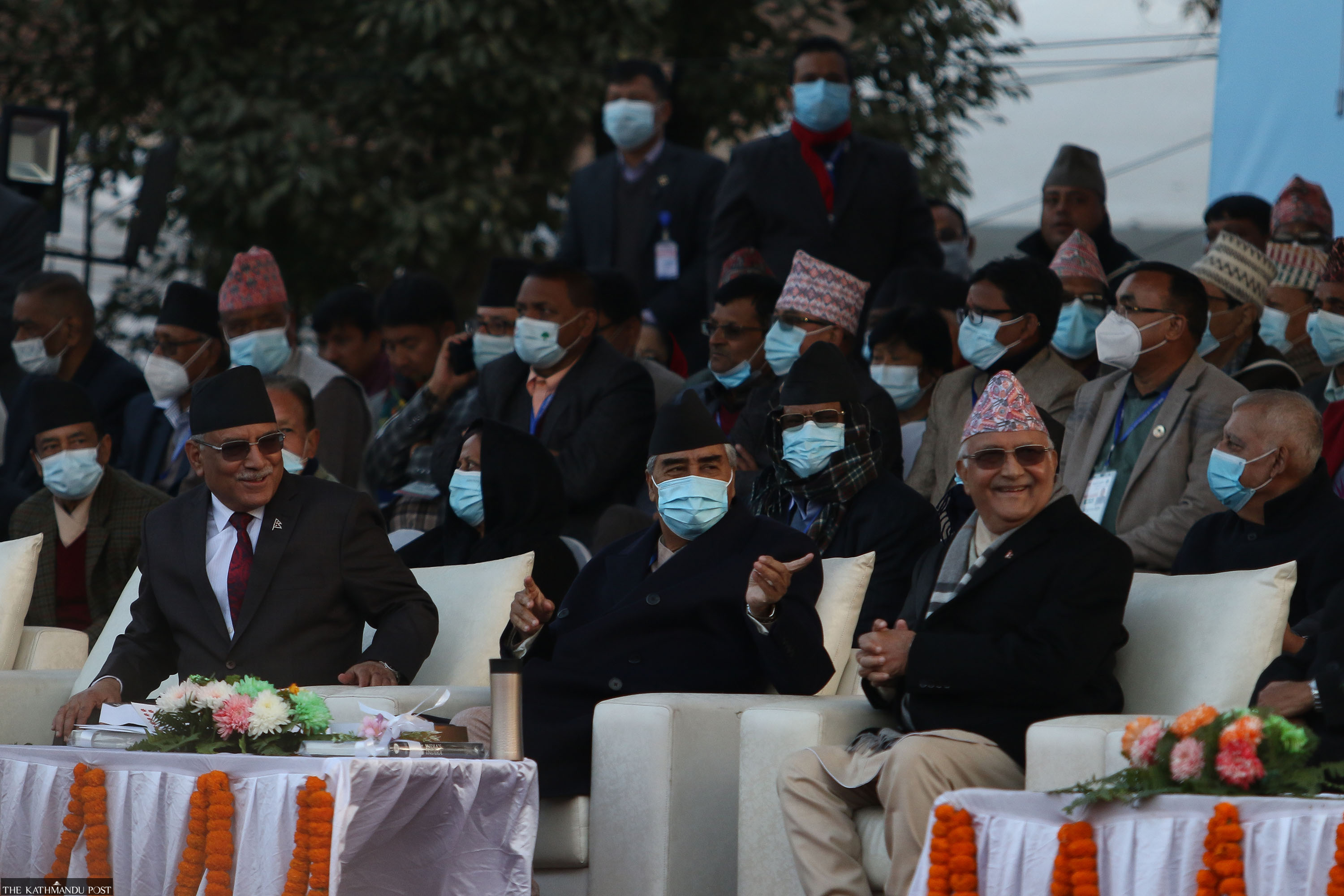 Post Photo
Minister for Communication and Information Technology Gyanendra Bahadur Karki, who attended both the meetings of the political coordination committee, said that he tested negative for Covid-19 on Sunday. "But the doctor has advised me to resume work only after another test, either on Thursday or Friday," Karki, who is also the government spokesperson told the Post. "I am strictly following the health protocol and have not met anyone since Saturday. But with my result negative, I'm planning to do some essential works of my ministry maintaining necessary distance."
Experts say any person coming into contact with the infected should go for a test in five-seven days for a proper result as the viral load may not be detected immediately.
A day after he met Deuba, who is a contact after Dahal tested positive, Oli on Friday was in Jhapa to attend party functions, including the district conference of the UML.
According to Pun, politicians and people in power have more accessibility to treatment and vaccines compared to ordinary people and that could also have made them careless.
"It's the responsibility of the leaders to show people how to follow health protocols," said Pun. "But they were seen completely ignoring the protocols. Instead they were involved in singing and dancing and meeting without masks."
Arjun Poudel contributed reporting.
---
---