Death toll in floods, landslips climbs to 77
Province 1 is hit hardest as unseasonal rainfall continues to claim lives, destroy crops.

People search for their belongings among landslide debris in Panchthar. Laxmi Gautam/TKP
bookmark
Published at : October 21, 2021
Updated at : October 21, 2021 01:21
Panchthar/ilam/dhankuta
At least 77 people have died and 26 are missing in floods and landslides caused by unseasonal rains in the past two days, the Home Ministry said on Wednesday.

The toll suparsses the casualties in the first month of this year's monsoon when 61 people were killed across the country between June 11 and July 15.
Normally, monsoon in Nepal enters on June 10 and lasts until October 3.
This week's unexpected and heavy rainfall has been attributed to cyclonic conditions in the Bay of Bengal off India's east coast.
The country had received excess rainfall since the pre-monsoon period this year. And the trend continued when the monsoon finally entered on June 11. By August, the third month of active monsoon period, Nepal had already recorded nearly 70 percent of its rainfall for the season.
Officials have attributed this year's 'aberrant monsoon' to climate change.
"We have experienced an aberrant monsoon with extreme and intense rainfall, which can be linked with the impacts of climate change. We are witnessing too much rain in a short period of time, leading to loss of lives and properties," Bed Nidhi Khanal, deputy spokesperson for the National Disaster Risk Reduction and Management Authority had told the Post in July.
According to the government's Disaster Risk Reduction Portal, a total of 136 people died, 45 were missing and 144 were injured in rain-related incidents between June 14 and October 9.
The loss of lives recorded in the past two days is more than half the death toll recorded in four months of this year's rainy season.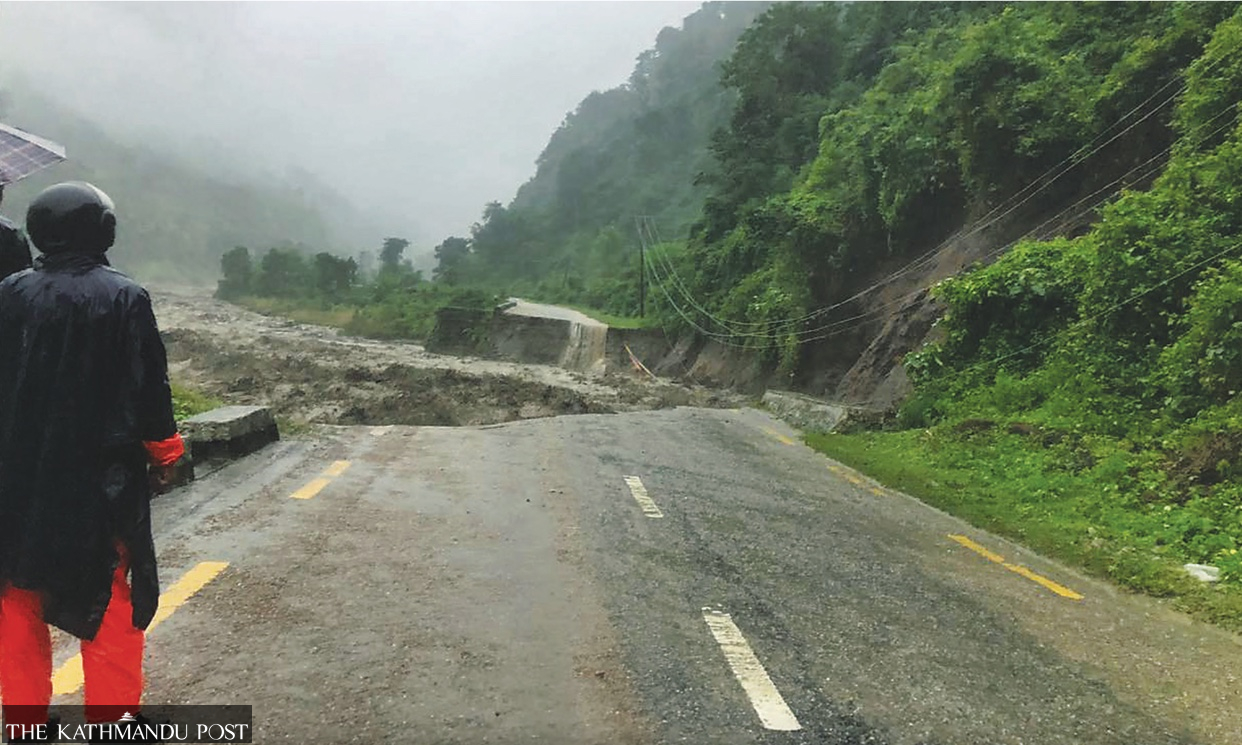 A road section is destroyed following heavy rainfall in Dhankuta. Ramesh Chandra Adhikari/TKP
The unseasonal rainfall that began its trail of destruction from western Nepal moved towards the east starting Monday, causing floods and landslides. At least 18 deaths, most of them in western parts of the country, were reported on Monday.
The overnight incidents of floods and landslides in Province 1 on Tuesday killed at least 47 people, officials said. Scores of families were displaced while crops, mainly paddy planted on several hectares of land, were also damaged.
The hill district of Panchthar suffered the most, where as many as 27 people died in separate incidents.
Police in the district said 21 people were killed in Miklajung Rural Municipality, three in Phalgunanda Rural Municipality, two in Phidim Municipality and one in Kummaya Rural Municipality.
"We are yet to assess the damage caused by the disasters. Telephone and internet services have been cut off and roads blocked in several parts of the district," said Chief District Office Punya Prasad Dhakal.
He said the number of casualties could rise.
In Ilam district, landslides took as many as 13 lives. Police said eight people including four of a family were killed in two separate landslides in Phakphokthum Rural Municipality. Three people died in Suryodaya Municipality and two died in Mangsebung's landslide.
Seven people perished when a landslide struck a house in Gadere village of Chaubise Rural Municipality-1 in Dhankuta, police said. Five others were also injured.
Police said two critically injured people were flown to BP Koirala Institute of Health Sciences in Dharan for treatment.
Continuous rainfall also affected the Tarai districts of eastern Nepal.
In Biratnagar, the capital of Province 1, general life was greatly affected after rainwaters inundated various parts of the city.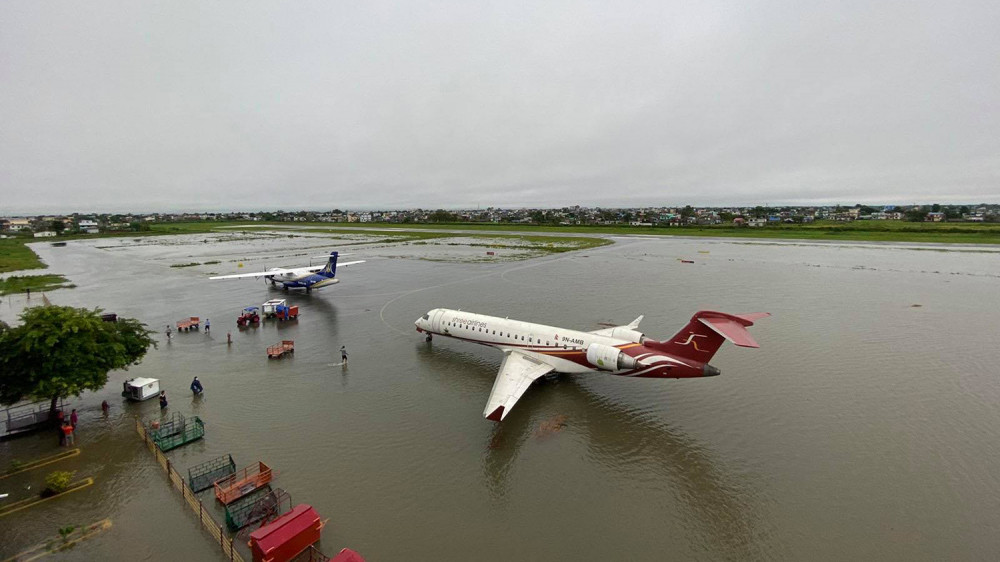 An aircraft is seen on the waterlogged runway of Biratnagar Airport on Wednesday. Photo courtesy: Utkrista Kharel
Biratnagar Airport was submerged in rainwaters on Wednesday, causing the flights to be cancelled throughout the day.
Life in other parts of Morang district was also affected after floodwaters from local streams and rivers entered people's homes and shops.
Officials said heavy rains caused streams and rivers in many parts of the district to breach their banks and enter the settlements on Tuesday night.
Morang police said homes and businesses in Biratnagar, Katahari, Dhanpalthan and Ratuwamai were waterlogged.
Electricity supply in the flood-affected areas was also disrupted.
Meanwhile in the western hill district of Humla, four people died and two others went missing when a landslide buried a house in Kharpunath Rural Municipality.
District police said the landslide struck the house of Dhanbire Shahi at Bichdauda village, burying six people. A couple and their two sons aged five and three were found dead at the incident site but Shahi and his 11-year-old son had been missing until late Wednesday evening, police said.
(Correspondents from Morang, Jhapa and Humla contributed reporting)
---
---