Chief Justice reconstitutes Constitutional Bench to include justices on the basis of seniority
Senior advocates had questioned the composition of the five-member bench formed earlier to hear the May 21 House dissolution case over the presence of two justices involved in decisions that led to the dissolution.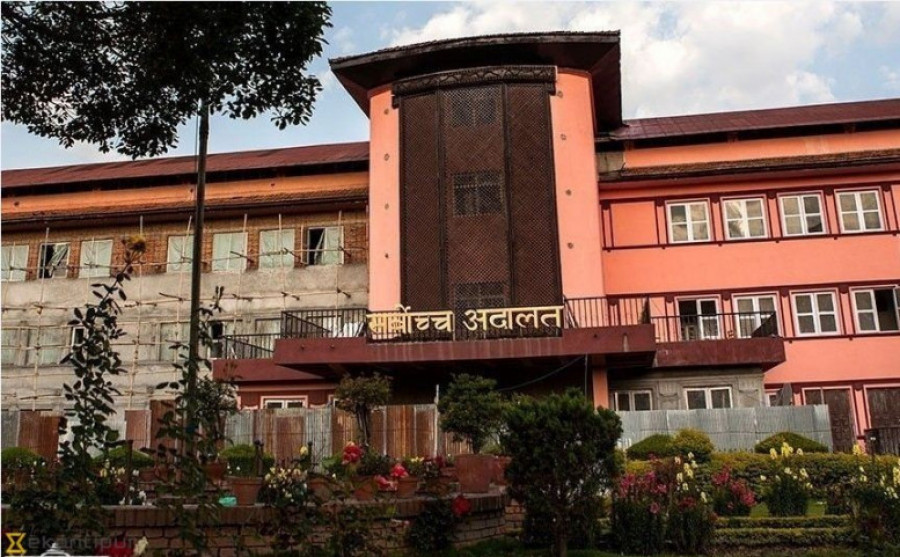 Post file photo
bookmark
Published at : June 6, 2021
Updated at : June 6, 2021 11:40
Kathmandu
Chief Justice Cholendra Shumsher Rana Sunday has reconstituted the Constitutional Bench on the basis of seniority of the justices to hear the May 21 dissolution of the House of Representatives case.
The newly-formed bench includes Deepak Kumar Karki, Mira Khadka, Ishwor Khatiwada, and Ananda Mohan Bhattarai, according to the Supreme Court.
After 30 writ petitions were filed in the Supreme Court challenging the constitutionality of the dissolution, Rana had had formed the five-member bench with Deepak Kumar Karki, Ananda Mohan Bhattarai, Tej Bahadur KC and Bam Kumar Shrestha from the 13-member roster for the Constitutional Bench.
But after a number of senior advocates questioned the impartiality of the justices Shrestha and KC as the former was part of the two member-bench that invalidated the merger of Nepal Communist Party (NCP) in March and the latter was part of the bench that quashed the petition for review of that decision, Rana had agreed last week to reconstitute the bench.
The senior advocates had argued that the current House dissolution was the result of the decision to invalidate the May 2018 merger.
KC is ranked 11th in the seniority among the 13 justices in the roster for the Constitutional Bench and Shrestha 12th.
After Mira Khadka are Hari Krishna Karki and Bishwambhar Shrestha in ranking but with Karki recusing himself as he served as attorney general in a previous government led by Prime Minister KP Sharma Oli and Shrestha in isolation, Khatiwada and Bhattarai were included in the bench.
Last Tuesday Chief Justice Rana had promised the delegation of the Supreme Court Bar Association led by its President Purna Man Shakya that he would amend the regulation through the full court so that the Constitutional Bench in future would be formed on the basis of seniority.
However, the full court on Friday refused to amend the regulation saying there was no legal hurdle for the chief justice to form the bench on the basis of seniority.
According to an official of the Supreme Court, the hearing on the case is scheduled to begin later on Sunday.
---