A Qatari woman aims to climb Everest to inspire women in her region
Sheikha Asma Al Thani is on the quest to scale the tallest peaks in the seven continents and reach the two poles. Everest will be fourth of the nine feats.

Sheikha Asma first trekked to Everest Base Camp in 2019. Photo Courtesy: Sheikha Asma Al Thani
bookmark
Published at : March 29, 2021
Updated at : March 30, 2021 09:57
Kathmandu
A Qatari woman is on a quest to complete the Explorers Grand Slam–reaching the summits of the seven highest mountains in the seven continents and the two poles.

After reaching the North Pole, climbing 6,959 metres (22,831 feet) Mount Aconcagua in South America and 5,895 metres (19,340 feet) Mount Kilimanjaro in Africa, Sheikha Asma Al Thani's sight is now set on Everest.
If she climbs the 8,848.86-metre (29,031. 69 feet) Everest, she will also be the first woman from her country to climb the mountain and 472nd from the world, from the Nepal side.
A total of 6,507 mountaineers have climbed Everest, which straddles Nepal and China, from the south side since 1953. Junko Tabei of Japan became the first woman to climb it in 1975.


"In April/May this year, I will take on my biggest challenge yet, conquering Mount Everest. I am only the third Qatari to ever attempt the climb and, if successful, I would become the first Qatari woman in history to stand 8,848 [sic] metres above sea level," Asma wrote on her website.
Asma, the director of marketing and communications for the Qatar Olympic Committee, is scheduled to land in Nepal on Thursday, her local expedition organiser TAGnepal told the Post.
"After fulfilling the necessary travel protocol of the Nepal government –conducting the polymerase chain reaction (PCR) test after arriving in Nepal–Sheikha Asma will apply for the climbing permit," said Ishwor Dotel, an official at TAGnepal. "She will be spending 45 days in Nepal for the Everest mission."
Asma of the Qatari royal family said she also wants to demonstrate women's empowerment in Qatar while inspiring a new generation of women across the region to dream bigger.
"Through my journey, I aim to shatter the stereotypical image of the traditional explorer and demonstrate women's empowerment in Qatar while inspiring a new generation of women across the region to dream bigger," she wrote on the website.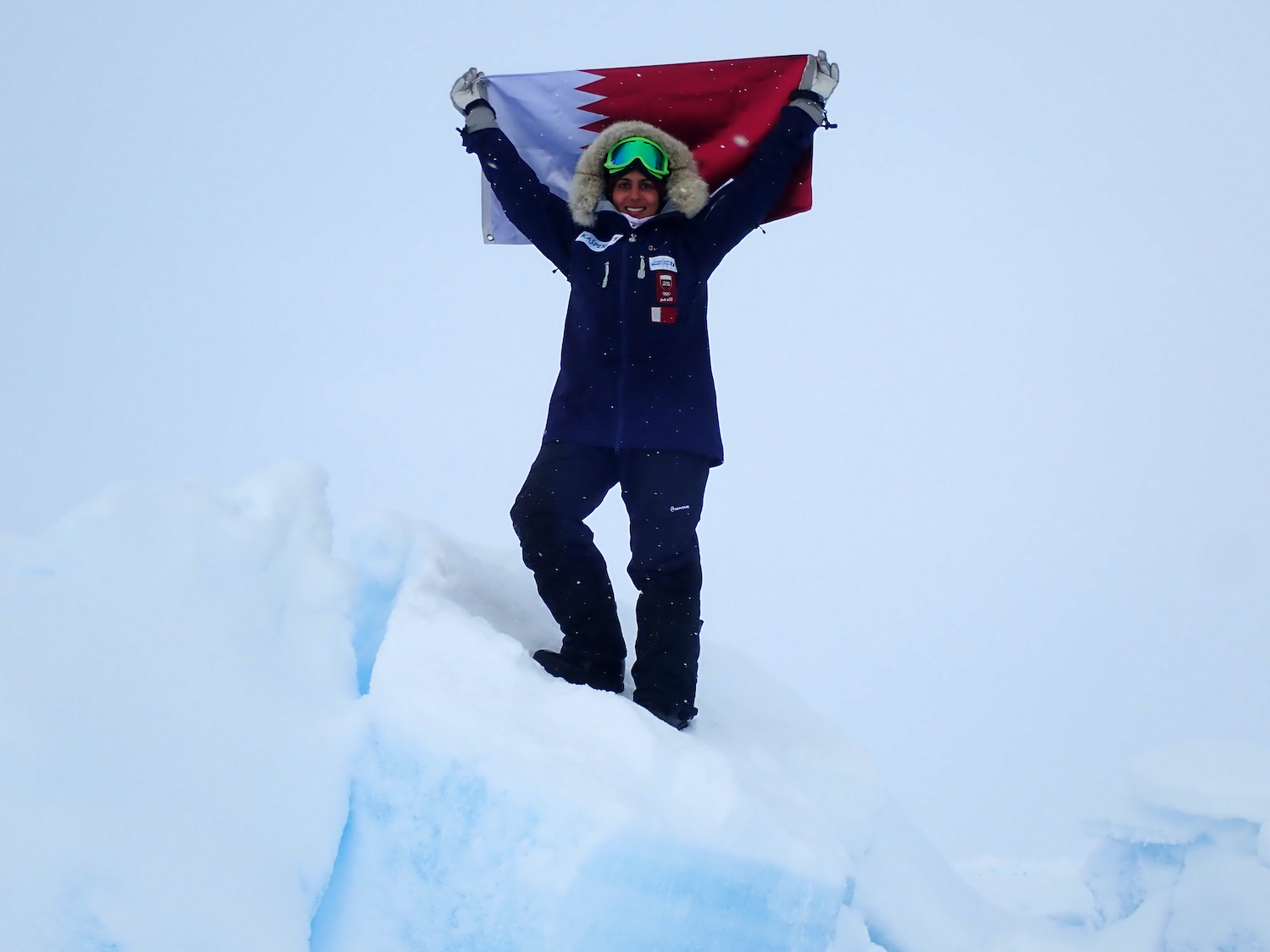 Sheikha Asma raises Qatari flag at North Pole. Photo Courtesy: Sheikha Asma Al Thani
The position of women from the eight Gulf States–Bahrain, Iran, Iraq, Kuwait, Oman, Qatar, Saudi Arabia and the United Arab Emirates–is much behind other countries which are economically on par with them.
Authorities in the Gulf view modernity as achievements in economy, technology and education, while socio-political involvement is seen as problematic.
So far only six women from these countries have climbed Everest from the Nepal side despite the wealth they have from oil and natural gas.
On May 30, 2005, Farkhondeh Sadegh, a graphic designer, and Laleh Keshavarz, a dentist, from Iran became the first Muslim women to climb Everest.
On May 18, 2012, Parvaneh Kazemi, again from Iran, climbed Everest, according to the Department of Tourism.
Raha Moharrak became the youngest Arab and the first Saudi woman to climb Everest on May 18, 2013.
Mona Kamal Shahab was another Saudi woman who stepped atop Everst on May 23, 2019.
Nadhira Ahmed Abdullah Al Harthy became the first Omani woman to summit Everest in 2019.
"Women from the Gulf states who have climbed Everest can be counted on fingers. These states have seen fewer opportunities for women," said Ang Tsering Sherpa, former president of Nepal Mountaineering Association.
"But things could change. The Gulf states are gradually opening up and promoting women. Everest has been drawing a number of high-profile male climbers from the Gulf states. It's a word of mouth promotion," Sherpa said. "The number of women climbers from the Gulf states could also rise in the near future."
From Qatar to the UAE and from Bahrain to Saudi, Everest could be a big draw for the wealthy.
On Friday, Nepal issued a permit to climb Everest for a royal Bahrain military expedition led by Prince Mohamed Hamad Mohamed al-Khalifa.
The Bahraini prince is following the footsteps of members of the royal families of other countries in the Gulf.
Qatari Prince Sheikh Mohammed bin Abdulla Al Thani climbed Everest on May 22, 2013 and also became the first person from his country to reach the top of the world.
Prince Bandar Bin Khalid Bin Fahd of Saudi Arabia had successfully climbed Everest on May 19, 2012 and is also the first Saudi Arabian to climb the seven highest peaks in the seven continents, a feat Princess Asma hopes to emulate.
It costs $35,000 to $90,000 for a person to climb Everest depending on the extent of support the climber needs in terms of guides and supplies. This cost also includes the climbing permit cost of $11,000.
The risks of climbing are not lost on those hoping for success.
"We understand it will be extremely difficult. People die on this mountain. We are not taking it easy," Prince al-Khalifa told the Post last week in an interview. "We are the people living below sea level. Everest is extremely difficult for us. We have trained ourselves vastly but still it is difficult."
It is a similar challenge that Asma faces.
But for the moment, she is undeterred and wants to climb not only for herself but also to inspire other women.
"I climb mountains because it challenges my limits. And it is my hope that by taking on the world's highest mountains, I can challenge the stereotypical image of the traditional explorer and empower women and youth in the region to challenge themselves and dream bigger," Asma said in a press statement before arriving in Nepal.
"Ultimately, I want to become the first woman from the Middle East to complete the Explorers Grand Slam, and summiting Everest is just a milestone on my journey to inspire others to push past their limits, break down barriers and live their dreams," she wrote on her website.
---
---